The United States Army, generally known as the military branch focused on land warfare, has space firmly in its sights. "Whenever we shoot, move and communicate, we use space," Lt. Gen. James H. Dickinson, leader of the Army's Space and Missile Defense Command, told attendees at the 22nd Space and Missile Defense Symposium. "We use space for missile warning; command, control and communications; friendly force tracking; situational awareness; and positioning, navigation and timing."
Certainly, the Army is not just a passive recipient of space-related capabilities – not now nor in the past. In 2018, the service celebrated the 60th anniversary of Explorer 1, launched as the nation's first man-made satellite by the Army's Ballistic Missile Agency. Thirty years after that historic event, the Army Space Command (ARSPACE) was established to ensure the Army perspective would be part of the planning for future Department of Defense space support and operations. By 1997, the Army had created the Space and Missile Defense Command to develop and provide global space, missile defense and high-altitude capabilities.
Today, 2,500 active-duty soldiers, civilians and reservists serve Army space programs and operations around the world. And the Army's modernization strategy continues to include space in its plans as the service focuses on transforming into a true multidomain force by 2035. To help, L3Harris provides specialized capabilities to ensure the nation's superiority in space.
PREPARING FOR A DYNAMIC SIGNAL ENVIRONMENT
While the Army has made great strides in overall readiness in recent years, preparing for war in space requires a special kind of readiness. The operational satellite signal environment is increasingly complex and dynamic, shaped by the emergence of new technologies and the rapid technological advances of adversaries. These factors, along with changes in strategic guidance, joint operating concepts and security challenges, require the Army to innovate and adapt. New satellite communications (SATCOM) training capabilities are needed to ensure that operators at all levels – from novice to advanced and from tactical to strategic – are prepared to deploy, fight and win decisively in the space domain.
To address this gap in Army capabilities, L3Harris has developed a live, virtual, constructive environment (LVCE) that delivers realistic, accurate training anywhere satellite training needs to take place – classrooms, home station training environments, deployed tactical unit locations and operational SATCOM systems. Through the LVCE's high-fidelity user interface, instructors build and execute realistic training scenarios, which are played into operational space control systems at radio frequency and intermediate frequency for maximum realism. Because the LVCE is a closed-loop environment, operators can try new and innovative tactics and techniques without impacting operational assets. The total-immersion LVCE training experience can be customized for specific missions. It uniquely replicates a wide range of mission-representative signal environments by drawing upon both live signal captures and emulated, system-generated signals.
Live signals are collected from real satellites anywhere in the world and characterized by L3Harris' Signal Characterization Subsystem (SCS). They are then relayed using common, unsecured channels to a central operating location (COL), where they are stored. Trainers and assessors access collections as needed to develop training scenarios and scripts. Individual trainees benefit by exposure to the actual operating environment of areas that they may be deployed to. Units are better informed for planning and tactics, techniques and procedures (TTPs) development.
Emulated signals are generated through L3Harris' Signal Emulation Generation Subsystem (SEGS), which also accesses the live signals stored in the COL. The workhorse of the LVCE, the SEGS enables training scripts and scenarios to be developed across multiple wavebands simultaneously. Instructors create realistic scenarios using the SEGS' web-based, nonlinear editing capabilities, which are similar to those of movie production applications. Instructors can dynamically change the scenario during an exercise or training event and tailor the scoring engine to specific assessment requirements. The SEGS also records crew actions, which can be played back for after-action review purposes, and delivers consistent feedback across multiple crews.
Modular and tailorable to a unit's needs and with a small footprint, the SEGS can be deployed to field operations and used for unit-level as well as national-level training, including brigade combat team deployments. It can also directly connect to both Army and Air Force space control weapon systems. L3Harris is currently advancing the capabilities of the SEGS so that it will fully network with and receive data from the COL — no matter where in the world it is located.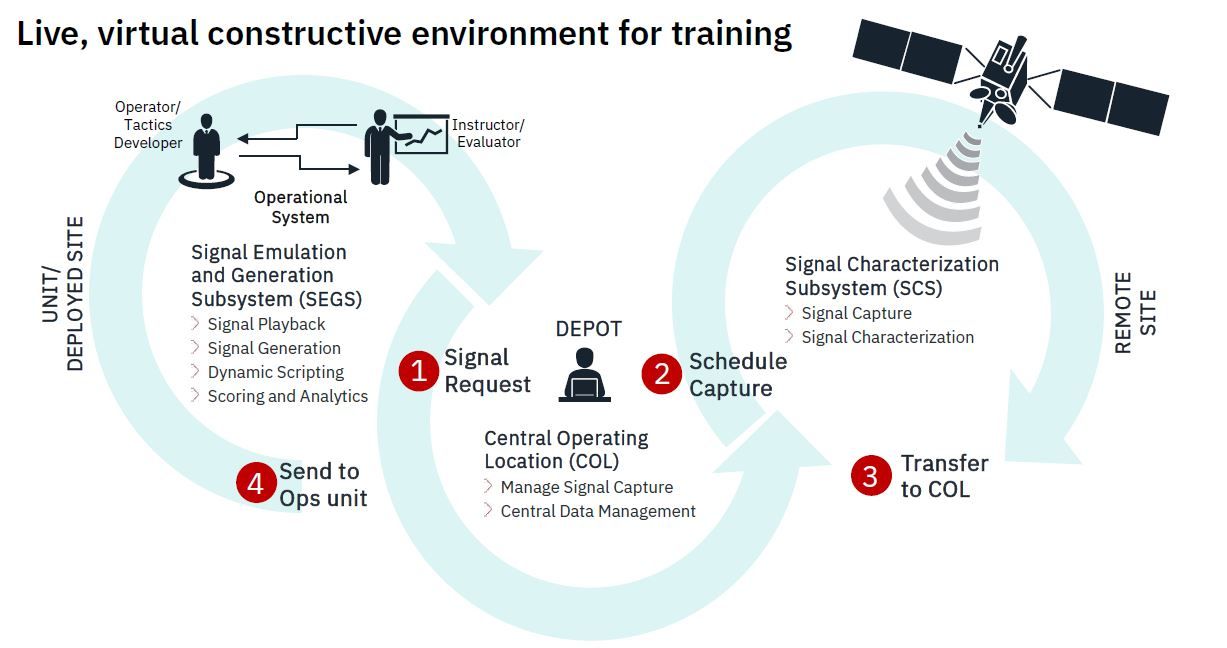 IMPROVING THE WARGAMING EXPERIENCE
In addition to training and exercise advantages, L3Harris' LVCE enables operational units to develop an enemy order of battle, courses of action and wargaming as part of the joint operational planning process.
Through its collections, the SCS provides valuable information of the operational environment. This feeds into the Army's intelligence preparation of the battlefield process and informs operator development of friendly courses of action. Once combined, staffs at all command levels apply these steps to initiate wargaming. The SEGS provides objectivity as to how a friendly course of action would behave against an informed enemy order of battle, taking the subjectivity out of war planning.
Through the LVCE's closed-loop environment, players from space command and control, space control and intelligence functions, along with operational squadrons in multiple domains, can come together into a single construct to realistically wargame in the electromagnetic spectrum without damaging critical assets. The enhanced realism serves strategic and tactical decision-making at unprecedented levels — and can scale with the threat over time.
ENABLING AN ASSURED COMMUNICATIONS BACKBONE
Central to Army readiness for the multidomain battle is a strong, global communications backbone enabled by the Wideband Global SATCOM (WGS) system. With a constellation of satellites and a network of operations centers, the WGS provides the flexible, high-capacity voice and data communications services that let combatant commanders command and control their tactical forces anywhere in the world. Tactical forces connect to the Defense Information Systems Network through the system as well.
Recently, the Army consolidated its SATCOM missions into a single organization — the U.S. Army Satellite Operations Brigade — to "ensure seamless SATCOM support to the warfighter, and ensure unity of command," said Col. Tonri Brown, brigade commander, in an Army News Service report. The action illustrates the importance of this space-based asset to improving the efficiency and success of Army operations.
L3Harris helps the Army keep this system and other legacy Department of Defense (DoD) and commercial satellite systems working smoothly through the Wideband SATCOM Operations and Technical Support (WSOTS) II program. About 160 L3Harris professionals work to deliver this program. These personnel are on the front lines every day, integrating the data streaming in from the wide range of satellite monitoring and control systems and providing central supply depot services for Army SATCOM operations centers.
They look for potential threats to the DoD wideband SATCOM mission, identify problem sources and help soldiers reconfigure operations to keep these global communications systems performing so that warfighters are protected and get the information they need to stay connected and do their jobs. Looking ahead, L3Harris will bring our team's broad understanding of ground systems and on-orbit assets, as well as global communications networking, to support the Army's move away from stovepipe systems to tightly integrated monitoring and control systems.
FIGHTING THE FIGHT WITH CONFIDENCE
The 2019 Army Modernization Strategy strives for an Army with "a full range of capabilities to enable the Joint Force commander's ability to deter, compete, and if required quickly transition to armed conflict." It describes a multidomain battlespace, where competitors use multiple layers of standoff and a combination of techniques, tools and capabilities to deny our nation's ability to detect and respond to threats.
"We are in constant contact [with the enemy force], and we've got to be ready to fight that fight at a moment's notice," Gen. Paul E. Funk, II, commanding office of the Army Training and Doctrine Command (TRADOC), reminded Army leadership at the 2019 Maneuver Warfighter Conference. L3Harris' LVCE for training and our protection and advancement of the wideband SATCOM mission through WSOTS II enable Army readiness for conflict in space – readiness to make decisions with greater confidence, for Army forces to move more quickly and for the whole service to coordinate effectively with the Joint Force.
Brad Bolstad is president of L3Harris Technologies' Space Superiority and Geospatialbusiness sector and is based in Colorado Springs, Colorado.