India's Air Navigation Service Provider, AAI, required a robust network to accomplish their core mission of providing high quality, safe and customer-oriented services, while airspace demands continued to increase. In 2018 L3Harris partnered with India to provide a Futuristic Telecommunications Infrastructure, a system that will upgrade more than 90 air traffic sites across the country and seamlessly connect their air traffic network. The system is designed to provide critical communications, eliminate outages and reduce communications delays
"L3Harris has partnered with AAI to support the unprecedented growth of the aviation market while bringing to bear the latest technologies and security enhancements - this is a long-term partnership that we are proud of," said Kelle Wendling, L3Harris Mission Networks' President. "We will continue to be a technology partner, ensuring India's infrastructure evolves to meet increasing demands."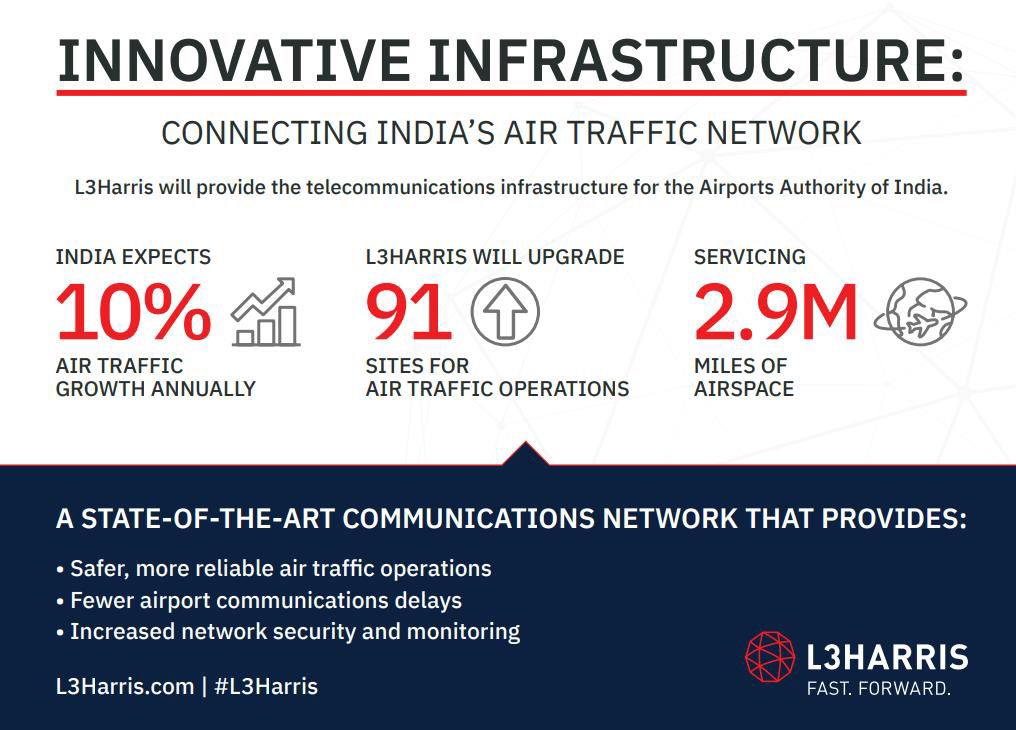 Since contract signing, the Network Operations Control Center and the Security Operations Control Center have become fully operational with first service connectivity established in December between Mumbai and Kolkata.  More than 80  additional services are anticipated to be activated by summer creating the resilient, highly reliable backbone for Indian airspace, allowing more scalable technologies to be built on top of the infrastructure.  System Wide Information Management is a future capability that is envisioned to enable effective information sharing and other air traffic optimization solutions. 
This history of success can be accounted for by both organizations looking beyond tomorrow's air traffic technologies and consistently exceeding the demands of their customers. L3Harris' legacy began with successfully implementing secure air traffic infrastructure in the United States with the Federal Aviation Administration. AAI has strong ties with U.S. aviation and has expected air traffic growth to exceed one billion passengers by 2030. Over the decades they have met these challenges by laying the foundation for future air traffic management applications.
The future looks bright for connecting India's air traffic network. Moving into 2020, L3Harris and AAI will continue to transition new telecommunications and infrastructure services into operations as the system continues to safely and securely operate.