The world has changed significantly in the last six months, and there is no doubt we are living in unprecedented times. The ways in which we communicate have evolved rapidly, and this is particularly true for the many responders who have stepped up during the pandemic. The mission-critical communications field has needed to move quickly to accommodate the changes, which include not just a flurry of new users, but also their unique requirements—dispatch centers that needed to function remotely and pop-up medical centers requiring secure communication between fixed and temporary networks.
The increased dependence on communications systems was, for the industries that support them, an exercise in adaptation. I would argue that the ability to pivot and meet the challenge stemmed from three basic pillars that had been established in recent years: the ability to function across networks—land mobile radio (LMR), LTE, and Wi-Fi; interoperability, made possible by an open standards philosophy; and strong closed-loop cybersecurity. The ability to communicate on any network, at any time, anywhere is powerful, and these fundamentals will serve us not only as we continue to meet current challenges, but also as we prepare for future ones.
For many first responders, LMR remains the primary network for voice communications, and it will continue to be a viable investment for years to come. However, innovations with LTE and secure Wi-Fi are expanding, and they are increasing both coverage and capability. As a result, operation across multiple networks will be a mainstay in the coming years. Responders need to communicate and coordinate anywhere, and which network they use, along with issues like inaudibility and dead zones, should never be a barrier to their important work.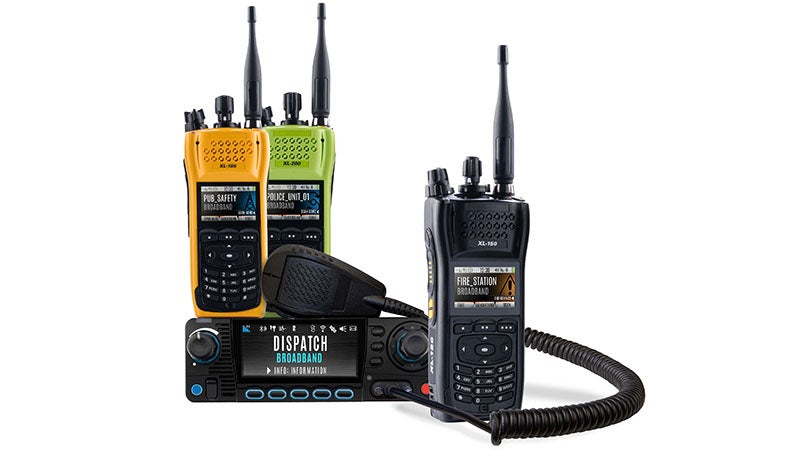 L3Harris Radios
To this end, L3Harris radios—the single-band XL-185P and the multi-band XL-200P—have both LMR and LTE capability, which allows users to switch back and forth between the two networks depending on local coverage. Whether it's for day-to-day use or during a crisis, this functionality is critical, given the increasing levels of complexity and demand in communications across the globe.
Over the last few years, the United States National Guard Bureau purchased thousands of L3Harris' radios for its 54 regions across the country. The XL-200P radios represent a significant leap forward, given their multi-network capabilities, GPS, and noise-cancelling technology. When COVID-19 emerged, the Bureau sought additional support, since disaster and medical response teams had a sudden increase in volume of communications, and needed to be supported by reliable, secure networks and devices. We were able to support the increased need, and happy to do so with systems that will become the norm in the coming years.
While the ability to switch between LMR and LTE exists already, public safety officials will one day not even need to think about which network they use, as technology will move intuitively and automatically between networks and carriers. In this future, voice and data communications could rely on LMR, and data rich/broadband network services on Wi-Fi and LTE. The options will be even more robust and assistive than they are today, to meet every crisis and mission. 
In order to realize the flexibility of hybrid networks, the industry must continue to embrace open standards. At L3Harris, we strongly believe that interoperability is best achieved when technologies are designed and built without complicated, proprietary standards. Think of an open architecture model, like what Android is for smartphones, which allows customers to be carrier-agnostic and technology to function on multiple commercial providers. This is true network interoperability and the end result is more capabilities, flexibility, and choice.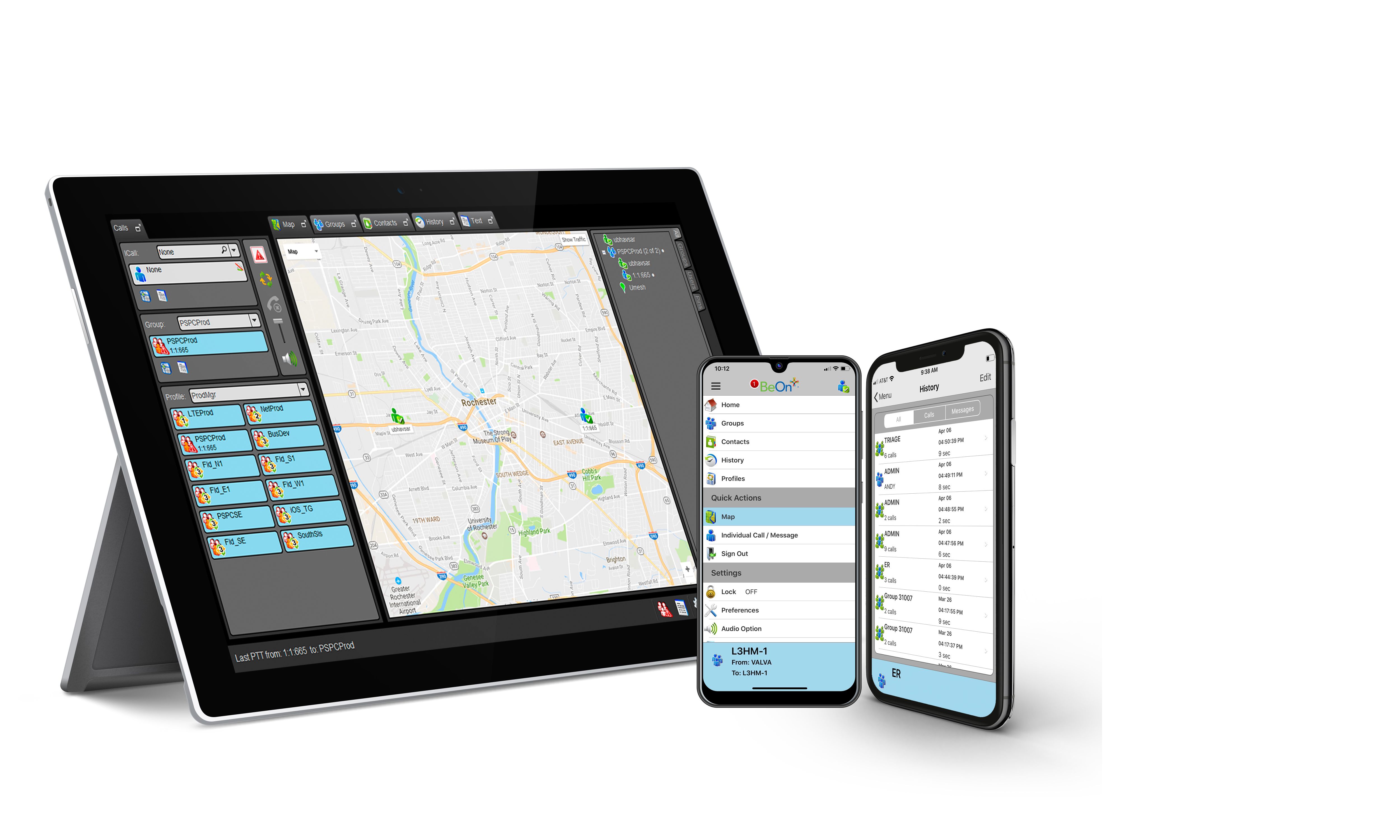 BeOn, An L3Harris Solution
With these concepts at front-of-mind, L3Harris developed BeOn, a new app technology that enables a user to turn their smartphone or tablet into an encrypted LTE push-to-talk (PTT) communications device for voice and data—in other words, it embraces interoperability to turn a smartphone into a radio. During the COVID-19 pandemic, L3Harris provided BeOn free to health care and first responder organizations who needed a quick and reliable communication solution. This enabled the essential cross-organizational communication between governments, health departments and emergency room personnel.
The BeOn app solved a number of problems, since many essential responder groups, including nurses and doctors and even health departments, had not previously used handheld radios, and most facilities didn't have spare units to cover the uptick in use. Our frontline customers needed a better solution. BeOn became that solution, since anyone with a smartphone, regardless of brand or operating system, can download and learn it within 10 minutes.
The other critical element of these technologies is their next-level security. Building highly functional, innovative, and flexible solutions shouldn't compromise security and leave you vulnerable to cyber threats. We leveraged the same technology used in our tactical communications built for military operators, which uses a closed loop system through the entire lifecycle of the device. This level of security provides peace of mind to military and civilian customers alike, and positions the industry well for the future.
With so much having changed in the last few months, it is critical that we continue to meet the needs of our first responders. Effective solutions start with dynamic network access, complete open standards, and unmatched security. These pillars have been key in responding to the current challenges, and they will continue to do so in the future. This work can be accelerated by collaboration in the industry, as it provides access to smarter, more flexible solutions, which will make for a safer future and the challenges it may bring.