During a light-starved night, with no moon and cloud-obscured stars—that is when the superiority of L3Harris Technologies' night-vision tube performance is time-proven.
With the advantage that L3Harris Technologies' gear provides, U.S. forces are able to take down an entire defensive force—even against armed guards with night-vision goggles—before they know anything happened.
"We have the highest-performing tubes in the world—the best imaging, the highest reliability," Tom Horwath, L3Harris director of Business Development, said. "We can justify it with data where others can't. That, and the fact that the world's most-elite forces prefer our equipment, is testament to their quality."
L3Harris engineers and manufactures the industry's only unfilmed Gen III Image Intensification tubes. Each year, the company ships tens of thousands for ground, aviation and weapon-mounted systems to government, military and law enforcement customers worldwide.
"We listen carefully to our customers to determine their needs," Horwath said.
For example, company representatives have worked directly with U.S. Army end users over the last two years to evolve Enhanced Night Vision Goggle – Binocular (ENVG-B) design elements to ensure the solution is optimally suited for the soldier at the edge of the battlefield. Since 2018, L3Harris has delivered more than 4,500 combat-ready systems under the program's $391 million Directed Requirements contract.
"Our customers want overmatch and mobility," Jon Burnsed, L3Harris director of Engineering and Design, said. "Our devices are so sensitive, on the darkest of nights you can have great Situational Awareness through hi-res images. You understand the world around you faster through what feels like a daytime environment."
IT ALL COMES DOWN TO PHYSICS
The unfilmed tubes, miniaturization of critical tube components and white phosphor advances are keys to improving customer capabilities. All of these technologies are achieved through materials engineering bordering on applied physics.
Burnsed says physics touches "every discipline at our tube manufacturing center in Tempe, Arizona — our specialty glass process, the optics. We manipulate matter at the atomic level every day." Key breakthroughs in L3Harris' designs include advances in spacing requirements between the components' photocathodes and Micro Channel Plates, according to Burnsed.
L3Harris tube components are closer together and have a finer pitch for higher resolution, reduced halos and delivery of a much higher-quality image. The team has increased tube Figure of Merit (FOM) performance by 50 percent in the last five years, according to Horwath.
"The higher the FOM number, the more precisely operators can detect and identify targets," Burnsed said. "You want a great level of sharpness and image stability without distortion."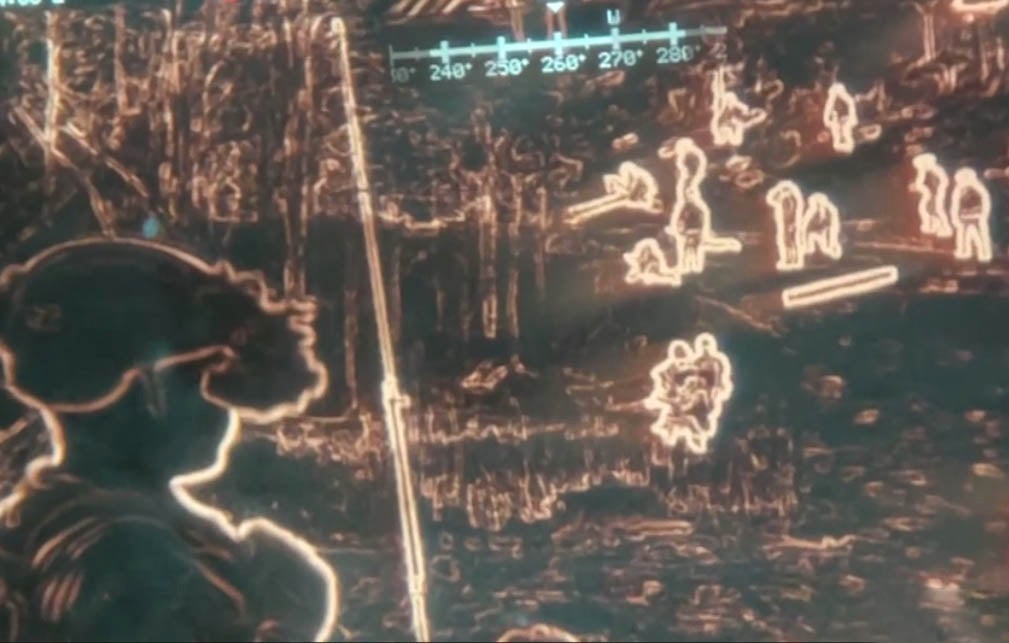 Soldiers get real-time, actionable intelligence through the fusion of white phosphor tubes and thermal imaging.
When the unrivaled FOM clarity and durability L3Harris tubes provide are combined with thermal-imaging technology, as is the case with ENVG-B, soldiers are equipped with the most advanced Situational Awareness goggle on the market today. Benefits of this fused technology include flexible 40-degree Field-of-View with options of white-hot, black-hot and outline modes, as well as precision targeting and identification capabilities in all battlefield conditions and light levels.
Next-generation advances in display technology, such as the incorporation of Augmented Reality in solutions including ENVG-B, enhance soldiers' effectiveness further by allowing them to keep eyes on target without having to look down to read maps or check radios for critical information.
L3Harris also spearheaded the effort with the U.S. government to nearly double gain level, bringing more light into goggles and sights. Burnsed said L3Harris is "now offering over 100,000 gain, which is significant for the user's ability to maintain image resolution in ultra-dark conditions, validated with Department of Defense (DOD) technical experts at the Night Vision and Electronic Sensors Directorate in Fort Belvoir."
As L3Harris works with DOD to upgrade 10-to-12-year-old aviation goggles, Horwath says L3Harris white phosphor tubes will boost performance by 50 percent.
"Horizontal wires are very concerning for helicopter pilots," he said. "We're getting reports that pilots in the same aircraft are having different results with white and green phosphor. For example, the one pilot wearing the white goggle with our tubes can see the wires seconds before the pilot right next to him wearing the green goggle—which, if you're flying low and fast, is a big deal."
Another customer advantage is the ability of L3Harris tube systems to operate for up to 30 hours on a single AA battery, and, according to Burnsed, unmatched reliability.
Many continue to falsely claim that unfilmed tubes have poorer gain life than filmed tubes, but this has been proven definitively wrong in U.S. government contract-mandated testing for many years.
"We have never run them long enough to make them fail," he said. "In fact, we have a growing body of data that shows the unfilmed tubes have longer gain life than the filmed tubes, making them more robust to high light exposure regularly seen in mixed, urban environments."
CUSTOMER-DRIVEN FUTURE
The most important role of a night-vision goggle is to ensure the warfighter can see in the dark. L3Harris continues to demonstrate the critical role image intensifier technology plays to enhance Situational Awareness and provide full complementary advantage to sensor fusion, improving real-time mission capability for the warfighter. Despite the expanded roles and capabilities enabled by L3Harris' technological improvements, traditional analog technology also ensures continuity of operations if the warfighter is disconnected from the network.
L3Harris will continue to drive its quality and reliability to benefit customers, with higher FOM, better resolution and sensitivity, according to Burnsed and Horwath. This level of ultra-low light sensitivity and resolution remains unmatched by all current and proposed digital technology approaches.
L3Harris has been focused on integrating displays to enable information sharing, without sacrificing the capability the tubes provide, by creating a portfolio of overlay display capabilities that can be tailored to the varying needs of each warfighter. The newest L3Harris tube has a monochrome peripheral overlay display with information covering 10 percent of the top center of the goggle's view.
"They can see their direction, heading, location of team members," Burnsed said, "and get texts and maps." L3Harris' system-of-systems approach to night vision further enhances soldier capability. For example, ENVG-Bs connected with Thermal Weapon Sight-Individual solutions bring weapon site images directly to the goggle, allowing troops to see around corners without risk of exposure as well as identify, assess and engage targets with greater accuracy and speed, all with proven clarity, even in degraded battlefield conditions.
These offerings are designed to be enclosed within and powered entirely by the existing night-vision systems so they can be added investments at a more-reasonable price than having to buy all-new systems. L3Harris' innovative approach does not add the weight and bulk of external clip-on displays and associated power sources.
"We want to give all our customers more capabilities without complexity or taking away from their general Situational Awareness, so they can use our technology to be more effective, more survivable," Horwath said. "Because everybody wants to come home after the mission is complete."