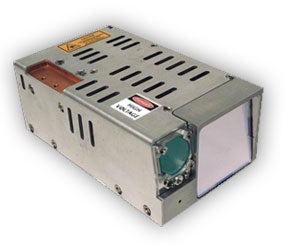 Threats come from many directions in contested spaces. Solutions incorporating quick and accurate distance-to-target measurement provide tank commanders and gunners with improved standoff range capabilities. Performing in the harshest environments including extensive dust, fog, haze and smoke, the L3Harris Compact Pointer High-Accuracy Range Finder (CPHAR) provides the tactical advantage required for mission success.
CPHAR is L3Harris' next generation of low-cost, mature, diode-pumped laser range finder. Strategically engineered for the a variety of land vehicle environments, CPHAR's optimal size, weight and power make it ideal for applications where distance measurement and a compact footprint are vital to mission success.
L3Harris' laser range finders are common across a variety of fire control sights. Solutions such as commercially available and exportable CPHAR, Commander's Eye-Safe Laser Range Finder (CELRF) and Gunner's Primary Sight (GPS) both used on the Abrams M1A2 combine common architecture and superior fundamental performance with size, weight and power designed for the vehicle. Driven by supply chain efficiencies, decreased costs and accelerated production, commonality reduces the number of spares, minimizing the logistics tail and ultimately increased operational availability.
L3Harris' CPHAR provides up to 13 kilometers (8 miles) ranging capability with repetition rates up to 5 hertz and extended standoff ranges. CPHAR enables the cross platform pointing laser receiving in a low-observable wavelength while maintaining Class 1 eye-safety requirements. When integrated into high-performance fire control systems, our technology provides precise distance measurements and accurate ranging of fast-moving targets from further distances, providing the vehicle greater protection.
A global leader in defense technologies and services, L3Harris is a full-service designer and manufacturer of military grade eye-safe laser range finders, laser designators and multi-function laser systems with superior performance in all battlefield conditions.