As the U.S. military builds more and more complex mission-enabling technologies, individual components become tightly coupled in these systems-of-systems, which adds unneeded complexity when looking to insert new capabilities into the architecture.
Traditional development strategies degrade the ability to rapidly adapt to changing battlespace dynamics. As such, the U.S. Department of Defense is moving toward a modular system approach to promote interchangeability and interoperability with capabilities from a wide variety of sources.
"Having an open-systems architecture allows for more innovation," Douglas Bush, Assistant Secretary of the Army - Acquisition, Logistics & Technology, said, according to The National Interest. "Ten years from now, there might be a whole new company with a whole new technology, for example, that would have a kind of radar or kind of sight for a tank, say, or some kind of new communications gear, that wasn't even thought of when we designed the system and procured it. Really what you want is a way to bring in new things like that, without having to kind of start from scratch on the design."
Modular Open System Approaches (MOSA) are gaining traction within the DOD, with requirements aligned to MOSA being included in new industry requests for information and proposals. Further, the individual military branches are beginning to converge on agreements regarding best practices and standards to increase total-force alignment.
"If you think of the war of yesteryear and the next peer-to-peer conflict – where the United States will go up against highly sophisticated adversaries that might have the ability to challenge or defeat our communication capabilities – our military needs to rapidly adapt in the field to meet new requirements," said Brendan O'Connell, president of L3Harris' Broadband Communications business.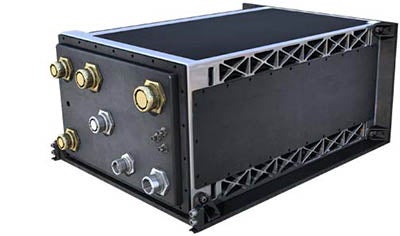 Additionally, 70 percent of typical procurement costs are reserved for outyear support and sustainment; a modular approach significantly reduces the financial burden of these considerations due to the on-the-fly insertion capabilities it offers.
"We are applying a new software and hardware approach to our MOSA offering to the military that includes designs and architectures that can be adapted in a third of the time," O'Connell said. "Our new system, the Rapidly Adaptable Standards-compliant Radio (RASOR™), is our strategic technology solution that helps address this new shift in our customers' needs. It's the genesis of truly modular open systems approach that postures the United States and its allies for the next-generation fight in a revolutionary way."
RASOR aligns to major U.S. DOD and industry-adopted technical standards and embraces an innovative design to enable rapid technology insertion and capability deployment fit for the near-peer fight and Joint All-Domain Command and Control operations.
OPEN SYSTEMS ARCHITECTURE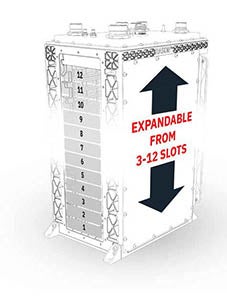 There are numerous complex integration challenges involved in designing open systems architecture, according to Matt Tuttle, L3Harris Product Management manager. One step toward mitigating the complexity is L3Harris' RASOR development concept as a system within a system that empowers and enables third parties to interface with the company's ecosystem.
RASOR leverages a tight form factor with a reference architecture and design that can be easily manipulated to meet unique requirements in manned and unmanned aerial, ground and naval platforms.
"Because of our design approach, we have been able to truly minimize the time in which we can customize RASOR to meet bespoke requirements," Tuttle added.
The L3Harris RASOR chassis, known as RARE™ (Rapidly Adaptable Ruggedized Enclosure), bring a highly innovative additive manufacturing approach leveraging various advanced-manufacturing technologies, such as 3D-printing. RARE can scale from three to 12 slots with customized modules, which include L3Harris-proprietary technology as well as third-party solutions. The individual modules provide a wide breadth of cross-domain capabilities with multi-level security, from resilient line-of-sight and beyond-line-of-sight communications to Intelligence, Surveillance and Reconnaissance, Command and Control, Assured Positioning, Navigation and Timing and Electronic Warfare.
The company is "quickly pacing to become" the industry leader in providing cross-domain security and encryption, an imposing challenge for modular systems, according to Tuttle. Moreover, the innovation in the adaptability in the chassis design is "very pivotal" and is strengthened by the core ecosystem software known as Dynamic Software Capability Orchestrator, or DSCO™.
DSCO brings the entire ecosystem of once dissimilar capabilities together through task, chassis and resource management functions, Tuttle added. The innovative approach also enables rapid capability insertion via software development kits and open-source Docker and Kubernetes, which empower third parties to leverage L3Harris' hardware and ecosystem with a software approach that "containerizes" native code and runs it through an agnostic process to deploy or undeploy at needed scale.
RASOR DEVELOPMENT
RASOR is building upon a strong pedigree of earlier generation open systems, such as the Advanced Signal Processing Engine (ASPEN™), fielded on the U.S. Army UH-64 Apache, and several programs within the classified space. L3Harris started fielding open systems last decade and continues to build off of the lessons learned while integrating new industry standards.
As industry has learned more about how to solve open-system integration challenges, and as standards bodies have better defined requirements and approaches, there has been more traction in developing true open-systems architectures, Tuttle said.
"Because we have invested heavily in this technology, we are quickly on pace to be the de facto market leaders for open systems," he said. "RASOR is the trusted disruptor technology for the DOD. We're really providing Communications as a Service by applying robust software and resource management within the chassis and ensuring it interoperates with all connected capabilities with ease."
The company invested internal research and development into studies on how to implement the technology and conducted rigorous study and analysis to prove its battle-readiness. The company is also leveraging best practices from its long-standing relationship with the U.S. National Security Agency in developing RASOR's security architecture, he added.
MESHING AIR AND GROUND

L3Harris' investment in the technology is warranted, given the U.S. military's appetite for this capability; the U.S. Air Force is "all in" on open systems, according to Ron Fehlen, vice president and general manager or Air Force and Unmanned Aerial Systems. Fehlen added that the air service typically pays for standards development around the Sensor Open Systems Architecture (SOSA™) concept.
"In the ecosystem of open-architecture systems, RASOR is targeting systems that require cost versus capability trades," Fehlen continued. "If the service needs an unmanned aerial vehicle with a per-unit cost under $30 million, they want as much capability as they can afford, realizing they will need to make trades. RASOR allows them to choose now and add later in a cost-effective approach across the lifecycle."
Without moving toward open systems, the service risks both "vendor lock" as well as the inability to respond at the "pace of threat" and technology, according to Fehlen.
L3Harris has already demonstrated the capability of RASOR for the Air Force, including a recent exercise proving aerial connectivity of the service's new Strike MeshONE waveform between air and ground surrogate vehicles hosting the company's new solution.
THE CMFF SOLUTION
When the U.S. Army looks at large-scale combat operations moving forward, the integration of electronic warfare and assured resilient communications is essential. Key to providing that capability is characterizing the RF radio-frequency environment to help operators understand the battlespace so they can automatically move between resilient networks to counteract cyber threats, according to Tom Kirkland, L3Harris vice president and general manager of Army and SOCOM programs.
The Army began down the open systems architecture path late in the last decade with Command, Control, Computers, Communications, Cyber, Intelligence, Surveillance and Reconnaissance (C5ISR) Modular Open Systems Standards, or CMOSS for short. Since, the service has been requiring CMOSS-compliance for integration on all platforms within its inventory.
"The Army is fully committed to open systems with the CMOSS Mounted Form Factor (CMFF) program," Kirkland said, noting the service has adopted a three-block approach that aligns to their capability set fielding schedule, which will allow them to iteratively add capability over time until they reach an integrated communications and EW system. "L3Harris is the leader in resilient communications and EW, and our investment into RASOR will help accelerate and field an integrated system."
The service is taking a "unique approach" by officially chartering one program executive office to purchase all CMOSS Form Factor solutions to standardize and ensure interoperability across all ground and air assets, according to Kirkland, noting that modernization efforts under the CMFF umbrella — formalized as a Program of Record in January 2022 — will help the Army find cost synergies across their platforms while rapidly adding new capabilities.
L3Harris' RASOR solution keys in on three of the major considerations for the CMFF program, according to Kirkland: enabling interoperability; deploying more advanced capabilities onto platforms more expeditiously; and a convergence of communications and electronic warfare capabilities for large-scale combat operations and multi-domain operations.
"RASOR is designed to meet and exceed the requirements for CMFF," Kirkland said. "The best part of RASOR is it's a result of collaborating with all the of the key stakeholders of CMFF to ensure we are providing the capabilities they need on time or ahead of time."
L3Harris further enables interoperability via RASOR by combining the best-of-breed, battle-proven capabilities from across the enterprise to deliver fully integrated solutions with the manufacturing capability to meet customers' speed of need. 
"No one in the industry has a wider, more-expansive inventory of resilient waveforms than we do," Kirkland said. "Customers can go straight to L3Harris, and we have all the ground-to-air, air-to-air and resilient waveforms they would need to conduct any operation within their scope."
DISTRIBUTED MARITIME OPERATIONS
L3Harris is developing key technologies to enable the Navy Tactical Grid as well as capabilities required under the Navy's service-specific JADC2 acquisition program known as "Project Overmatch," according to Brenna Baker, L3Harris vice president and general manager of Navy and Advanced Unmanned Aerial Systems programs.
The Navy awarded L3Harris a contract under the Landing Autonomous Navigation Technology for Enhanced Recovery to Navy Ship (LANTERNS) in June 2022, which will modernize the Joint Precision Approach and Landing System (JPALS) on all aircraft carriers with improved ship-to-aircraft communications technology. Ultimately, U.S. Naval Air Systems Command will include this vital technology in the entire air wing of the future.
As the naval service modernizes its fleet across domains, the open architecture standards and modular hardware and software offered by RASOR will be required to address rapid, affordable integration and fielding, according to Baker.
"We see a need for agile and open solutions versus point solutions to modernize rapidly with the evolving threats," Baker said. "We used a RASOR-based solution in the LANTERNS program to modernize Carrier Strike Group flight deck operations. Our RASOR solution will replace heritage single-point solution radios with a modular approach able to host heritage analog waveforms, along with our newer digital and resilient waveforms, preserving interoperability."
RASOR's ability to be air- or liquid-cooled mitigates size, weight and power constraints related to the unique environmental challenges of maritime operation, she added. RASOR will accelerate resilient communications and networking to the future fleet, which will comprise both manned and unmanned systems.
With 60 years of proven history in partnering with our customers to solve their most-challenging missions, L3Harris is now positioned to enable a network from space to undersea, with an affordable and modular approach to integration.