Twenty years ago, the electromagnetic battlespace was entirely different to what it is today. There was only a very restricted pool of low-tech, easy to defeat commercial threat devices repurposed by the adversary that military personnel needed to defend against – a very different story to today's saturated threat environment. One of the most prevalent responses to these threats initially came in the form of a radio frequency (RF) jamming capability. These man-wearable or platform-mountable boxes would block trigger signals being sent by the adversary from a transmitter to a receiver to prevent threat to life from radio-controlled improvised explosive devices (RCIEDs).
At the time, the introduction of this technology was revolutionary, and it is still a highly relevant, mission-critical capability that many forces rely on today. The problem is that these threat devices are constantly evolving, and the diversity of capabilities now leveraged by our adversaries is starting to require a different approach. As the demand for reliable radio communications continues to increase, the electromagnetic spectrum is becoming ever-more congested, driving a gradual transition to easily accessible commercial off-the-shelf devices. Many terrorists are repurposing these devices in order to inflict harm and deter military personnel; that's without mention of the state sponsored and peer adversaries who have access to even greater threat capability.
This rapidly shifting threat landscape requires an equally rapid response from innovative, agile solutions that are purpose-built to keep commanders one step ahead. What's more, as the line between electronic warfare (EW) and cyber-based threats continues to become blurred, modern EW solutions need to be ready for this evolving character of warfare by design. The issue is the response technology hasn't really changed along with the threat. Warfighting capability is still largely focused on the immediate and near-term threat environment, rather than addressing the wider picture. It mainly reacts to new threats by creating new equipment that only solves challenges that exist in the here and now, instead of considering what might emerge in the future.
Where legacy EW electronic countermeasure systems have previously focused on "spectrum denial", the next generation of EW capability must now prioritise "spectrum control", enabling commanders to gain true spectrum superiority.
What does this mean for Defence?
Much of Defence is held back from making progress along this evolutionary path by budget constraints and lengthy procurement protocols, only seeking capability that meets current requirements as a result. The protection of its people remains the priority, therefore many maintain a focus on procuring technology that achieves that outcome above all else. This outlook is different, however, for many Research and Development (R&D) driven organisations.
With the rapid pace of change within the modern threat environment a primary consideration, many are now looking to sufficiently prepare and protect against threats that haven't been encountered yet. Because the threat space is moving so quickly, it's becoming impossible to keep pace with adversaries without harnessing capabilities that offer multi-role functionality. To stay ahead, we need to be able to deliver a defeat system to a new threat at the same speed at which it emerges. While we can't predict what the future battlespace might look like, we can ensure we have the flexibility and capability to deal with threats as they arise.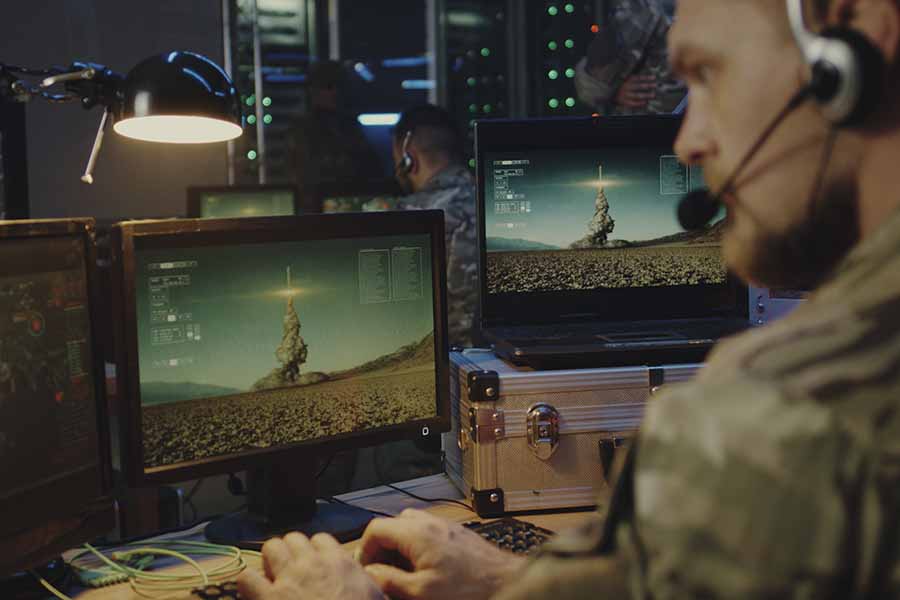 There's also a valid commercial argument for taking this approach. New systems are increasingly complex, more expensive and take a long time to develop. In the current trend, these are also often rendered obsolete and discarded once their intended purpose has subsided. This starts the cycle of purchasing new equipment to address a new threat all over again, which isn't a viable long-term solution when budgets are continually becoming more constrained.
What is the solution?
The answer is to adapt. This means finding an extensible land EW capability that comes without the need for subsequent hardware procurements but instead offers opportunities for timely OpEx upgrades. Of course, the route to entry for these solutions is the source of much debate across Defence, as the investment required upfront is by no means insignificant. There is also often additional expense to consider when making the initial transition from existing product lines to modular architectures – it may not be as simple as switching out one for the other. Recent events such as the COVID-19 pandemic and Brexit among other examples have had a considerable bearing on this expense, impacting supply chains across the industry. As a result, component cost is currently at an all-time high. It's therefore highly likely that when the time comes around for your next refresh cycle, the cost to purchase such future-ready solutions will have decreased significantly.
Another important consideration is that there isn't always time to design and develop a brand-new system to defeat each new threat. As soon as one is dealt with, another very quickly takes its place. Multi-role EW systems are instead designed to be "evergreen", meaning the base hardware remains the same while new software is added and swapped out as required to address each new threat. This offers incredible through-life cost benefits and also marks a critical change from a size, weight and power (SWaP) perspective – personnel and vehicles no longer have to carry multiple boxes to protect against multiple threats. Everything is made available from a single system which allows users to simply switch between the capabilities they need at the touch of a button. This dramatically reduces the operational and physical burden, better enabling people to focus on the mission.
Ready to help you adapt at your own pace
Regardless of whether your approach to EW remains near-term or long-term, we're ready to support your mission, protect your people and help you achieve spectrum superiority. Our leading-edge land EW solutions are designed with your mission requirements in mind, built to tackle the threats of today and ready to face the threats of tomorrow.
BROADSHIELD®
Designed to provide mission-critical protection against the ever-growing threat of RCIEDs, our innovative range of BROADSHIELD® products offers robust, reliable and high-power electronic countermeasures. From advanced jamming made possible by our BROADSHIELD MCS-FP manpack to a modular countermeasures suite suitable for electronic attack in MCS-EA, these solutions are flexible, effective and highly capable. Our BROADSHIELD HCS solution even delivers multi-role tactical EW capability, enabling commanders to re-role between force protection and electronic attack from a single system. Battle-proven, BROADSHIELD provides life-saving protection against RCIEDs while in transit alongside the crucial ability to deny, disrupt or exploit an adversary's communication system. With a broad array of different EW capabilities across multiple products, BROADSHIELD is the ideal choice for near-term convoy protection, troop protection, VIP protection and explosive ordnance disposal (EOD) teams.
CORVUS®
An open, agile and extensible architecture, CORVUS® is our next-generation EW capability. Built using an open standards based approach, CORVUS is a future-ready EW solution that enables the development and deployment of cyber electromagnetic activities applications at scale and at pace. Rapidly reconfigurable in the field, CORVUS supports multi-role, multi-function and multi-platform EW capability, from situational awareness to electronic surveillance, and much more. Able to switch between these roles at the touch of a button, CORVUS readily adapts to the evolving threat environment at the speed of relevance.
CORVUS is the light at the end of long refresh cycles. Once CORVUS hardware has been procured and deployed, it paves the way for the future by enabling users to role and re-role multiple new software-based applications as and when they're needed. This means no more massive CapEx investments because the hardware doesn't go end of life. Due to the open and extensible nature of its architecture, it's ready to accept a diverse range of new or existing apps that you, your supplier or any other third party chooses to develop and deploy, making it a truly evergreen solution. This means you realise the benefit of significant through-life savings thanks to lower cost of ownership, tactical and strategic interoperability due to its open architecture, and no vendor lock-in.
Whatever your land EW requirement, our capabilities are ready to respond at your own pace. Discover more about how we help unlock mission agility across the battlespace here.