Situation
In 2004, Denver Regional Council of Governments (DRCOG) approached L3Harris geospatial Solutions, (formerly MapMart), to help create and implement a quality control program for its Denver Regional Aerial Photography Project (DRAPP). L3Harris geospatial worked with DRCOG on a data acceptance testing (DAT) program to ensure consistent quality and known accuracy for aerial collections of 6,500 to 7,000 square miles of 3-inch, 6-inch and 12-inch per pixel 4 band (RGBNir) color ortho mosaic data of the Denver metropolitan area.
Since the program's inception, DRCOG has contracted for new data collections every two years. L3Harris geospatial solutions continues to provide quality control support to ensure the data meets specifications for critical GIS projects such as planimetric updates, impervious surface identification, vegetation studies, property line updates, general engineering, and general planning.
L3Harris geosopatial mapping services:
Imagery Processing
Contrast and color balancing
Cloud patching, mosaicking, and orthorectification
Multi-resolution blended imagery
Custom Digital Elevation Models
Digital surface models and digital terrain models
Contours
Feature extraction
Quality Control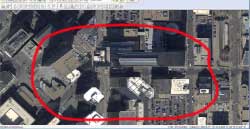 Prior to a DRAPP aerial collection, L3Harris geospatial lays and collects a series of approximately 160 ground control points (GCPs) in a custom-designed network to cover the various areas of interest for the project. The ground network of GCPs are placed in sufficient densities and locations to provide for three different levels of accuracy (3-, 6-, and 12-inches-per-pixel). The custom design reuses the same photo-identifiable GCPs every two years, and the GCP panels are resurveyed and laid in areas where the accuracies are higher for the 3-inch project areas. "It is very important to have a known accuracy for the ortho images," according to Howard Krinitzsky, manager of Production and Projects, L3Harris geospatial Solutions. "The control network we design, collect, and test gives known accuracies for each of the different ortho resolutions."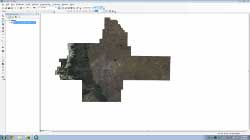 Thirty days after the aerial data collection, L3Harris geospatial reviews an interim orthomosaic to assess whether a reflight is necessary. Circumstances that could trigger the need for a new collection include snow cover, clouds or overcast conditions, incomplete coverage for project areas, building lean, heavy shadows, and histogram issues. GCP data is also inspected for gross errors that could indicate a general problem with image collection. These initial assessments provide an early opportunity to re-collect data if necessary to maintain project continuity and avoid delays.
Following the interim review, L3Harris geospatial generates pilot areas to cover the various pixel sizes, accuracy requirements, and terrain. L3Harris geospatial reviews each pilot area as a final delivery dataset and makes sure all DAT requirements are met.
To improve quality control, L3Harris geospatial checks for the following:
Matched edges across tiles to ensure there are no visible shifts or discontinuities in ground features
Warping to streets, bridges, and other linear ground features
Blurring and smearing to focus imagery and remove visible blurring of terrain
Color balance infrared band (NIR) to ensure consistent color across the tile, as well as the project area
Consistency of contrast of individual tiles and project area
Ground features of at least 4 pixels in length are visible within shadows
Ground features of at least 4 pixels in length are visible within bright reflective areas
Artifacts such as blemishes, bleeding, blank pixels, etc.
Roadways obscured by building lean
Mountain valley bottoms obscured
Metadata for each file
File formats
Ground control points in the pilot areas measured against field survey data to determine required specifications are met
"We apply the same standards and procedures to DRCOG and other large-scale mapping work that we use on our own projects," according to Krinitzsky.

"With in-house aero-triangulation capabilities and full photogrammetric services for sensors of all types, we are uniquely qualified to run quality control on any large mapping projects," says Krinitzsky.
Errors are marked with an attributed shape file and sent to the vendor for resolution. Once the pilot areas have passed the DAT process they are used as guidelines for processing, and reviewing all final data deliveries. As data sets are finalized and accepted, they are housed on a streaming service that can be accessed by DRCOG member governments.
In addition to individual tile inspection, L3Harris geospatial also reviews other DRAPP products and processes including:
Vendor flight plan
Vendor aerial triangulation report
Vendor ground control points
Vendor digital elevation model (DEM) data used for ortho process
After the final data for the DRAPP project is delivered, the GCP measurements are compiled and GCP locations on ortho images are compared to survey values. The x, y comparison of ortho location versus survey values are compiled into a root mean square report of L3Harris geospatial GCPs to validate that the DRAPP final data meets project specifications.
Summary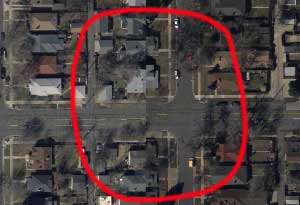 After quality control of the imagery is complete, L3Harris geospatial hosts the data via cloud services. This data is securely ingested and can only be accessed by registered DRCOG partners. As the service has proprietary elements, each partner is provided with a unique WMS link to access the data; in this case, that is 3-inch, 6-inch, or 12-inch resolution imagery. These links can be opened in a variety of geospatial software environments such as ArcMap™, Global Mapper™, AutoCAD® and Google Earth™ or can be tailored to custom applications built by the end user.
As collection of new imagery occurs every two years, different links are created for each data set. Users can load various data sets during the same session, allowing them to monitor growth and perform change detection. Such analyses of the data are used for assessments and DRAPP project planning.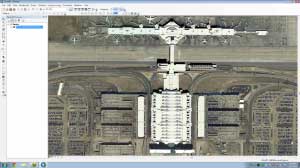 "General planning is one use of the ortho images," according Krinitzsky. "One of the products created from the DRAPP data is planimetric generation, which is used for a variety of purposes including: emergency response, police department dispatch maps, tree canopy assessment, sidewalk inventory, bicycle and pedestrian management and planning, and asset management."
The creation, implementation and ongoing quality control work by L3Harris geospatial highlights the team's expertise in aerial image data collection, aero-triangulation, ground survey collection, photogrammetry, ortho data creation, ortho mosaicking, and ortho image data streaming.