In the last several weeks, government at all levels, along with first responders, public health agencies and hospital systems across the country, have been orchestrating their plans to handle the expected surge in patients who would need to be tested and treated for COVID-19. In all cases, responders would need to work quickly and carefully to test, admit and treat patients, a process that involved much coordination, information sharing and hand-offs between multiple groups.
Situated in California's Sierra Nevada mountains, Mammoth Lakes is a rural community known for its beautiful scenery and abundance of outdoor activities. While removed from the epicenters of the COVID-19 pandemic which hit hard in urban areas, this remote setting would not escape the effects of the virus that had forced mandatory "stay at home" orders in much of the U.S.
Fortunately, in the weeks prior to the outbreak of COVID-19, Chief Frank Frievalt and his team from Mammoth Lakes Fire Department team conducted proof-of-concept testing that used XL-200P radios to connect a converged LTE broadband-VHF network with the AT&T FirstNet system. Being a wildfire-prone area, Mammoth Lakes had all too frequently experienced large-scale fire-fighting efforts that involved multiple agencies needing to coordinate their activities. Utilizing both commercial and FirstNet LTE infrastructure to supplement its land mobile radio coverage, Mammoth Lakes gained county-wide border-to-border communications that did not exist before.
Chief Frievalt's team also used the L3Harris BeOn software on their cellular network to communicate with units on the VHF network. While the set-up was only intended to demonstrate the performance of the radios and BeOn app, Chief Frievalt put the system to a true test when COVID-19 struck.
Chief Frievalt broke down the challenge as follows: "at the same time we were building our ground operations to handle an expected patient surge, we were preparing our teams to work virtually. Of the four function areas involved in COVID-19 response, only one—public safety—was accustomed to using handheld radios for group communications. Hospitals, public health and community support organizations deal in the world of emails and texts, so even if we had enough radios for everyone, we'd have to quickly train users, as well as manage and sanitize each unit between shifts."
"While it was not possible or practical to issue handheld radios, everyone had smart phones and they knew how to use apps," added Chief Frievalt. "The solution was BeOn, which we were using to enable push-to-talk voice and data communications through our smart phones, essentially turning those commercial devices into handheld radios."
L3Harris designed the BeOn group communications service to emulate Project 25 (P25) LMR performance on LTE broadband devices, such as an iPhone or Android smart phone. BeOn provides encrypted push-to-talk voice and data communications, and because it's a software application, BeOn can be quickly deployed to many users by simply downloading the app.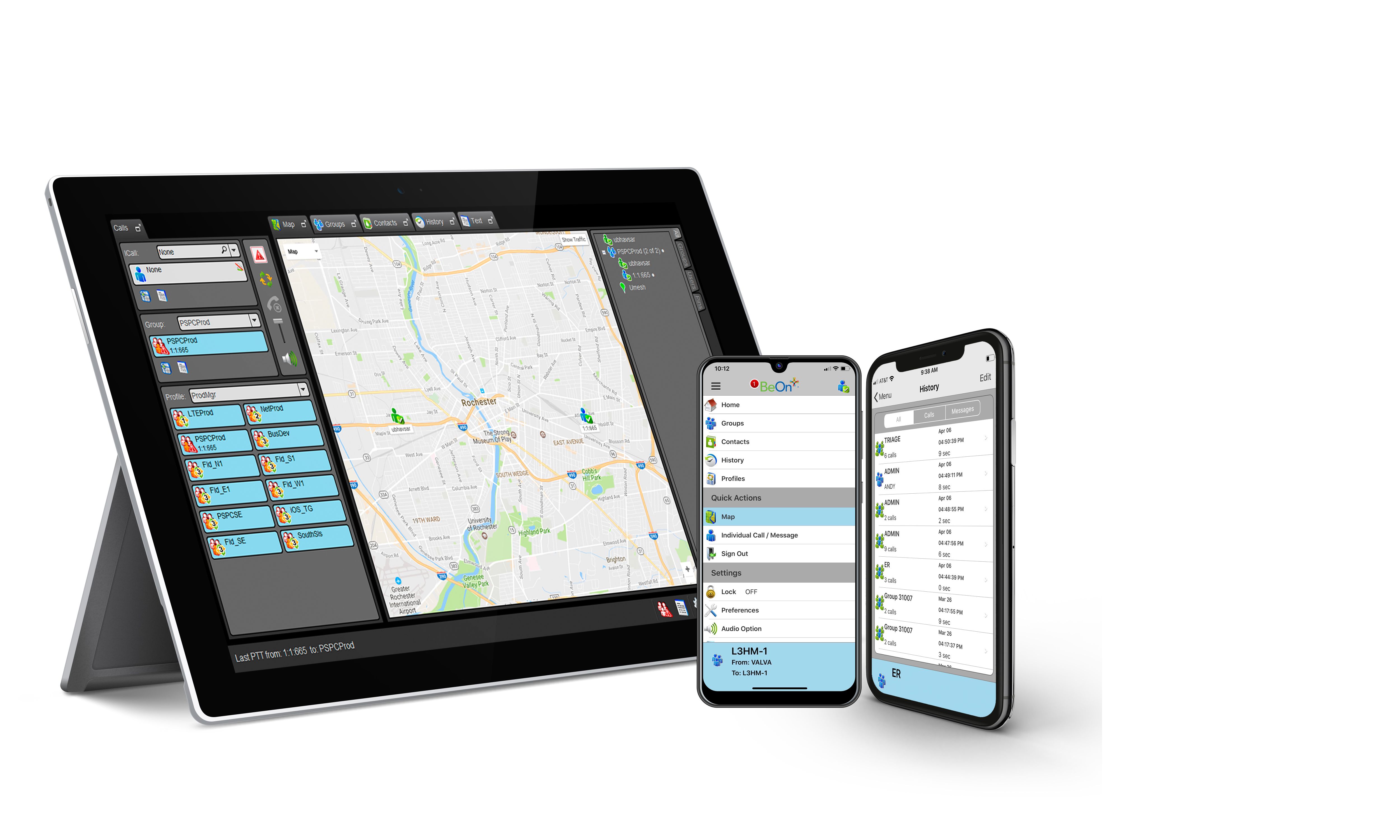 According to longtime BeOn user Edwin Whitworth of the Georgia Emergency Management Agency (GEMA), the encryption feature was especially important to healthcare workers and the information they work with every day,  even if they are operating in temporary tent facilities or at drive-in testing stations.
Similar to Mammoth Lakes, GEMA was also using BeOn for COVID-19 response. In a recent interview with Urgent Communications, Whitworth said, "We were having to find new ways of communicating, because it's not the same—I can't give a radio to a person and let them hand it off at the shift change to someone else, due to possible contamination."
At a time when reliable communications has never been more critical, L3Harris not only had the right solution for COVID-19 response, the company created the mechanism to rapidly roll out BeOn to a massive number of users. Healthcare workers, public safety agencies and other entities could use the BeOn app on their own cellular devices as part of their response efforts to the COVID-19 crisis at no charge for 90 days.
The L3Harris Public Safety and Professional Communications (PSPC) team has been working around-the-clock to help hospitals and First Responders get easy access to the BeOn app and onto a common communications network. New users can typically download and get trained on BeOn within an hour, and the app can be extended to hundreds of users if that's required by the customer.
"The response to COVID-19 has been a massive mobilization of resources and the team at L3Harris is proud that our technology is making a difference by enabling those who are on the front lines of the pandemic to help the health needs in their communities," said Nino DiCosmo, President of L3Harris Public Safety and Professional Communications. "What drives us to create new and innovative technologies is the belief that our hard work will bring benefits to those who use it. With BeOn, we are seeing this belief come true at a time of urgent need."
To learn more, email BeOnHealth@L3Harris.com