The Commonwealth of Australia's strategy for C4ISR and Battlefield Management System modernization through an overlapping, tiered approach represents a concerted effort to ensure layered networks are integrated as they are deployed. 
It also ignites an extraordinary revolution in terms of the situational awareness encompassing a suite of C4ISR technologies as well as kinetic and non-kinetic effects.  This, combined with a resilient and highly adaptive network, ensures that the ground personnel and their support agencies have the right information at the right time to aid better decision making, according to Alan Callaghan, president and managing director of L3Harris Communications Australia.
"These new architectures are delivering communication capability that is shifting data at increasing speeds across the battlefield," Callaghan said. "This enables a massive change in how the warfighter conducts operations."
L3Harris Technologies businesses have been supporting the Australian Defence Force for more than 25 years with a strong reputation in a number of capabilities, including Night Vision and Aiming Technologies, communications integration and electronic warfare, according to Callaghan. Further, more than 50 percent of the 500-plus in-country employees across 11 locations are ex-military.
"L3Harris Technologies is positioned to support the customer with a combination of mature local presence and global reach back," Callaghan said. "We have been a leading supplier of military solutions and services to the Commonwealth across a number of domains. We are proud of our partnership with the ADF and remain ready to deliver end-to-end integrated C4ISR capabilities in support of national sovereignty priorities."
"We aspire to be the soldier systems and strategic communications company partner of choice for the Australian Defence Force," Callaghan said. "From an operator perspective, there's a level of trust in the products that we offer–the radios work, the first time, every time, and it is this that helps keeps people alive."
Solutions for Interoperability
The layering and integration of networks and modern combat systems provides significant opportunities for future technology insertions, according to Callaghan. The strength of L3Harris' enterprise in Australia and abroad–from manufacturing assembly capabilities, local subject matter and supply chain expertise to software development–coupled with the company's in-depth understanding of the defence forces' needs speeds development and deployment of bespoke solutions to meet those requirements.
"There's a real opportunity for us to couple the existing investments with Australian SMEs and Australian supply chains to develop, supply and sustain sovereign bespoke capabilities," he added.
Understanding the Environment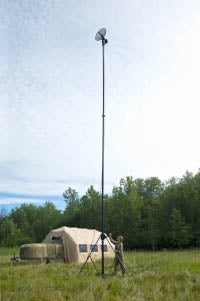 A core capability of L3Harris is its worldwide customer support infrastructure.
This capability is staffed by multi-disciplinary teams, many of whom are military veterans with extensive operational and technical experience with the systems fielded by the company. Importantly, a major tenet of L3Harris is that these teams be located in the customer's country and be populated by nationals; the overriding objective being to increase operational availability by developing sovereign capabilities which precludes to ship systems to the United States for repair.  
Achieving Overmatch
Australia is presented with a number of challenges as the Commonwealth works to keep pace with the significant level of defense modernization currently conducted by peer nations.
"The Australian Defence Force punches above their weight–I'd like to think it's one of the best small armed forces in the world," Maj. Gen. Fergus McLachlan (ret.), L3Harris Australia director, said. "What we're seeing now is a democratisation of lethality and technology. This idea of nation states operating in the gray zone make the role of the military leader on the ground incredibly difficult."
L3Harris is uniquely positioned to gain the best advantages from U.S. tactical communications technology development for Australia's own interoperability capabilities.
"We have the ability as this large prime in Australia to take the best of the American/Australian capabilities and support the desire for sovereignty in Australia," Callaghan said. "We are well-positioned as L3Harris to take the best of breed and leverage a strong and smart industrial base in Australia to help Australia's capability growth."