The need to gather multi-domain data, analyze it and disseminate it across the battlespace as actionable intelligence is a growing requirement for European defense forces looking to modernize their militaries in the face of looming threats.
Modern warfare requires robust, resilient and uninterrupted communications networks to ensure tactical operators at the edge of the battlefield have the relevant information necessary to conduct their missions. As nations mature to the concept of multi-domain operations, the ability to fuse and enact data from space, air, ground and maritime — within a national agency or during coalition operations — becomes paramount.
As the Joint Air Power Competence Centre recently stated in a white paper: "The ability of NATO forces to be seamlessly interoperable, complementary, and harmonized will be required in order to prevail against our potential future adversaries… Even considering the rapid advance of technology and capabilities across nations within the Alliance, all of the historical obstacles associated with multilateral operations remain, and will surely hinder the effectiveness of future Allied efforts if not addressed."
L3Harris Technologies leverages decades of experience providing leading-edge mobile, all-domain C4ISR (Command, Control, Computers, Communications, Intelligence, Surveillance & Reconnaissance) solutions, which include Falcon® and ROVER® families of tactical and ISR radios among other capabilities and offerings. To blend and integrate these capabilities to maximum effect for users, L3Harris established Global Communication Systems as a mission/system integration company that can deliver full systems — scalable and tailorable to specific use cases — that immediately provide multi-domain integration and interoperability with 21st century security capabilities.
ONE STEP AHEAD OF THE THREAT
L3Harris is a platform-agnostic and data-centric company. Its strength, as a market-leading provider of next-generation mission solutions for the U.S. military and allies, is integrating systems — bespoke and third-party — to connect and converge intelligence from disparate domains into one cohesive C4ISR ecosystem.
"Leveraging the breadth of L3Harris' enterprise-wide technological portfolio as one of the largest defense and security companies in the world, our Global Communication Systems business integrates today's stovepiped battlespace information systems into a synthesized and actionable real-time common operating picture across the echelons and domains," said Chris Aebli, president of the L3Harris Global Communication Systems business. "We combine products — from communication networks to radars, sensors and command-and-control systems — and develop usable mission capability that provides situational awareness in every step of engagement chain for soldiers, sailors and airmen."
Convergence, mobility, PACE (Primary, Alternate, Contingency & Emergency) and auto-PACE capabilities have become key enabling components as European nations and NATO determine future mission requirements. These very large systems combine numerous L3Harris-wide solutions, and the company is bestpositioned to effectively integrate them into extremely cost-effective, capable and combat-ready all-domain C4ISR solutions that are always able to be on the move, added Jake Williams, L3Harris Business Development director.
Further, the company's decades of experience in platform integration and developing scalable systems has led to existing modular, future-proof solutions that can both modernize legacy systems without replacing the entire platform as well as provide open architectures for future growth.
"The ability to leverage existing technology to meet emerging needs through software-defined architectures is a massive force-multiplier, because of the additional data that can quickly be accessed and shared with others," said Williams.
THE FOUNDATION OF C4ISR
Developing a C4ISR system is complex. The basic building block is a strong communications architecture on which a nation can layer command-and-control systems, cybersecurity and ISR.
L3Harris has a variety of mobile solutions — shelter, vehicular and trunked — that comprise the Integrated Tactical Area Communications family of systems (ITACS). When requiring ISR, the more-robust Mobile Observation and Surveillance Solutions (MOSS) incorporates ground radar Electro-Optic/ Infrared (EO/IR) sensors, cameras and Unattended Ground Sensors for expedited border security.
ITACS seamlessly integrates into tactical, public security and commercial radio networks and provides uninterrupted voice and high-speed data connectivity that can bridge strategic and tactical networks across great distances and permit instantaneous sharing of vital common-operating data.
"ITACS converges all of our end users' voice and data for their disparate missions;" said Williams. "Combing all ISR, voice and situational networks into one accessible ecosystem instantly gives nations a tactical military-grade highspeed C4ISR foundation with the high-performance encryption and frequency-hopping capabilities today's militaries require."
Battle management software, such as L3Harris' hC2 and hManager solutions, can be layered on top of the communications backbone to provide battlefield commanders a full picture of battlefield progress.
The hC2 battlefield management system allows users to create operations plans, logistics tracking, operational status tracking, tactical position monitoring and execution of tactical operations at multiple operational tiers, from the dismounted edge to the upper-echelon joint force level. The Android-compatible dismounted soldier version, hC2 Dismount can be deployed, as well as the Windows-based vehicular hC2 Patrol and Headquarters hC2 Command variants.
As with the battle management systems, ISR data can be layered on top of the architecture, completing the C4ISR network.
MARITIME SOLUTIONS
As a global leader in C4ISR mission solutions, L3Harris owns and manufactures a broad portfolio of technologies and solutions that are integral to a nation's ability to patrol and protect their sovereign coastlines and maritime territories.
Operating across the entire electromagnetic spectrum, from sensing and communications to tracking and targeting, the company provides turnkey system solutions to meet a wide range of mission requirements.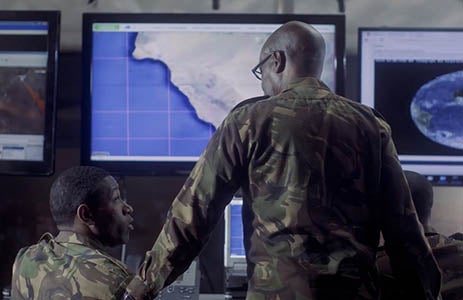 "L3Harris is close to the end users and appreciates the operational needs of each country, which are unique and highly dependent on doctrine," said Williams. "Our network-enabled C4I architecture is designed to be modular, flexible, scalable and easily adaptable to meet each user's operational requirements and ensure mission success."
Further, the company seeks to work alongside users to ensure solutions effectively achieve mission objectives while incorporating existing processes and procedures.
For example, for an Asian customer, L3Harris' technical approach was to deliver a fully integrated system built upon proven, off-the-shelf components with L3Harris technologies at its core to meet maritime domain awareness mission requirements.
The company's solution was designed to not only have advanced sensors at the forward edge, but also ensure information was shared through secure datalinks and integrated into a common operating picture to enable decisive command and control.
AIRBORNE OPERATIONS
As nations look to better connect airborne reconnaissance with personnel on the ground — either in headquarters or dismounted in the field — L3Harris integrates modernized tactical High Frequency, multiband and ISR communications systems to deliver robust voice, data and video connectivity required by Joint Terminal Attack Controllers in order to execute Close Air Support operations.
L3Harris' expertise accommodates a plethora of modular and scalable solutions to provide communications channels and video downlinks across the electromagnetic spectrum, connecting aerial and terrestrial forces.
For one customer looking to modernize their multiband radio capability, the system included four VHF/UHF channels, one HF channel and ISR video downlinks, leveraging L3Harris market-leading tactical radio offering and best-in-class ROVER family of ISR transceivers. All radio systems were interconnected and integrated into the host platform through the RF-7800I Tactical Network Intercom System and tactical networking gear. The company's hC2 Patrol battlefield management system provided vehicle commanders with the C2 capabilities they need to maintain the Common Operational Picture through a software suite optimized specifically for their needs.
The solution also included a JTAC Dismount Soldier Solution to provide mission-critical communications and situational awareness in a modular, Size, Weight and Power-Cost-optimized configuration.
"L3Harris has earned a worldwide reputation as the low-risk vendor of choice for all types of C4I systems," said Williams. "Further, our responsive program management, engineering and customer service organization delivers and supports highly capable solutions through rigorous testing, detailed installation, effective training and ongoing support with our end users in their locations."
SUPPORTING GROWING IN-COUNTRY DEFENSE INDUSTRY
L3Harris aligns itself with partner nations' visions, hires local talent and creates local partnerships with existing in-country companies to meet customer needs today and support the development of sovereign intellectual capital into the future.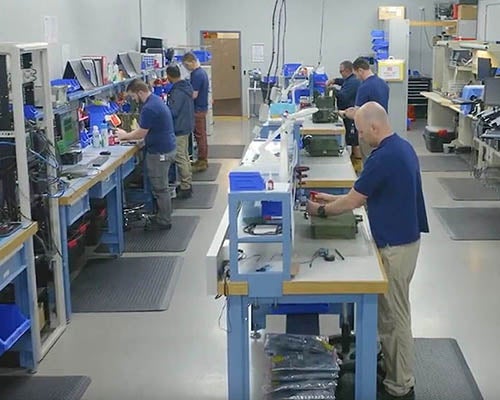 By hiring in-country talent, the company supports sovereign engineering evolution for nations to create their own software and product features to meet their specific requirements. Such modernization programs extend L3Harris' long-term partnership with national defense organizations, supporting mission needs for advanced solutions and leveraging its expanded technical support capability in country.
Across Europe, the company is already engaging and collaborating with countries to identify local partners to transfer technology and expertise in addition to building systems to meet customer requirements. The initiative leverages experience gained from similar investments and developments in Australia.
"In Australia, we made a considerable investment to ensure as much maintenance work as possible could be completed in-country," said Paul Buckingham, L3Harris Sustainment Programs director. "The customer sees the commitment and investment made by the company to develop and invest in domestic capability, which further builds confidence that L3Harris is a reliable and trusted partner."