Former U.S. Secretary of Defense Chuck Hagel was the keynote speaker; L3Harris was a platinum sponsor of the event.
"The U.S. Air Force is also celebrating its 75th anniversary this year, and 80 percent of the Air Force's existence has been supporting the National Emergency Airborne Command Post and National Airborne Operations Center missions," said 595th Command and Control Group Commander, Col. Brian Golden. "It's an impressive capability; the only other longer-standing platform is the B-52."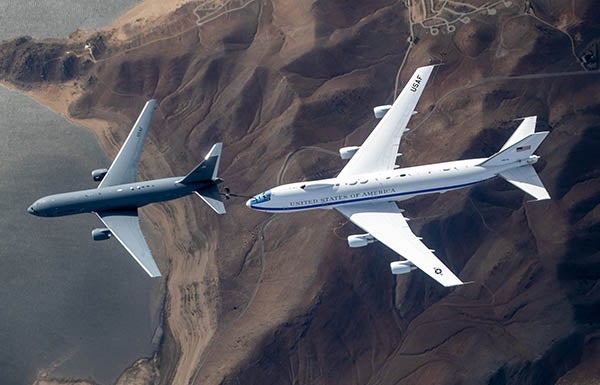 The E-4B, a militarized version of the Boeing 747-200, serves as the NAOC and is a key component of the National Military Command System for the President, the Secretary of Defense and the Joint Chiefs of Staff. In case of national emergency or destruction of ground command and control centers, the aircraft provides a highly survivable command, control and communications center to direct U.S. forces, execute emergency war orders and coordinate actions by civil authorities. Additionally, the E-4B provides outside the continental United States travel support for the Secretary of Defense and his staff to ensure Title 10 command and control connectivity.
The E-4B is a long-range, high-altitude airplane with a main deck comprising: a command work area, conference room, briefing room, an operations team work area, communications area and rest area. An E-4B may include seating for up to 112 people, including a joint-service operations team, Air Force flight crew, maintenance and security component, communications team and selected augmentees. At least one E-4B NAOC is always on 24-hour alert, seven days a week.
Over time, onboard communications capabilities have been added and enhanced, from 12 voice-only systems to the current 42 systems providing resilient, continuous communications across the entire spectrum of satellite, ground-based and air-to-air capabilities, according to Golden.
"NAOC is a Tier O, no-fail mission," said Golden. "This is a very unique platform – the only one that is on hot-alert at all times. Communications systems are always on, either airborne or on the ground ready to take off."
The 24/7 flight-readiness requirement demands a great deal of dedication from the airmen supporting the mission, and the importance is instilled into new members of the squadron when they join, said NAOC pilot Maj. Daniel Scully of the 1st Airborne Command Control Squadron.
"We all take care of each other, understand our purpose and maintain the big picture – it takes a lot of dedication," said Scully. "It doesn't matter if people are on leave or sick. If we're missing a position, we have to fill it, even if that means someone is on shift for two or three alerts in a row."
L3Harris Delivers Resilient Wideband Communications
The E4-B is a national-level platform tasked with 13 different responsibilities for separate mission partners; this requires a great deal of coordination to ensure all communications needs for each individual stakeholder is met, said Golden. Industry supports solving capability and integration gaps to move the mission forward, added Golden, noting that five-sixths of the overall platform cost is in communications equipment.
"The E-4B is a very important national asset," said David Béen, L3Harris U.S. Air Force Mission Systems Requirements director. "It has to be able to deliver command-and-control communications across all of the armed forces and facilitate communications between the Joint Staff so they can effectively communicate even on the country's worst day. The national command mission would fail without reliable, secure communications."
L3Harris has delivered resilient wideband communications, both line-of-sight and beyond-line-of-sight, in support of the NAOC mission for the last 15 years.
The company began by providing wideband line-of-sight common datalinks, which led into a modernization program seven years ago to enhance the four-aircraft fleet's satellite communications equipment, according to Todd Ovard, L3Harris senior Systems Engineering manager.
NAOC's datalink was originally developed by L3Harris for a U.S. Army program but ultimately found its way onto the E4-B first, followed by other programs.
"Over the course of our support, we have also extended the aircraft functions' accessibility to multiple communications links, which enhances the resiliency of its communications capabilities," said Ovard.
A strong government-industry partnership has been extremely important for the NAOC program to keep pace with the changing threats and dynamics on the world stage, said Scully.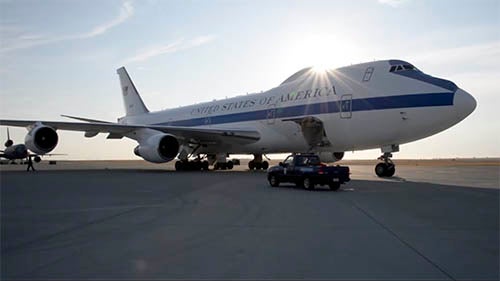 As the E-4Bs are nearly as old as the NAOC mission, the air service is in the process of identifying requirements for a major acquisition program of its replacement, currently envisioned as the "Survivable Airborne Operations Center (SAOC)."
The Air Force envisions a fleet of eight aircraft, to balance required readiness with upgrade and training schedules, according to Golden.
"With the recapitalization of the nuclear triad, to include the new B-21 bomber, Sentinel Intercontinental Ballistic Missile and the Columbia-class submarine, the Nuclear Command, Control and Communications mission will continue to prove vital in providing an updated command-and-control capability to ensure proper continuity and connectivity of these new capabilities protecting our nation's interests," said Loren Simper, L3Harris vice president of Classified programs.
"L3Harris has today the trusted solutions that can further extend line-of-sight and beyond-line-of-sight communications capabilities into the future of the NC3 mission."