L3Harris Technologies this summer established a new "Smart Manufacturing Cell" (SMC) enabling production assembly to meet the production demands of its customers for years to come.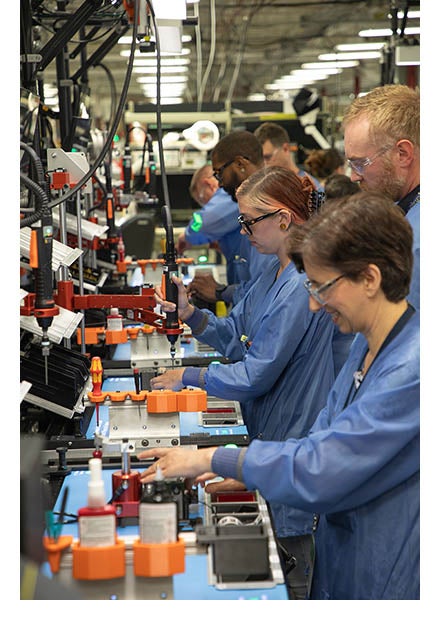 Prior to 2020, customer demand for the advanced technology provided by L3Harris tactical radios was pushing the company's manufacturing site in Rochester, New York, to its limits. Demand increased further in the last few years, putting more pressure for operational excellence, according to Chris Monoski, L3Harris senior director of Operations.
"As we continue to push our technology strategies here in our Jefferson Road Operations Center, I am thrilled about the official launch of our new Smart Manufacturing Cell," said Monoski. "Our Operations team has devoted tremendous effort toward this project over the last two years. It is really exciting to achieve this milestone and see these new technologies converge and come to life in our factory."
The catalyst of the project was the need for a better way to process the products L3Harris had to build and be more cost competitive with better quality and shorter lead times, according to Fran Branco, L3Harris Manufacturing Engineering principal.
Faster, Better Production
The answer to the company's current and future needs was the implementation of Smart Manufacturing Cell production. SMC is an Industry 4.0-level assembly process where control technologies, such as LightGuide augmented reality, Mountz precision torque drivers and Cognex® machine vision inspection, are integrated into one common platform by WorkSmart Systems.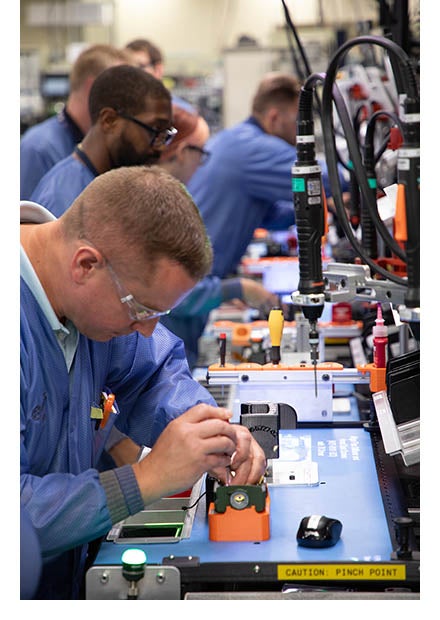 This capability delivers a line-agnostic station where different products with the same process can be built without requiring device-specific configurations when switching between production lines. Further, the system itself collects data including who worked on a specific unit and at what time for troubleshooting and root-cause analysis of potential defects found later in internal testing.
The system helps address cognitive ergonomics by reducing mental fatigue as the operator builds throughout the day, said Branco. It also provides flexibility to control who is building on the line and when; this allows the team to prevent defects from occurring by limiting equipment use to only those who meet training requirements, added Branco.
"The Smart Manufacturing Cell is fantastic," said Byron Green, L3Harris vice president of Global Operations. "We crossed that bridge of making the evaluation between the pain of inefficiency versus the pain of process discipline."
Realizing Efficiencies
The key advantage to SMC production is the efficiency improvements realized across L3Harris' Jefferson Road Operations Center (JROC), according to Matt Klosner, L3Harris director of Manufacturing Engineering. JROC's tactical radio Focus Factory runs three product lines at the same time; SMC allows production teams to focus on a line "dedicated to flow" and bringing work to the operators in the most efficient way possible to reduce non-value-added time spent on activities such as transporting parts from across the manufacturing space to workstations.
Expanding on Success
As more advanced-manufacturing equipment and processes enter L3Harris' production lines, the company is keen to implement as many new innovations as feasible into the Smart Manufacturing Cell, added Branco. This is a big step toward establishing fully controlled, paced lines to better control and forecast production output.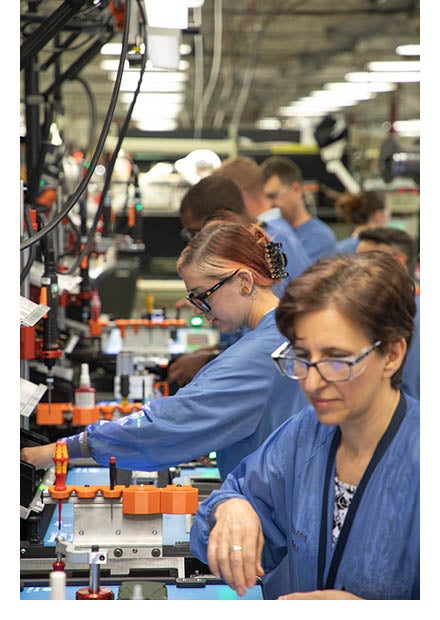 "The Smart Manufacturing Cell streamlines a number of processes, including root-cause analysis, and also frees up floor space so our operators can be more effective in their daily assignments. And we're creating a safer work environment for them as well." 
Fran Branco, Principal, Manufacturing Engineering
SMC also eliminates tedious transactional barcode scanning during the manufacturing process by frontloading those activities at the beginning of the build with co-located material specific for the cell, according to Klosner.
All told, L3Harris expects vast improvement in process metrics as a result of Smart Manufacturing Cell implementation in its tactical radio production lines, including outgoing product quality, productivity, space utilization, factory lead times and material scrap.
The L3Harris teams are currently working with the company's IT department and advanced-manufacturing equipment vendors to pull even more data from internal systems and third-party equipment into comprehensive databases for digital historical record keeping, according to Branco. The company is also exploring areas across the enterprise that can benefit from Smart Manufacturing Cells.
"As an operation, we understand our JROC facility needs to continuously improve in order to remain in a competitive advantage in our markets. The Smart Manufacturing Cell brings the technology infusion and mindset of paced production to serve as a key enabler for the continued advancement of our manufacturing operation." 
Jason Kress, Senior Director, Operations