Training for truck drivers is constantly up for debate. It's difficult to decide on how much training drivers need to navigate the road safely. It's also challenging for trucking companies to find the resources to create training programs that satisfy drivers' needs.
That's where driver training services such as simulators come into play. 
The Difference Between Education and Training
Many people think initial truck driver training is all that's needed before hitting the road. That's a problem, as that initial training is really just preliminary education. Training and education are not the same, but they work together.  
Think of education as learning in school. New drivers learn the rules of the road, the theory of handling a commercial truck and state laws they must be aware of.
Training, on the other hand, puts theory into practice. And it constantly evolves to suit the student. New drivers feel what it's like to handle a truck, while experienced drivers can address issues (and break bad habits). 
Why All Trucking Businesses Should Continuously Train
Handling an 80,000-pound commercial truck is complicated. Whether you're a new or experienced driver, training should always be available.
This is especially true if you're looking to hire and retain drivers. Millennials, who will soon be the majority of the workforce, place great value on training. Around 48% of them would quit a job  if there weren't any learning or development opportunities.
Even current truckers feel the strain of deficient training. In a survey of almost 2,000 truckers, only 28.5% had positive things to say about their training. Alarmingly, nearly 50% of the drivers  who sent feedback about training are no longer working with the same employer.
How Simulators Improve Training — and Ultimately Save Money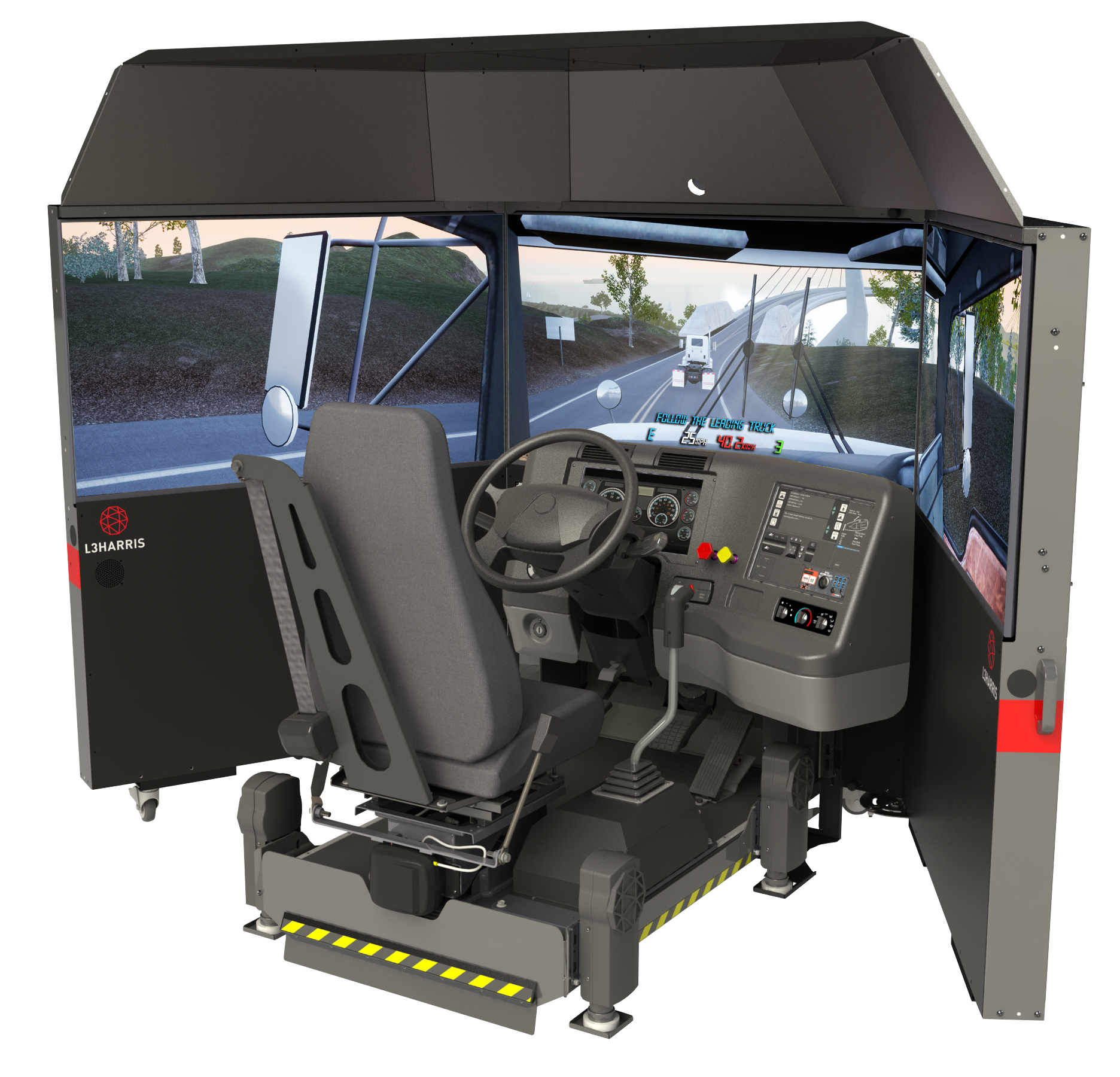 With training being important to new and current employees alike, trucking companies must find a way to effectively train without going over budget. A truck driving simulator is an ideal solution.
L3Harris driving simulators can serve your company in six ways: 
1. An Immersive Experience
Our simulators offer an immersive experience. Using a combination of 180-degree LED screens, top-quality graphics and a realistic dashboard and steering wheel, trainees get a realistic experience without real-life consequences.
Our simulators also can adjust to the type of vehicle it's simulating, meaning users will have the same turn speed and steering wheel resistance they would with an 80,000-pound commercial truck.
2. Constantly Changing Scenarios 
Whether you're training new or experienced drivers, you can create various scenarios with different difficulty levels. Keep drivers challenged by consistently altering the weather conditions, road surfaces, and time of day.
You can even test their skills driving through rural areas, urban areas, and different types of terrain.
3. Post-Accident Training
No matter how much training you offer, some accidents still happen. After reviewing the accident, use our simulator to create a similar experience and explain where the driver went wrong.
You can use this opportunity to ensure they understand just how costly a seemingly simple mistake can be.
4. Safe and Controlled Environments
Speaking of accidents, a truck simulator lets new drivers make mistakes with no real-life consequences. Because the simulator is a safe and controlled environment, when they crash, they can try the scenario again without worrying about injuries.
Plus, this prevents your vehicles from being damaged and having to pay for expensive repairs. 
5. Feedback Tools
Our driving simulators come with top-of-the-line instructors and modern feedback tools—including replaying, data collection, and performance assessments. Your drivers can see where they made a mistake, and the decision they should have made.
The drivers can also repeat the experience and see how that one choice made a difference. 
6. Operational Efficiency and Savings
Perhaps the greatest advantage to truck driving simulators is this: you can keep your business running on schedule.
There's no need to set profitable trucks aside for training purposes—or have experienced drivers diverted to teach new drivers. Instead, your trucks and drivers will continue to earn you money.
And if that isn't enough… better drivers mean fewer accidents and incidents.
Keep Your Business Running Smoothly by Training With L3Harris
With these tools and simulators as part of your fleet, you can continuously train new and experienced drivers—and provide consistent instruction throughout the company.
Don't wait for untrained drivers to cost your company a fortune. Contact us today to learn more about our modern, effective driving simulators.