Systems Knowledge Suite
Systems knowledge combines the tools necessary to master cockpit familiarization, aircraft systems, general subjects and FMS skills. This single program provides the student with valuable interactive training in a self-paced learning environment integrated with the learning management system (LMS).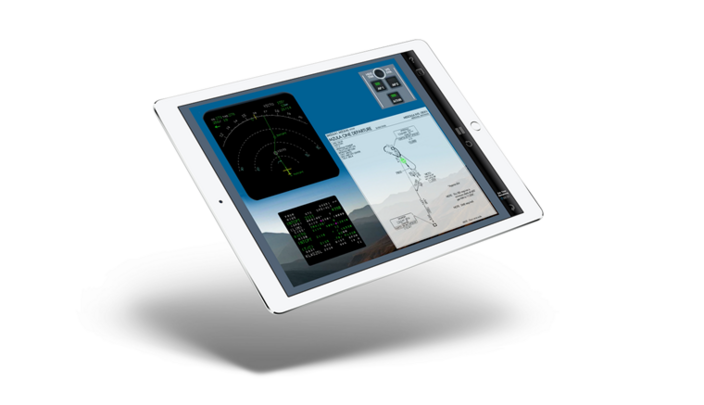 Aircraft Systems & General Subjects
Self-paced instruction, demonstrations, self-assessment, practice scenarios, remediation, and testing are brought together in these comprehensive training tools. These features provide greater knowledge retention when compared to traditional page-turning computer based training.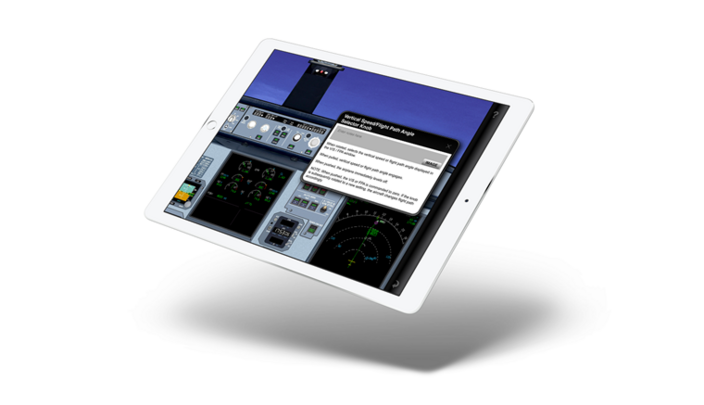 Cockpit Familiarization
This provides pilots with a self-study tool to help prepare for the oral exam and checkride through an educational cockpit experience. This tool provides cockpit panel information ensuring accuracy and clear functional descriptions of each switch, push-button, and light/annunciator.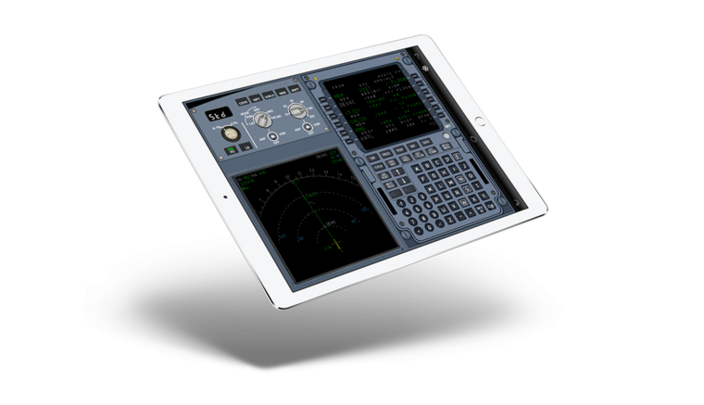 FMS Skills
The dedicated flight management systems (FMS) skills focuses on all the skills needed to understand and master the use of the CDU/FMS. The scenario-based lesson teaches steps of FMS, autoflight, and navigation during all phases of flight using a line-oriented scenario. The FMS skills is comprised of skills during preflight, taxi, takeoff, climb, cruise, descent, arrival, and approach.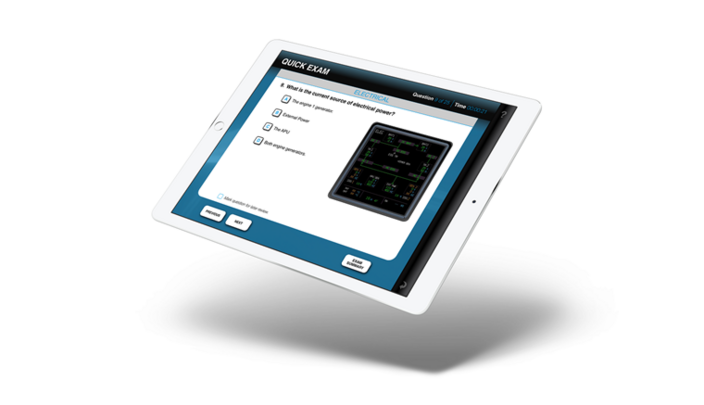 Practice Exam
The practice exam is a self-study tool provided throughout all self-paced/distance learning aircraft systems courses to measure the trainees comprehension of the topics covered. Quick exams, custom exams, and a review of previous exams is available.
Procedure Training Suite
Harnessing technology within a single tablet application, your pilots can target procedure training to better practice and prepare before instructor-led training. Procedure skills lessons and interactive procedure practice tools include cockpit flows, exterior preflight, and profiles & callouts. The tools are ideally suited for self-paced learning in advance of instructor-led sessions making the overall training journey more effective and efficient.
Cockpit Flows
Cockpit flows self-study tool provides an easy-to-use platform for pilots to commit to memory their phase of flight tasks through practice and comprehensive reference material. Pilots learn more than just a simple flow pattern as they memorize and understand all the necessary steps of their procedure.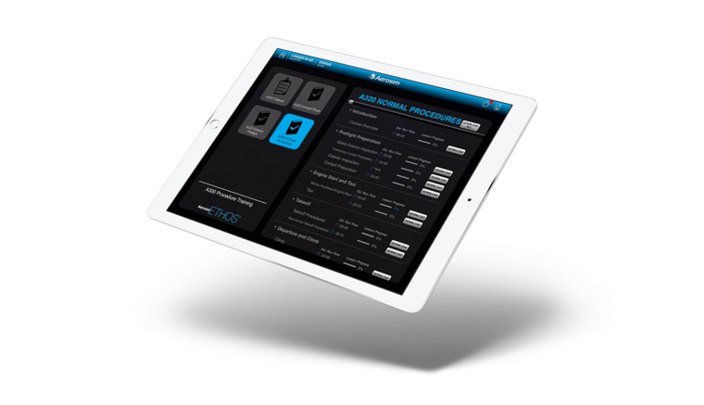 Procedure Skills
Procedure skills are presented in a tutorial-based courseware environment that teaches and demonstrates normal standard operating procedures. Detailed demonstrations of expanded procedures, checklists, cockpit flows, callouts, and other related tasks are organized by phase of flight.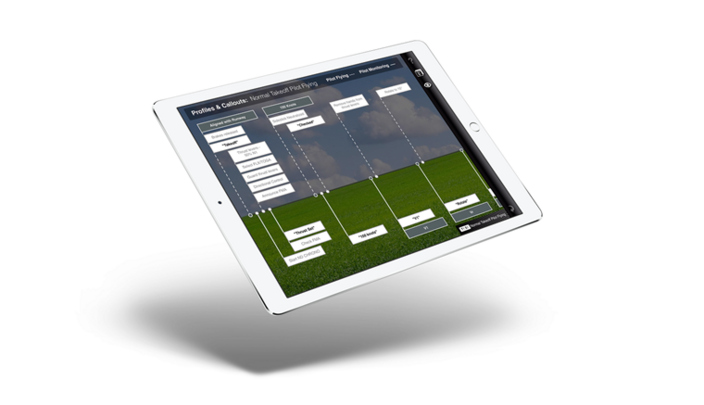 Profiles & Callouts
With profiles and callouts, pilots no longer need to have the struggle with demonstrating their knowledge of cockpit roles and tasks during instructor-led training. This training tool provides an intuitive and flexible environment for each pilot to review, understand and memorize their profile callouts and related tasks.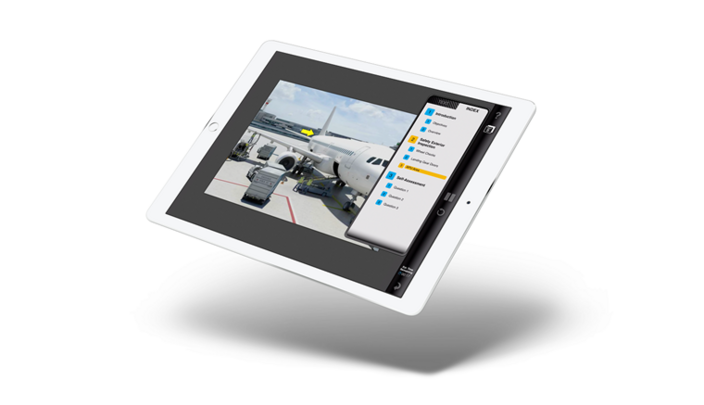 Exterior Preflight
Exterior preflight provides pilots with a self-study tool to learn and understand exterior aircraft preflight walk-around locations, components and procedures. This training tool provides a relevant platform by which pilots can conduct an exterior preflight using pictorial graphics of stations around the aircraft supplemented by more details component images and explanations.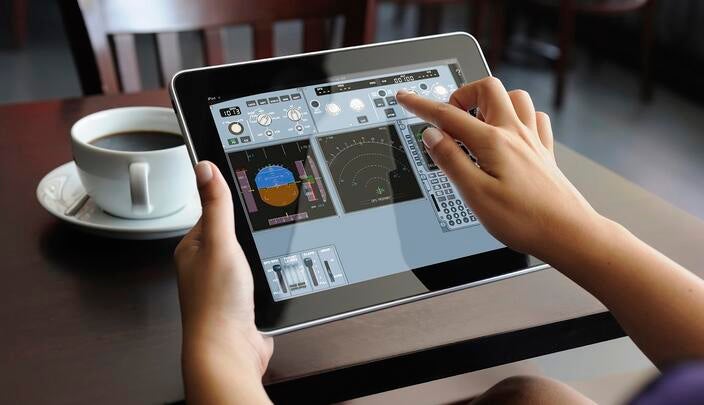 Free play FMS
Our free play flight management systems (FMS) trainer provides pilots with the opportunity to develop and practice flight management skills in a high fidelity, free play environment. All required avionics are fully integrated, while aerodynamics and engine models offer the capability to set the thrust, flaps/slats, speed brakes, and landing gear to allow for a genuine experience within the aircraft's operating envelope.
Make an inquiry
Please complete the form below to contact the team for more information on our distance learning application.