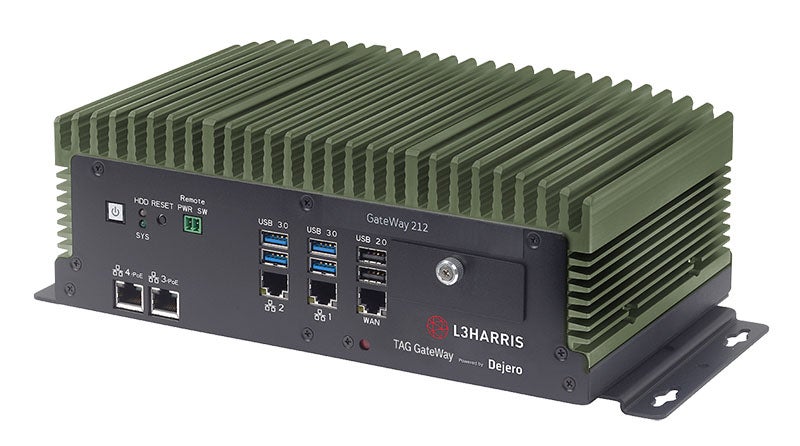 TAG Gateway Remote Terminal
The U.S. Department of Defense and partner forces around the world are set to benefit from a game-changing technology employed by television networks to ensure the highest quality in coverage of the Super Bowl and Olympic Games.
L3Harris Technologies has partnered with connectivity specialist Dejero to offer Transport Aggregation Gateway (TAG) software, which ensures mission-critical armed-forces communications across the modern battlespace—including denied or degraded Command-and-Control environments.
TAG solves a critical capability gap that has been plaguing expeditionary units for decades, according to Shane Sims, L3Harris product director. For years, Tactical Operations Centers would have several disparate satellite terminals operating at the same time, without interconnections to perform tasks such as load-balancing. As operators' thirst for data increases, and as adversaries enhance their ability to limit, deny or jam communications, the strain on integrated tactical network infrastructure intensifies in kind.
In a vision statement released last year, Gen. Jay Raymond, head of both U.S. Space Force and the U.S. Air Force's Space Command, stated: "Adversaries understand the advantage SATCOM brings our warfighters and are working to deny, degrade and destroy these capabilities."
"The single, integrated SATCOM enterprise will enhance integration between the military and private sectors, with a goal to enable warfighters with the ability to transition between their networks and terminals to alternate resources with little or no disruption," the statement continued.
The Transport Aggregation Gateway now offers that capability.
TAG IN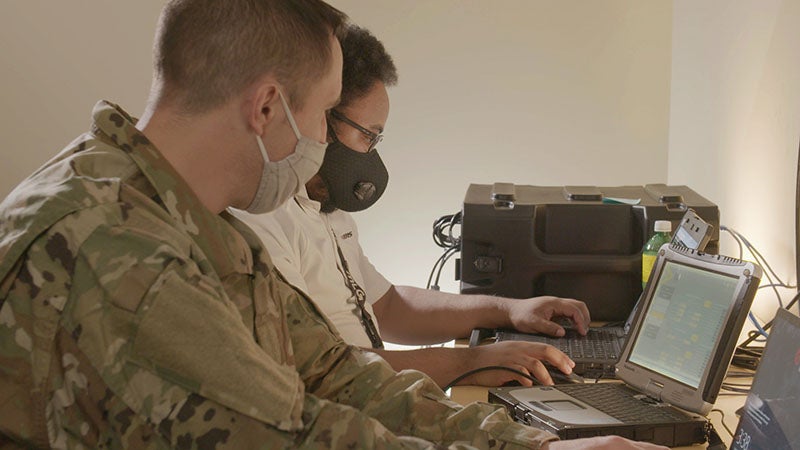 L3Harris' Transport Aggregation Gateway (TAG) is based on commercial technology originally designed for mobile news teams covering major sports events, providing them with a unified gateway that enables multiple transmission paths across satellite, cellular—3G, 4G and 5G— and Line-Of-Sight communication networks.
The appearance of U.S. Department of Defense (DoD) visual information does not imply or constitute DoD endorsement.
The L3Harris solution is based on commercial technology originally designed for mobile news teams covering major sports events, providing them with a unified gateway that enables multiple transmission paths across satellite, cellular—3G, 4G and 5G—and Line-Of-Sight (LOS) communication networks.
Enabled by Artificial Intelligence and Machine Learning algorithms, TAG features Smart Blending Technology (SBT), designed to deliver dynamic load balancing, enhanced quality of service and multi-path diversity to warfighters operating in contested environments.
The physical footprint includes the TAG Gateway Remote Terminal, tasked with the management of inbound data links, applying SBT to determine optimal network routes for outbound data flow.
The TAG Concentrator also exploits SBT algorithms to aggregate traffic across multiple networks to ensure maximum levels in data throughput.
"There's no requirement to reconfigure anything," Sims said. "TAG takes advantage of all available bandwidth or throughput across disparate networks, no matter which vendors are supplying them."
By utilizing all available communications links simultaneously, TAG automatically optimizes capacity by providing network resiliency and elasticity as communications systems join or leave the network, he added.
"This commercial technology has now progressed to a point where it has become something useful to the DoD," Sims said.
Following a successful proof of concept to the U.S. Army in December 2018, L3Harris has made a series of modifications to TAG in order to optimize its deployment across the armed forces.
Upgrades included the introduction of a special algorithm to "smooth out" varying latency levels witnessed across different communications networks.
"When satellite links either degrade or break, TAG will adjust the traffic to the remaining links to ensure the Soldier never loses connectivity," Tyler Cook, Managed Multi-Orbit SATCOM lead for Product Lead Unified Network Capabilities and Integration, Project Manager Tactical Network, under PEO C3T, said in a service statement. "If the user is linked using LEO and the signal becomes degraded or jammed, the capability will switch you to MEO, and then if needed to GEO."
Describing TAG's application across the modern battlespace, Sims illustrated a specific scenario that involved an early entry expeditionary force experiencing limited levels in connectivity as low as 256 kbps.
"As the campaign progresses, more and more capabilities show up, and they build up over time," he said, "and, in the past, some of the lower-end capabilities would be put away, and the communications were very much stovepiped, or they'd all be used and some users would be disadvantaged."
Today, TAG can aggregate and blend together the various data capacities of multiple networks—meaning there are no longer any disadvantaged user sets across the battlespace. A single data stream exploits multiple network links simultaneously to ensure maximum levels in data throughput.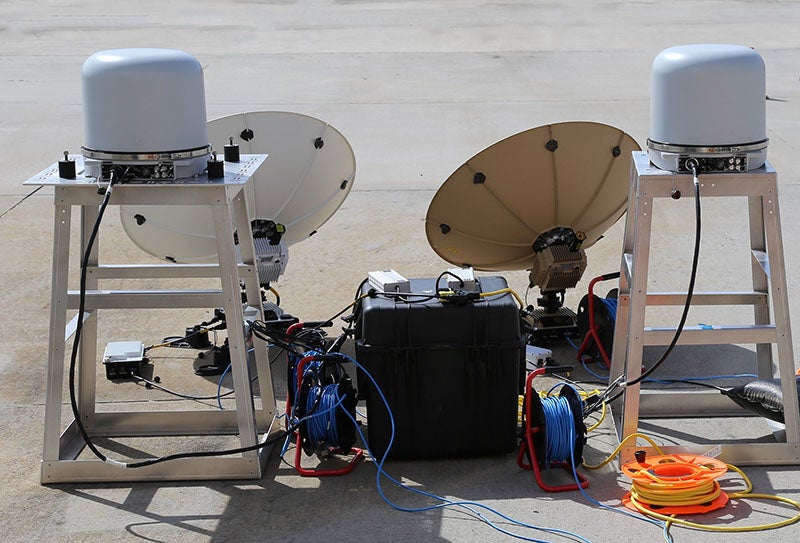 TAG automatically optimizes capability by providing network resiliency and elasticity as communications systems join or leave the network via its enhanced algorithmic Smart Blending Technology, delivering dynamic load balancing, enhanced quality of service and multi-path diversity.
"Take a SpaceX Starlink terminal for example, you're going to add into the TAG network an additional 100 mbps with very low latency, thereby providing an even greater capability when aggregated with other existing tactical networks in the battlespace," Sims said. "No reconfiguration of end-user devices is required. Instead, devices just need to be plugged into the gateway."
TAG can support a variety of combat roles, supporting mounted and dismounted teams in addition to tactical operations centers. For instance, TAG has been integrated on U.S. Special Operations Command MRZR Light Tactical All-Terrain Vehicles as part of a demonstration.
CONTESTING THE CONTESTED ENVIRONMENT
"Diversity in transport channels, for both intra-theater and inter-theater communications…delivers capabilities needed by customers to operate in a contested electromagnetic (EM) environment," according to recent white paper released by U.S. Transportation Command's Joint Communications Support Element. "Transport diversity requires an appropriate combination of military satellite communications (MILSATCOM), commercial satellite communications (COMSATCOM), tropospheric communications, LOS communications. Integrating multiband, multi-path, and multi-technology transport channels…ensures a degree of resiliency necessary to support JFHQ D2C2E operations."
One of the greatest assets of TAG's SBT is in its support of tactical communications in contested environments where connectivity can be disrupted by enemy forces, according to Ray Lindenmayer, L3Harris Business Development director.
"If one of the networks gets knocked out by a jammer, communications can be maintained, because TAG is automatically rerouting traffic to the other operational transports using SBT," Lindenmayer said. "This is called transport diversity, which means, if a unit is being jammed by enemy forces, they can still use alternative communications paths to fulfill their mission."
L3Harris has conducted more than 20 demonstrations for the U.S. Army, Marine Corps, Special Operations Forces, Customs and Border Protection agency, as well as the White House.
TAG is also expected to support the Army's NetModX Exercise and Project Convergence, which is concerned with leveraging Artificial Intelligence and Machine Learning to optimize battlefield management systems.
"As new equipment comes online, it's the ease of integration with TAG that is critical," Lindenmayer said. "Warfighters want a guaranteed service, just like you do at your home right now through cellular network providers. We're going to offer the same thing to the military— they just need to tell us how much bandwidth they need. This SATCOM-as-a-Service concept is the big requirement we'll see arising out of the Army in 2023, and I believe that TAG is a critical component to that service. We are in a unique position to actually be able to deliver on the vision that the military wants."
GATEWAY TO THE FUTURE
L3Harris hopes to deploy TAG across four U.S. Army Brigade Combat Teams in 2022 as the company continues to upgrade the capability further in the future.
L3Harris is also looking to upload TAG software on its smaller handheld and manpack Software Defined Radios, such as the AN/PRC-163 and -167 models designed specifically for the U.S. Army and Special Operations Command.
"Part of the development roadmap is to push the technology down to the tactical edge," Sims said.