"Full-rate production of these radios across the force will provide our warfighters with the most advanced radio network capabilities available for enhanced situational awareness, which is critical for mission success."
- Col. Garth Winterle, Project Manager for Tactical Radios, Assigned to Program Executive Office Command, Control, Communications-Tactical
U.S. and coalition forces alike stand on the precipice of an evolution in networked warfare. New threats are emerging from near-peer adversaries that can disrupt the way warfighters have communicated in recent conflicts.
"The future is about data — and accessing and protecting it across transport-agnostic capabilities," Brig. Gen. Jeth Rey, director of the Army Futures Command Network Cross-Functional Team (CFT), told Army.mil in June 2021. "Going from 5G Wi-Fi, to terrestrial circuits, to satellite-based systems as an automatic transition will give us greater operational flexibility across the board."
When L3Harris Technologies began developing a new technical baseline for tactical radios several years ago with the Falcon® IV family of radios, the underlying strategy revolved around building a robust solution with a flexible architecture to adapt to the evolving needs of the U.S. Defense Department and allied militaries abroad.
L3Harris made a concerted effort to listen to those with the hardest jobs in the armed forces and understand their key challenges. The software-defined architectures present in Falcon IV multi-channel handhelds and manpacks create a complete communications network ecosystem with added power, resiliency and interoperability, while providing mission-specific configurations without disrupting how soldiers use their equipment.
"We pushed the envelope in handheld radio design by focusing first and foremost on the profile of the mission and the networking, data and voice needs relayed to us from real operators," said Bryant Henson, president of the L3Harris Tactical Communications business. "We continue to anticipate the complex mission needs that are associated with operations across domains. The AN/PRC-163 offers simultaneous capabilities in a single package. The user can carry a single solution, versus complicated cabling and user interfaces across multiple radio solutions."
Further, the business has maintained focus on high-performing, robust solutions that continue to be refined through software, added Henson.
L3Harris does not simply inherit evolving customer requirements but takes them and incorporates them into its own breadth of solutions. L3Harris Technologies designs solutions recognizing that general diversity of ground missions need agile, future-proof solutions to provide the flexibility required in multi-domain operations.
FLEXIBLE FOR DIVERSE MISSION SETS
Soldiers at the tactical edge of tomorrow's networked battlespace will need to be agile in conducting their missions when parameters could change at a moment's notice. As such, access to real-time situational awareness data, and the ability to communicate and relay such intelligence in kind across domains and echelons, is key to mission success.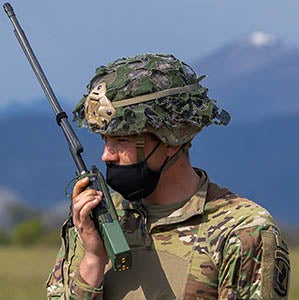 With the soldier's needs in mind, the industry-leading AN/PRC-163 supports truly seamless and simultaneous networking for more than 300 users. Warfighters get mission-critical information at a glance with the AN/PRC-163's double-height LCD screen. Situational awareness is advanced through the ISR mission module's full-motion video capabilities. The AN/PRC-163 also incorporates a familiar yet enhanced user interface, providing critical status information at a glance and allowing access to basic functions without removing the radio from its holster.
"The nice thing about having a two-channel radio is that, if the primary channel is not functioning for any reason, you're able to drop down off your PACE plan and [switch channels] to move to that alternative form of communications," said 2nd Lt. Kyle Taylor, 3/25 ID Platoon Leader, in a service statement.
The radios provide the signal to the Integrated Tactical Network's Android Tactical Assault Kit handheld end-user devices to establish Position Location Information of blue forces and situational awareness of terrain. Soldiers can connect the radios to Falcon headsets under their helmets for seamless communication with higher headquarters and other units.
The L3Harris suite of Falcon radios and broad-ranging portfolio of resilient waveforms provide the secure communications necessary to enable the U.S. military and allies' vision of Joint All-Domain Command and Control. Incorporation of L3Harris' security architecture and capability-enhancing mission modules further increase the radios' utility and speeds tactical data dissemination from the tactical edge to battlefield commanders.
Built off the L3Harris multi-channel Denali® security architecture, the AN/PRC-163 provides secure network connections to computing devices, including Android™ smartphones. Plus, its expansion module interface secures L3Harris and third-party solutions that expand capabilities.
Denali leverages a modern commercial technology to deliver a high-grade TOP SECRET-and-below encryption solution for a tactical environment and is scalable as a two-channel crypto system. Denali is NSA certified to protect against current and emerging threats from peer and near-peer adversaries, including anti-tamper protection and waveform protection.
Built-in capabilities and available upgrades easily connect dismounted soldiers and vehicles on the move with bidirectional Intelligence, Surveillance and Reconnaissance with full-motion video and a wide portfolio of waveforms, including SATURN and multiple Mobile Ad Hoc Networks (MANETs).
The AN/PRC-163 has direct plug-and-play capability with the KIV-700A ISR and Iridium mission modules, adding further versatility and ease-of-use to highly secure and truly resilient communications as complex mission environments continually evolve, according to Ryan McCarty, L3Harris vice president and general manager of DOD Tactical Communications.
INTEROPERABLE FOR COALITION OPERATIONS
Mission set requirements of the various branches of the U.S. military are diverse, while some overlap each other and those of militaries globally. The modularity of the AN/PRC-163 opens its capability to meet interoperability and sovereignty requirements for nations across the world.
The adaptability and flexibility of the AN/PRC-163's design empowers forces to maintain their use of existing communications capabilities and infrastructure as they migrate to more modern and resilient solutions built for 21st century warfare.
"The AN/PRC-163 is not simply a push-to-talk radio — in terms of interoperability, it's the most truly resilient and interoperable tactical radio available and should be the baseline for the world," said McCarty. "As emerging threats require more focus on true multi-domain operations, the AN/PRC-163's capabilities beyond push-to-talk, including data routing and system processing, enables Joint All-Domain Command and Control capabilities in one easy-to-use package."
Use of U.S. Department of Defense (DoD) visual information does not imply or constitute DoD endorsement.