Throughout history, humans have relied on weather forecasts as a foundation for routine decision-making and for the protection of life and property. National Oceanic and Atmospheric Administration's (NOAA's) weather satellites have been instrumental in shrinking the cone of uncertainty from higher ground, providing vital tools to ensure a more weather resilient nation. Now, when we look to the future of weather forecasting, we look skyward as NOAA's Geostationary Operational Environmental Satellite- T (GOES-T) aims to deliver pivotal advancements to weather forecasting in the western hemisphere.
Eyes in the sky
As climate change continues to reveal itself, the threat of wildfires continues to increase in the western part of the United States. In 2018, the California wildfire season decimated nearly two million acres of Northern California forest and property. Declared a national disaster, it was the deadliest and most destructive wildfire season in California history. At the time, California's 2018 wildfire season was recorded as the largest area of burned acreage in a fire season, however, that record was tragically surpassed in 2020. Weather satellite imagery provided time-critical, life-saving data during the 2018 and 2020 wildfire seasons and will continue to be an essential tool in combating these fires moving forward.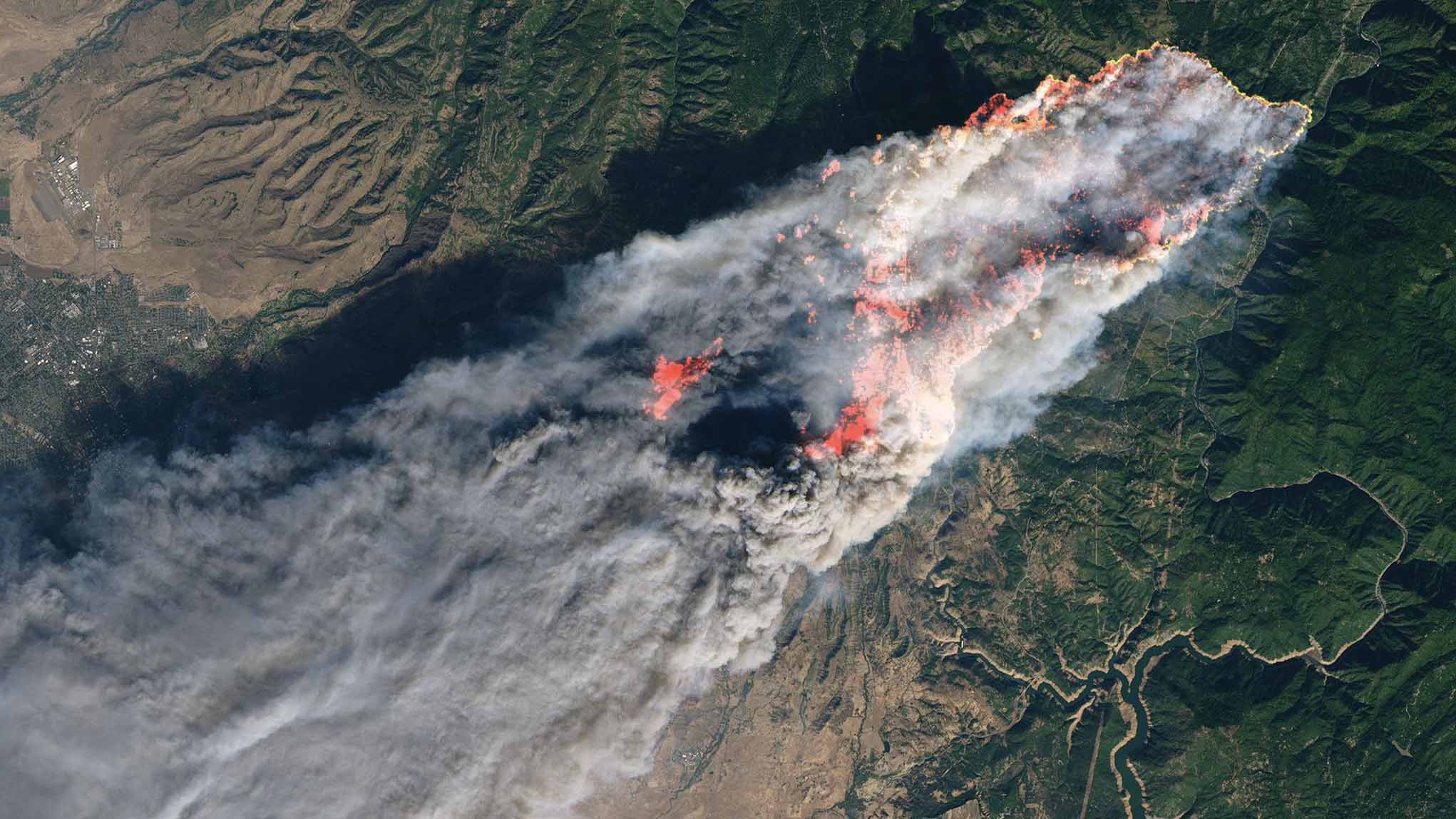 As scientists expect larger and more intense fires in the future, advancements to weather satellite technology provides us with meteorological forecasts that have the ability to act as an early warning system. Joint Polar Satellite System (JPSS) Director Greg Mand states that weather satellites are "sort of like your eyes in the sky to make sure that Mother Nature can never surprise you."
For over 50 years, L3Harris has continued to develop breakthrough technology and launch innovative solutions that further improve the accuracy of weather forecasts, measure climate change and increase life-saving warning times. Supporting NOAA's mission to protect lives, property and the economy, these advances will ensure NOAA's mission success for decades to come.
Now, with a destination of 22,3000 miles above Earth, the latest satellite in NOAA's most advanced fleet of GOES, known as the GOES-R Series, will join the mission.
Addressing a growing concern
In collaboration with NASA, NOAA's GOES-T will continue to address the growing threat of wildfires in the western hemisphere with advanced imagery and improved detection of wildfires and intensity estimation. All these advancements will be critical to forecasting and rapid response efforts.
GOES-T will soon replace GOES-17 as GOES West, providing advanced imagery and atmospheric measurements in order to improve detection of severe weather for the U.S. West Coast, Alaska, Hawaii, Mexico, Central America and the Pacific Ocean. Once operational, GOES-T will be renamed GOES-18 and will work in conjunction with GOES-16, NOAA's operational GOES-East satellite.
As the primary payload onboard NOAA's GOES-R Series, L3Harris' Advanced Baseline Imager (ABI) has revolutionized weather forecasting and was instrumental in monitoring the 2018 and 2020 wildfire season. Its ability to identify the faintest of fire hotspots provided real-time data for early detection and response efforts.
"You can't get a global picture with an aircraft, you can't do it from a ground station," explains Senior Research Scientist at NASA's Goddard Space Flight Center, Ralph Kahn. "To get a global picture, you need satellites."
Continued investments in ABI will provide fire managers and first-responders with the capabilities to act faster and more efficiently. Before flames or smoke are even observed from the ground, ABI has helped forecasters pinpoint emerging fires from a global perspective – in space.
Evolving Trusted Technology
Advancements to weather satellite technology must continue to evolve, not only with the changing climate that will bring more intense weather, but ahead of it to ensure life-saving preparation and warning times.
Now, in preparation for a future that could bring stronger hurricanes, more frequent flooding, larger blizzards, longer heat waves and extended droughts, L3Harris is developing a new generation of satellite capabilities. Faster and more precise, L3Harris' highly advanced Geo Hyperspectral Infrared Imager and Geo Hyperspectral Infrared Sounder will enhance NOAA's ability to put more time between dangerous conditions and those in harm's way.
Expanding upon the success of GOES-R and ABI, NOAA's Geostationary Extended Observations (GeoXO) satellite constellation seeks to advance Earth observations from geostationary orbit. GeoXO will provide timely and accurate weather, ocean, and climate data to address the significant environmental challenges of the future.
Next-generation advancements and L3Harris' agility to continuously launch innovative solutions will ensure NOAA's mission success for decades to come and create a more weather resilient nation.