In 2021, 58,968 wildfires blazed across 7.1 million acres in the U.S., according to the Congressional Research Service. California estimated nearly 2.6 million acres burned in the state alone, leaving a devastating path of death and destruction. The state's road to recovery could take years.
Unlike hurricane season, wildfire season does not have an official start date but is considered underway with the first flames of the year. Peaking in the hot, dry and windy summer months, wildfire season eventually declines in the fall as temperatures drop and rain returns. The season isn't over until the last wildfire of the year burns out.
With wildfires increasing in intensity and damage, the season can be unpredictable. With next-generation advanced weather observation capabilities, forecasters can more accurately track wildfires in real-time – helping first responders act faster and save more lives.
Patterns Spark Predictions Through Satellite Imagery
National Oceanographic and Atmospheric Administration's (NOAA) Geostationary Operational Environmental Satellite-R (GOES-R) Series provides the critical data needed to track wind patterns, smoke, frontal systems and even the faintest fire hotspots across the continental U.S.
Aboard the GOES-R series is the world's most advanced weather imager, L3Harris' Advanced Baseline Imager (ABI). As the primary instrument for the GOES-R Series, ABI provides updated visible and infrared images of the entire hemisphere every 30 seconds — five times faster than the previous system.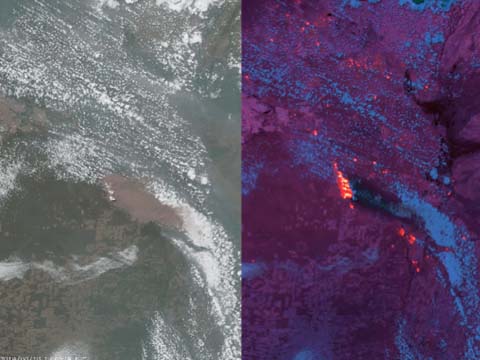 Organizations like NOAA rely upon timely, high-resolution imagery to build their projections and help the nation predict when and where wildfires may occur.
Accelerated Data Fuels Accurate Forecasting
Besides heat and smoke, there are other atmospheric measurements forecasters need for predicting wildfire potential, including wind and moisture which can be observed with a sounding instrument.
L3Harris' Cross-track Infrared Sounder (CrIS) on NOAA's Joint Polar Satellite Systems (JPSS) measures the key indicators of fire formation and trajectory every 12 hours in low Earth orbit (LEO). Deploying a hyperspectral sounder in geosynchronous orbit (GEO) will collect these critical measurements every 30 minutes compared to an instrument in LEO.
With its increased speed and resolution, adding a hyperspectral sounder on NOAA's next-generation GeoXO constellation is the next logical breakthrough in wildfire prediction. A GeoXO Sounder (GXS) will enable advanced sensitivity for earlier detection of smaller fires and better characterization of fire boundaries and propagation. These enhancements improve real-time detection and monitoring of wildfires, benefiting multiple agencies and providing potentially life-saving data.
In addition to a new hyperspectral sounder instrument on GeoXO, a new advanced GeoXO Imager (GXI) will enable even greater spatial resolution for fire hotpots.

With access to more accurate and persistent coverage of shifting winds and hotspots in real time, California's wildfire fatality rate and property devastation could be significantly reduced.
At L3Harris, we understand that providing forecasters, first responders and civilians with accurate and timely weather predictions and warnings is critical. That's why no matter what season it is, from wildfires and tornados to hurricanes and floods, L3Harris is advancing the next-generation of weather satellites to empower a more weather-ready nation.