As the world dives deeper into the age of strategic competition, reliance upon more traditional communications solutions is being threatened by highly capable peer adversaries.
Satellite Communications (SATCOM), for example, have provided the connectivity backbone for allied counter-insurgency campaigns over the past two decades. But, Russia's invasion of Ukraine on February 24, 2022, illustrated an emerging threat disrupting Ukrainian Armed Forces' tactical SATCOM.
The realization that armed forces need to better protect SATCOM connectivity has "been around for a while," according to Jerry Adams, L3Harris Technologies general manager of SATCOM programs.
"The biggest fear is to have your communications jammed," Adams said, noting the ongoing conflict in Ukraine has illustrated the "urgency of bringing more secure technology into the broader SATCOM terminal fleets." At the tactical level, small-unit teams can benefit from a variety of solutions to better protect SATCOM, even in contested environments.
The combined capabilities of protected Very Small Aperture Terminals (VSATs), secure modems and resilient waveforms allow warfighters to communicate via satellites while minimizing electronic signatures and interference by near-peer adversaries.
This need aligns with the U.S. Space Force's "Vision for Enterprise Satellite Communications," which provides the foundation for a hybrid space architecture for the future.
"Initial force designs have focused on the large-scale topology of the space-to-space and ground-to-space information transport framework to avoid previous traps of building dedicated, nonintegrated networks to service specific users," Space Force's Space Warfighting Analysis Center spokesperson Maj. Sarah Babcock told Breaking Defense in July. "Subsequent force designs are focusing on the particular elements of this integrated architecture, to include narrowband and broadband users."
As such, L3Harris is integrating its VSAT, modem and waveform technologies into a unified solution designed to deliver protected SATCOM services at the tactical edge.
"Bringing advanced L3Harris modems to our terminals provides customers with robust and resilient communications needed for mission success," Adams said.
EXPEDITIONARY TERMINALS
L3Harris has delivered more than 10,000 deployable VSATs to the U.S. Department of Defense and its international partners over the last decade, typically with commercial and unprotected modems.
"This stems from their operational needs over the past 20 years, where there hasn't been a focus on near-peer type conflicts, meaning units have been able to broadly and successfully use commercial modem platforms," Adams said. "But the times are changing, and the U.S. Army, Marines and 'Five Eyes' partners are looking at the scenarios in the near future that necessitate a broader protected modem capability to prevent jamming and introduce orbital diversity to take advantage of cutting-edge, low-latency, high-throughput services."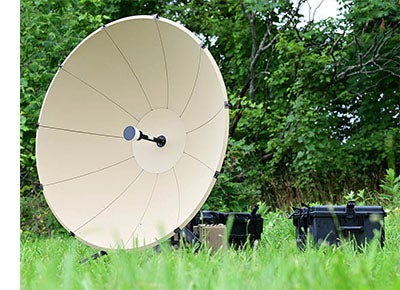 The latest L3Harris VSAT offerings include Panther II manpack and Hawkeye 4 Lite (H4L) flyaway terminals. Both terminals are available as manual point or motorized auto-acquisition. These terminals feature modular X-, Ku- and Ka- frequency band kits, certified for both government and commercial networks with a wide selection of field-swappable and rugged modem modules.
"On the terminal side, Panther and Hawkeye give the warfighter the flexibility to use multiple services; if there isn't capacity available on one service, or a commercial frequency is jammed, they can quickly and easily switch to another," Adams said.
MULTIPLE MODEMS
L3Harris provides customers a range of software-defined modems that can be embedded into the company's family of VSAT solutions to support a myriad of operational requirements.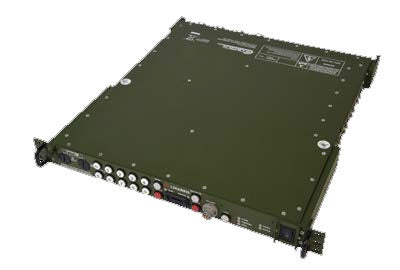 For example, the Air Force and Army Anti-jam Modem (A3M), through multiple software-defined waveforms, can provide anti-jam through the Protected Tactical Waveform and mesh capabilities via the Network Centric Waveform.
In April 2020, U.S. Space Force's Space and Missile Systems Center awarded L3Harris a five-year contract to provide A3M's secure, wideband, anti-jam satellite communications terminal capabilities for tactical satellite communication operations.
The Multi Constellation Modem (MCM) can provide military-standard-compliant Enhanced Bandwidth Efficient Modems (EBEM), DVB-S2X second-generation satellite extensions and transceiver cards for proprietary commercial networks.
These L3Harris software-defined modems enable seamless networking between Geosynchronous, Middle- and Low-Earth Orbit constellations. Upcoming Active Electronically Scanned Array (AESA) antenna kits are used in conjunction with the MCM to enable future LEO, MEO and Highly Elliptical Orbit services, according to Adams.
"Warfighters often need to use specific types of approved hardware for each of the various commercial services, but customers don't want to carry around a specific terminal for every service," he said. "They want a flexible terminal that can be used on multiple different constellations."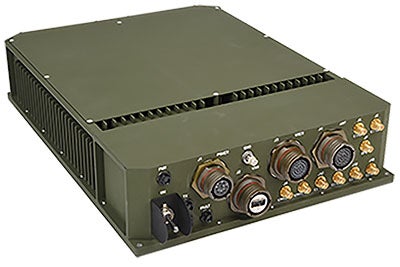 The company has already proved the concept of connecting the MCM with Space X's Starlink LEO satellites, and further integration with Amazon's Project Kuiper and OneWeb LEO satellites is planned between 2024 and 2026.
However, the U.S. military is years away from using LEO in an operational context, Adams said, noting there is "a lot of work to do on constellations and algorithms" but also potential for enabling high-capacity and low-latency communications.
"What we've heard from the customer is that they don't just want protected waveforms, they don't want just orbital diversity, they don't want just GEO capability – they want a flexible terminal that allows them to access a broad range of services, Adams said. "That's how they see bringing diversity into their capability set because they don't want to be locked into using only one type of technology. They want a terminal that works on the legacy commercial and GEO offerings but can also easily accommodate a protected modem or possibly an antenna kit to enable LEO and MEO."
Demonstrations on both the A3M and MCM will be available in 2023 onward, according to Adams. Both A3M and MCM modems will be available to customers within the next two years, with MPM variants available today, he added. Further, L3Harris offers a portfolio of waveforms specifically designed to enable secure communications in the worst conditions.
LOOKING FORWARD
The combination of L3Harris VSAT, modem and waveform technologies provides superior levels in protection and incorporate automated processes to reduce physical and cognitive burdens on the modern warfighter.
"In Ukraine, commercial terminals were pulled back from the front line; the likes of A3M and MCM coupled with AESA kits have a much lower chance of being jammed by a near peer adversary, which is the major concern in the contemporary operating environment," Adams said.
VSATs also feature a common user interface, easing the warfighter to transition between terminals, modems and waveforms, he added.
"Our role is to take the commercial solutions and package them in a way that is useful for our government customers," Adams said. "This means robust terminals with flexible interfaces to switch between modems and satellites as required. That's the difference between the capability we deliver and those of commercial solutions."