Each year, the breakfast gives the opportunity for guests to connect and to recognize the value women bring to Canada's defence and security community. It also celebrates emerging leaders and awards scholarships to those studying in the defence and security fields to aid in promoting the advancement of women in careers related to defence and security.
As a sponsor of the event, L3Harris recognized three of its Canadian employees as WiDS Emerging Leaders: Nathalie Michaud (Manager, Contracts), Jane Guo (Engineering Group Leader, HCI for Marine Systems) and Elaine Irving (Regional In-Service Manager, Domestic Lead). An Emerging Leader is someone – in any stage of their career – who is doing great things, inspiring change and blazing a trail for other young women to follow.
The theme of this year's breakfast was Be You. Be True. Belong., a message that transpired throughout the entire celebration. Many leaders from across the industry lent their voices to the event, including keynote speaker Jody Thomas, National Security and Intelligence Advisor to the Canadian Prime Minister, who addressed the crowd with an inspiring and passionate message about her career and accomplishments. In total, more than 1,500 people from the industries attended, including Canada's Ambassador to Ukraine, Larisa Galadza, and her team, who were live from Kyiv.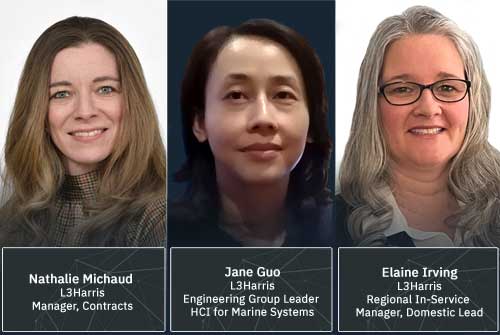 "It was an honour to be joined at our corporate table by Ukraine Ambassador to Canada, Yuliya Kovaliv, and Defence Attaché, Col Viktor Siromakha, at the WiDS Awards Breakfast," said Richard Foster, Corporate Vice President, L3Harris Technologies Canada. "L3Harris is proud to support an organization that recognizes excellence and celebrates the achievements of women within the defence and security community."
L3Harris takes pride in providing an innovative and inclusive workplace for its employees and is committed to its continued efforts of supporting women in defence. We are proud to recognize the accomplishments of our workforce through initiatives like WiDS, which highlight the unique talent shaping our organization, enabling us to continue to deliver innovative solutions to our customers.