Communications restoration is a significant part of a utility's disaster response plan. As part of a comprehensive disaster response plan, utilities, large and small, also need to quickly restore their communication systems and sites damaged in a storm.
Below are some tips on communications restoration items to include in a utility disaster response plan.
PREPARE BEFORE IMPACT
Traditionally, Land Mobile Radio (LMR) networks are often the only form of communication still in operation in areas affected by a significant storm. Planning is needed to provide communications for utility crews to operate in areas hardest hit, sometimes referred to as communication "dead zones." Before the storm, setting up a single site for direct-mode communications will help optimize response time. A radio system that is open and configured to allow crews to use existing LMR services to communicate wherever possible provides more time to focus on restoring power instead of sorting out communications.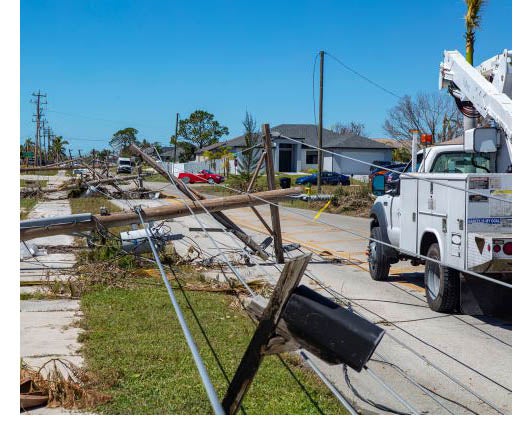 Planning for communications restoration begins before a storm hits land. Trusted partners who provide critical communication restoration services should be included in disaster response planning and know the utility's response protocols. These providers have various capabilities and specialized teams that can quickly mobilize and provide a local response and recovery efforts to hurricane-affected areas. When a storm is approaching, these partners arrive at tower locations to perform site pre-checks and ensure generators have sufficient fuel and tower equipment is working.
They also perform any needed repairs following the storm. Local partners focus on supporting communications while expanding customer aid through L3Harris' converged LMR-LTE solutions. Innovative solutions from L3Harris, like Live Earth™ and BeOn®, also improve situational awareness and connect users anywhere there is broadband access.
A communications restoration plan will also include plans to restore power and transport to communications tower sites quickly. The communications restoration plan contains details on tower site locations with different transportation options and routes identified early. Reaching a tower site may become a real challenge after a storm. Having transportation vendors' contact information readily available helps teams get to communication sites faster. Before primary power is restored to communication sites, access to backup generators must be ready and have fuel to provide backup power for the communication sites.
STORM PREPARATION INCLUDES CHECKING COMMUNICATIONS INFRASTRUCTURE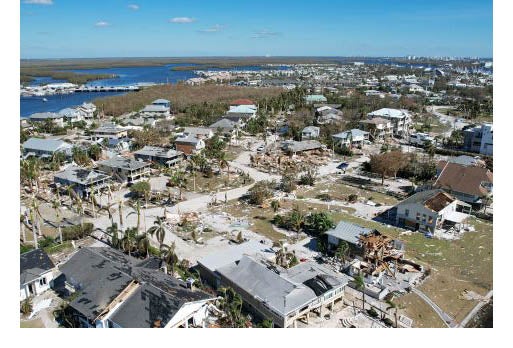 It is always challenging to predict the amount of damage a storm will produce. Hurricane Ian was one of the strongest hurricanes ever to hit the United States, taking out nearly everything in its path and leaving many areas in complete devastation.
Comprehensive tower site "pre-checks" can help identify and correct potential issues before the storm hits. Having photos of each site and a list of system infrastructure at the tower site can help identify damage and repairs needed. Knowing the weak spots in a system ahead of time gives teams a head start on areas to first address after a storm. Ensuring all construction areas around tower structures are free of loose debris can lessen damage to tower structures, microwave dishes and antennas.
IMPLEMENTING THE COMMUNICATIONS RESTORATION PLAN
Another key component of the plan is having quick access to an inventory of replacement base stations and other equipment before the storm hits to provide a rapid response. Response teams should stage equipment and spare parts in locations safe from the hurricane's predicted path. Staging in locations where teams can act quickly once the storm passes help minimize downtime in restoring communications. Tower crews should have readily available spare parts, antennas and other equipment for their utility customers. A list of spare parts and locations will help speed an efficient response to any natural disaster.
Communications restoration teams arrive on sites after storms pass and use the pre-storm checklist to survey the sites and inspect the site infrastructure most susceptible to wind damage. Anytime a storm the size of Hurricane Ian hits land, communication towers are one of the first areas to assess for damage.
STAY FLEXIBLE
Flexibility is critical in any disaster response plan. Even with all the prep work, unknown factors will emerge. Communications may need to be customized depending on the situation. The freedom to choose the best communications technology to close gaps and execute a timely response is vital.
All disasters demand an open critical communications platform for interoperability and anywhere, anytime access. Scalable systems, applications and devices keep teams connected inside and outside of the utility service territory. Utilities can extend their coverage with LMR/LTE converged radios with P25 connectivity via Broadband or Wi-Fi when broadband service is available.
Extreme environments and challenging outage events are inevitable. A solid communications restoration plan and the technology that connects and adapts across territory boundaries with reliability is the foundation of flexibility during a disaster response.