As militaries around the world renew their interest in the benefits and capabilities of High-Frequency (HF) communications systems, L3Harris Technologies is celebrating an impressive milestone: the production of its 50,000th Falcon® III HF radio.
L3Harris began producing Type 3 RF-7800H manpack radios 10 years ago and has delivered 20,000 units to date, according to Scott Pichette, L3Harris High Frequency product manager. The company unveiled the Type 1 AN/PRC-160 manpack in 2018 and has produced 30,000 of those radios since.
"High-frequency communications has been the foundation of the Falcon family of Radios since its inception, and our RF-7800H was the preeminent HF solution when it was unveiled," Pichette said. "We are leaders in the HF industry. These radios are trusted solutions because of their access to wideband, superior Auto Link Establishment standards and major updates – including new, resilient waveforms – that have taken place as our customers' needs evolve."
Building Off Insight
High-frequency radio communications have been an element of civil and military communications for decades and becoming an integral component of PACE planning in Satellite Communications-denied environments. With the inherent ability to communicate at distances that span the globe, HF provides an accessible and versatile tool for long-haul communications – at distances over 2,000 miles. The flexibility, rapid deployability and minimal infrastructure necessary in L3Harris HF systems results in communications – both voice and data – that can penetrate thick tree canopies, reach into valleys and provide reliable, resilient communications that are interoperable with VHF radio systems.
Back in the early 2010s, the driving force behind the development of the RF-7800H was the need for higher data capabilities than systems in the field offered at that time, according to Brian Calvasina, L3Harris Product Management manager. Warfighters also sought embedded GPS, reduced soldier burden through Size, Weight and Power (SWaP) efficiencies and additional data throughput and speeds to meet their needs.
"L3Harris' two HF radios have the same form factor and common accessories, and their software-defined architectures provide both radios the same upgrades at the same time, delivering new capabilities faster," Pichette said. "They are also both interoperable with legacy modes. If users of either want to communicate on 3G on narrowband, they can contact any of the close-to-150,000 Falcon II and Falcon III HF radios deployed across the globe."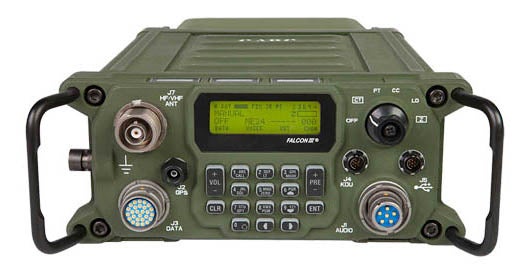 Both radios share the same firmware, but the AN/PRC-160 adds the capability for Type 1 NSA encryption certification, he added.
Leaping Toward Next-Gen Technology
High-frequency systems have a myriad of operational uses in countless environments, but their effectiveness and necessity have become clear in recent years at the tactical edge of conflict. Further, The AN/PRC-160 is the world's only Type 1 NSA/NATO-certified tactical radio, according to Pichette.
"The Ukraine War has shown observers that HF certainly has its strengths in today's warfare – and that resiliency is key," Calvasina said, noting the use cases are equally applicable in the Pacific theater. "We are prepared to meet our customer's future needs with a resilient waveform suite unparalleled in industry. We're leaping forward to next-generation technology. We are not only resilient – and battle tested – but we have taken steps to go beyond the standard to protect our communications networks. We just had a major firmware release that supports multiple waveform offerings."
Both the RF-7800H and AN/PRC-160 host what Pichette calls the "crown gem waveform," the Last Ditch Data (LDD) resilient waveform. LDD provides an optimal balance between output power and appropriate antenna use, according to Pichette. Its operation in milliwatt bands provides ease of use when a quickly deployed wire antenna can deliver data thousands of miles or penetrate noisy radio-frequency environments or forest tree canopies.