L3Harris' latest entry into its XL family of portable radios, the XL Extreme™ 400P, addresses the needs expressed by fire departments across the United States: "make it durable, make it usable, make it wearable."
The XL Extreme 400P and companion Extreme Speaker Microphone (ESM) are the result of years of engagements with firefighters and the incorporation of new national standards for radios used in fireground operations. The rugged, heat-rated devices provide a foundation for the L3Harris Mission Critical Alliance partners to provide incident command, GPS-denied location and biometric monitoring, according to Don Griffis, L3Harris principal product manager.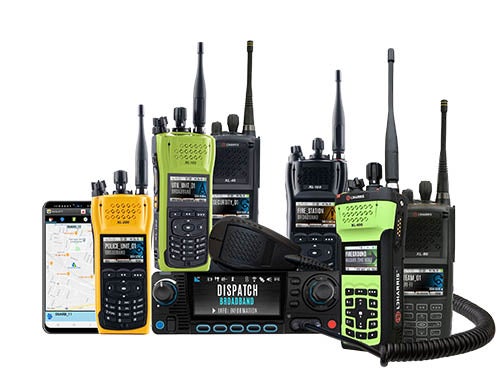 "The XL Extreme 400P was born out of addressing a new standard for the fire market; however, this solution is truly built for anyone that requires a tough, ruggedized radio," Griffis said. "We put a turnout coat and suit of armor on our hugely successful XL-200P multiband portable radio, which provides end users with VHF, UHF, 700/800 MHz, Wi-Fi and Broadband LTE connectivity."
RUGGED FORM FACTOR
Meeting the new national standards means that a radio and speaker microphone are capable of withstanding extreme temperatures, water shock and impact from elevated heights. The new standard also requires upgraded software features to enhance user safety.
"We leveraged technology across L3Harris divisions to meet all these tough requirements," Griffis said. "We reached out to L3Harris Space and Airborne Systems for recommendations on material capable of surviving the extreme temperatures and the shock that the XL Extreme must endure."
With Space and Airborne Systems' support, the radio and speaker mic incorporate material that can sustain orbital reentry, Griffis added.
The XL Extreme 400P and ESM both have larger buttons and knobs so that users can easily operate the devices while wearing protective gloves.
ENHANCED SITUATIONAL AWARENESS
Aside from the rugged design, the XL Extreme 400P has an embedded LTE modem providing 4G operation on any carrier. This "all-in" LTE capability means that the radio can supplement coverage with LTE as well as act as a transport to convey end-user data to those who need it.
"We have a Mission Critical Alliance partnership with many companies that specialize in public safety applications; together we are building a number of customer solutions to enhance situational awareness and also end-user safety," Griffis said. "We now have the ability to supplement on-scene situational awareness and user accountability."
Body-worn camera footage or user biometric data can automatically be streamed to dispatch or incident commanders to provide them situational awareness in other programmed scenarios, such as a service pistol being removed from its holster or detection of elevated heart rates, for example.
Future enhancements include GPS-denied location, live-stream body camera and biometric data, according to Griffis.
END-USER SAFETY
While the XL Extreme 400P's primary function is a communication device, L3Harris added a number of new enhancements based off new standards and customer engagements to provide firefighters additional safety features, according to Griffis.
"We're extremely excited about the advance of the XL Extreme," T.J. Martin, Communications Chief of the Parma, Ohio, Fire Department, said. "This is one of the first radios that was designed with public safety in mind. They have included many of the features that we've asked for and in addition made it fully compliant to new national standards, which is exceptional value to any fire department. It offers a lot of forward thinking and advanced technology that radios in this day and age don't have."
One such feature is the color tagging of channels. Now, end users operating the XL Extreme 400P can easily confirm whether all teams are on same communication channel with a quick glance at the microphone or the backlight on the top display of the radio.
"It allows the incident commander a quick way to verify that all users are indeed on the same channel," Griffis said. "This feature came directly out of working with the City of San Antonio Fire department."
Further, audible voice files are played, rather than "beeps" or "boops" that are the commonly used tones to indicate certain radio status, he added.
"Now, rather than having a user decode beeps or boops, the radio will simply tell the user the status," Griffis said. "Among many of the audible voice files, the radio will inform when the accessory cable is bad or if the unit is out of communication range by simply telling the user, 'Warning: failed accessory' or 'Radio is out of range.' This will definitely increase user safety and simplify use."
The all-new XL Extreme 400P and companion Extreme Speaker Microphone's advanced technology and embedded LTE, encapsulated within a rugged, thermal-rated design, provide an extremely durable radio with advanced user safety features to stand up against anything thrown at it.