Sinking ships on the modern battlefield is a difficult proposition. Joint forces must flawlessly execute each step of the joint targeting process, known as Find, Fix, Target, Track, Engage, Assess, or F2T2EA. Adversaries maintain layered and integrated anti-access/aerial denial (A2/AD) systems that challenge each step of this process, while holding traditional platforms at risk just beyond the range of our offensive weapon systems.
Enemy A2/AD weapons have been purposely designed to defeat single-service or single-domain solutions. U.S. forces and their closest partners and allies must rely on novel, unexpected, cross-domain sensing and shooting capabilities to effectively dismantle A2/AD networks. This realization has inspired collaboration across the five services to design, develop, experiment and field technologies that enable Joint All-Domain Command and Control (JADC2).
JADC2 is a tenet of the Joint Warfighting Concept that outlines how the Joint Force will orchestrate complex, multi-domain kill webs. JADC2 is not a tangible capability; rather, it is a philosophy of how U.S. forces can seamlessly pass data at machine speed to and from the tactical edge to achieve unprecedented interoperability. The concept demands the seamless integration of sensors and weapons systems – regardless of which service owns them – through reliable networks and assured communications capable of operating in disconnected, degraded, intermittent or limited environments. Finally, JADC2 leverages real-time, correlated data backed by artificial intelligence and machine learning algorithms for streamlined filtration and dissemination.
Without an overarching Concept of Operations for JADC2, however, there is a question on how the U.S. Department of Defense and industry can move "in the right direction" in focusing, targeting, building, testing and delivering the required capabilities, Sean Stackley, L3Harris vice president of Strategy & Growth, said in a JADC2 panel discussion hosted by the National Defense Industrial Association in July.
"Currently, each U.S. military service is operating under its own JADC2 Concept of Operations, its own data formats, its own protocols – even its own communication systems and frequencies," Dana Mehnert, L3Harris president of Communication Systems, said. "Even though they may seem like it's the same thing, using two different data formats makes systems incompatible."
The joint force needs a system that translates, correlates and simplifies the data fabric to create clear lines of communications across all services and platforms.
"L3Harris is exceptionally well positioned to advise customers as to which investments will provide the most resilience and capability in support of their Concept of Operations," Mehnert said. "We have multiple options for various size, weight and power requirements that deliver the technology and skills that bring disparate nodes into a single network, leveraging modern crypto and cross-domain solutions, and employing multiple layers of security."
SITREP
The main hurdle for the U.S. Department of Defense to overcome in creating a true JADC2 operational environment is the siloed and incompatible information-sharing systems the disparate services currently use, according to Ken Harrison, L3Harris Technologies senior director of Business Development. While creating a piece of equipment to ensure compatibility with other service's systems might seem tempting, that sort of "forced entry" is not true interoperability.
To ensure all sensors in the battlespace can communicate with every weapons platform available, "everyone needs to be on the same sheet of music."
"The services are not there yet, and it will take some change and adaptation by service elements to restructure how they disseminate information so that it makes sense and allows commanders to make decisions and provide action with the information they receive," Harrison said.
The U.S. Army, for example, is just starting its radio fleet modernization effort, and the service is limited in how fast it can deploy next-generation assets by where it can and needs to allocate its budget.
The U.S. Air Force, meanwhile, is projecting a force posture for the future that extends the battlespace to longer ranges. This is because "the next high-end fight will be an 'away game,'" Ron Fehlen, L3Harris vice president and general manager of Air Force and Advanced Unmanned Aerial System programs, said.
"Not only do we have to counter their air assets, they're going to have a significant amount of ground capability that is part of their infrastructure that we would have to overcome," he continued. "Their advances in those ground and air and cyber systems are on par with the kind of things that we have. Our traditional big-wing airborne command and control nodes will need to be farther away from the fight, requiring more networked warfare."
In consideration of its needs to face such a threat, the air service is keenly aware that DOD-wide engagement and collaboration is necessary.
"As the Air Force develops [Advanced Battle Management System] in our effort to achieve information and decision advantage by delivering relevant data, information and capabilities to warfighters at all echelons, we must work together with our sister services and the DOD to ensure we connect our sensors and platforms and share our data as part of a joint force," Air Force Chief of Staff Gen. CQ Brown, Jr. said in June, according to ExecutiveGov.
This will necessitate an inventory of large, expensive platforms operating in tandem with small expendable assets, Drake said. It further requires both receiver and transceiver capabilities on those disposable vehicles to relay time-critical information across the battlespace.
To that end, the Air Force assembled a consortium of industry partners to define the requirements and standards that will inform the development of ABMS' digital infrastructure. L3Harris, as a member of the consortium, will address the secure processing, resilient communications, data management and open-architecture design criteria that will lay the foundation for enabling the system.
In the maritime realm, L3Harris is supporting the U.S. Navy and Marine Corps' contributions to JADC2, the Navy Tactical Grid and "Project Overmatch."
"The blueprint is there; the fundamental programs exist individually," Brenna Baker, L3Harris vice president and general manager of Navy and Unmanned Aerial Systems, said. "L3Harris is adding resilient communications and command and control to connect all the nodes in the network as one thrust of Project Overmatch. This will address the INDOPACOM threat and enable the Navy's Distributed Maritimes Operations network to provide freedom to maneuver and communicate without being detected or interfered with by an adversary."
The Navy awarded L3Harris a contract worth up to $380 million in July for the production, repair and sustainment of the Cooperative Engagement Capability system. The system enables high-quality situational awareness and integrated fire control capability and will be the backbone of the naval service's JADC2 architecture and integrated fires capability for years to come, she added.
ACHIEVING JADC2
In order to achieve true Joint All-Domain Command and Control, each military branch must bring to fruition its own multi-domain operations architecture, opines Harrison, noting it is not feasible to move toward a truly "one size fits all" solution, given the various requirements across the services.
"L3Harris delivers secure, resilient capability across the spectrum that enables the warfighter to operate effectively within extremely diverse threat environments," Fehlen said.
The services must break down the silos in requirement development and acquisition and move from service-specific mindsets to those focusing on platform-centric discussions to realize the full potential of these multi-domain solutions, he added. The U.S. Armed Forces is increasing its cross-branch integration in JADC2 exercises and demonstrations, and industry is supporting efforts in identifying requirements-solutions synergies that can fulfill multiple service roles.
GATEWAY TO MULTI-DOMAIN OPERATIONS
A key enabler to creating a Joint All-Domain Command-and-Control ecosystem is developing open-systems architecture to allow for interoperability, scalability and modularity. As the U.S. military push for more such architectures to connect the highest levels of strategic headquarters down to the soldier at the tactical edge, L3Harris is making investments to meet those requirements.
"Where we come in is providing primarily the transport – the connectivity allowing sensors to connect to the weapons platforms to take out targets," Harrison said. "Our transport allows the information flow to cut across all of the platforms and get to what the services need, and we provide that with our software-defined radios, our SATCOM terminals and our resilient waveforms."
For example, the company's Transport Aggregation Gateway ensures mission-critical communications by providing access to a swath of integrated commercial and military satellite communications solutions, exploiting multiple network links simultaneously through a single data stream to ensure maximum levels of data throughput – even in denied or degraded command-and-control environments.
"L3Harris is engaged across all three segments with all the current JADC2 initiatives within the U.S. Department of Defense," Harrison said. "We keep our finger on the pulse of all the JADC2-branded thrusts within the services and inform them of the enabling capabilities we can provide to solve their interoperability challenges once they determine their way forward in data fabric infrastructure."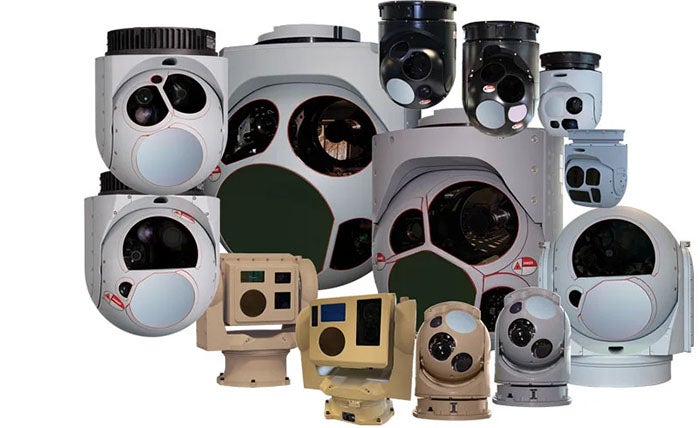 For example, L3Harris' WESCAM MX™-Series of multi-sensor, multi-spectral, electro-optic and infrared (EO/IR) surveillance and targeting systems support intelligence, surveillance, reconnaissance and target acquisition missions from platforms across the air, land and maritime domains. Combined with the company's high-capacity tactical radios, smart antennas and control systems, operators have a C5ISR solution leveraging a robust spectrum of sensors backed by resilient waveforms to speed decision-making processes.
The WESCAM MX-Series enhances battlespace situational awareness with overlapping fields-of-view, progressive on-the-move imaging capabilities – even in extreme temperatures, excessive speeds or varying altitudes.
THE L3HARRIS ADVANTAGE
Compatibility still does not guarantee effectiveness if it can be compromised or degraded, however – networking solutions must be resilient.
And L3Harris designs some of the most-resilient waveforms in the world that are easily upgradeable into the company's communications solutions.
"We enable the information flow for JADC2," Harrison said. "We can get it there in real time and in a contested environment, whether it's resilient SATCOM, line of sight or beyond line of site, High Frequency or our Transport Aggregate Gateway – there are multiple solutions we provide that enable JADC2 to disseminate information across the battlefield."
L3Harris' Handheld, Manpack and Small Form Fit (HMS) radios connect the Integrated Tactical Network to the tactical edge and are upgradeable with cutting-edge, truly resilient waveforms, Harrison added; the company's Hawkeye™ III Lite Very Small Aperture Terminal provide Expeditionary Signal Battalions - Enhanced with beyond-line-of-sight connectivity. High-frequency radios and the Rapidly Adaptable Standards-compliant Open Radio (RASOR™) solution further provide air and ground connectivity to a robust suite of waveforms, consolidating communications and other features needed in aircraft and next-generation ground combat vehicles.
"We have products and solutions that meet the vision and intent of what the military is trying to do, and we already provide software-defined radios to all of the services," Harrison said. "The faster the services field the modernized solutions we provide, the quicker they'll realize their JADC2 vision."