The modern battlespace is constantly evolving to adapt to emerging threats in operational environments. Units at the tactical edge need to stay mobile as they traverse open deserts, dense jungles and urban cityscapes. 
They cannot afford to have their comms slow them down.
L3Harris Technologies, through decades of experience supporting the communications needs of militaries across the globe, delivers the optimal balance between voice and data utility and affordability. The Falcon III® RF-7850S Secure Personal Radio™ is combat-tested and provides warfighters with access to a robust library of resilient, multipurpose waveforms to keep them connected when it counts. As part of the L3Harris Falcon Net Ecosystem™, the RF-7850S seamlessly interoperates with the larger Falcon III family of radios.
"The RF-7850S fills a capability gap for a lot of customers at the tactical and operational levels – from squads to platoons," said Michael Wolfe, L3Harris senior product manager. "It provides robust voice communications and secure data networking for those moving quickly across contested environments."
Best Soldier Radio On The Market
Customers around the world are already taking advantage of the vast, continuous frequency coverage in the RF-7850S to meet the needs of their unique use cases.
"Value is jam-packed in this radio from both a hardware and software standpoint," said Wolfe, noting the RF-7850S can communicate across Ultra High Frequency up to L and S band. "When looking at the 'DNA' of the radio, flexibility is a core design feature. With the broad spectrum and multimedia capabilities and its ability to interface with end-user devices for ease-of-use, the RF-7850S doesn't pigeonhole users into a narrow window of utility. It delivers a multitude of options to provide real-time common operational picture updates through team-based voice and data."
L3Harris also designs some of the most difficult waveforms to detect or jam in the world, increasing users' assurance that their information will be delivered without interference, according to Wolfe.
The RF-7850S is the only soldier radio in its class to provide a resilient ECCM-capable means of communication when faced with electronic warfare threats.
"The RF-7850S delivers more than just voice; it's one of the first and only soldier radios to provide a significant amount of data at its price point," said Wolfe. "With capabilities like position location updates, squad leaders and commanders know where their troops are arrayed and maneuvering across the battlefield."
The secure personal radio is also backward compatible with the battle-proven RF-7800S currently deployed worldwide and is interoperable with the rest of the RF-7850 family of radios. The flexible L3Harris design supports easy integration of proprietary and third-party headsets, speaker mics, optics and other end-user devices, including Android.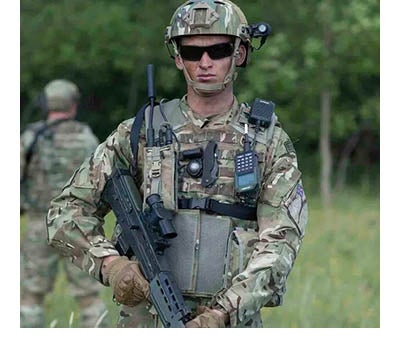 "Tactical operators today need a reliable wideband Mobile Ad Hoc Network (MANET) as well as hard-to-detect-and-jam narrowband waveforms that can push data and video and connect to external devices to complete complex missions in contested arenas," said Wolfe. "They get all that and more with the RF-7850S, including up to 18 hours of battery life to lighten their carry weight when they head out."
Inclusion in the Falcon Net Ecosystem means the RF-7850S receives annual firmware releases to extend its capabilities based on real user need and feedback. It also facilitates immediate interoperability with L3Harris RF-7850D vehicular and RF-7850A aerial platforms.
"The RF-7850S is battle proven with reliable hardware and battle-tested waveforms," said Wolfe. "As part of the overarching RF-7850 family of radios, it checks all the boxes for a foundational element for any nation looking to enter the next generation of combat communications."
Riding Resilient Waves
When push comes to shove, voice communications will remain the go-to when orders must be relayed in seconds. The RF-7850S and extended family of L3Harris radios leverage the company's resilient waveforms to assure users their information will get to decision makers at mission-defining speed.
The secure personal radio also meets the data-sharing needs of the modern battlespace with a network that provides a large-enough pipeline to deliver data from across the field. Next-generation L3Harris waveforms such as the Video TDMA Networking Waveform (V-TNW) provide the robustness to send the data securely across the network.
"In addition to our waveforms opening more 'doors' for comms to get through, our position location updates refresh quickly enough for decision makers to have near-real-time awareness of friendly force movement," said Wolfe, noting the radio's data capability "far exceeds" requirements for today's soldier radio and can reliably deliver intel across kilometers at a time. "Our WebUI solution increases utility by providing a simple application to view incoming video, share files and chat. The Ground Force Tracker application depicts radio disposition and movement on the map."
The next-generation V-TNW waveform can deliver situational awareness to commanders with streaming video of enemy maneuvers; a capability just as applicable for large-scale land warfare as counter-terrorism operations, for which it has seen extensive use in recent years by specialized military and police units worldwide.
Both the S-TNW and V-TNW allow networks to self-form and self-heal at industry-leading speeds so individuals in the network stay connected automatically. As long as a user remains in range of one other node, they can forward voice and data to the rest of the network, added Wolfe. As soon as they are back within range of the network, they are able to fully connect to their entire team within seconds.
"The bottom line is, if your radio can't function in contested environments, your data rate doesn't matter," said Wolfe.
"Our line of Falcon Net radios—backed with our extensive catalog of resilient waveforms—assures users they won't be caught alone in the open when in the field."
Ease of Use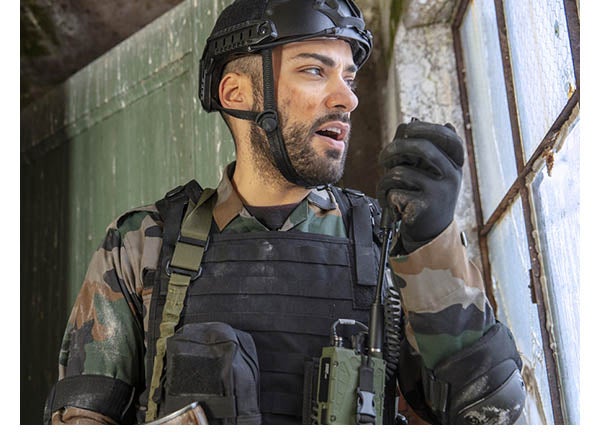 The RF-7850S minimizes user burden, both physically and from a cognitive-load perspective, according to Wolfe.
Extended battery life and concerted efforts to add value in every cubic millimeter of space mitigates the need to carry extra batteries, antennas or added kit.
"When you don't have a lot to carry, that increases your mobility and agility on the battlefield," said Wolfe.
In a more intangible sense, the secure personal radio can also be preprogrammed with the communications plan prior to the mission, so operators can avoid jamming and disruptive threats on the field.
The embedded WPAN module furthers ease of use by providing instant connections to commercial-based device interfaces so that users can use the radio's features in more-familiar formats. Remote fielding of radios is an RF-7850 family feature.