Smart TVs offer multiple streaming services, phones and tablets offer a never-ending supply of applications and cars offer inbuilt satellite navigation and entertainment facilities. This concept of convenient, flexible and multifunctional capability has become so commonplace it can often be taken for granted.
When this ability is no longer readily available, it feels unfamiliar and restrictive, impeding progress and lengthening the time it takes to successfully complete a task. This can be particularly jarring in environments where decisions need to be made quickly and agility is key to staying ahead, such as in today's modern battlespace. That's why adopting a multirole, multifunction approach to electronic warfare (EW) technology can make such a big difference – it's designed to make a soldier's mission easier. L3Harris Technologies' purpose-built and growing portfolio of next-generation EW technology makes it possible to harness multiple capabilities within a single system, maximising mission agility.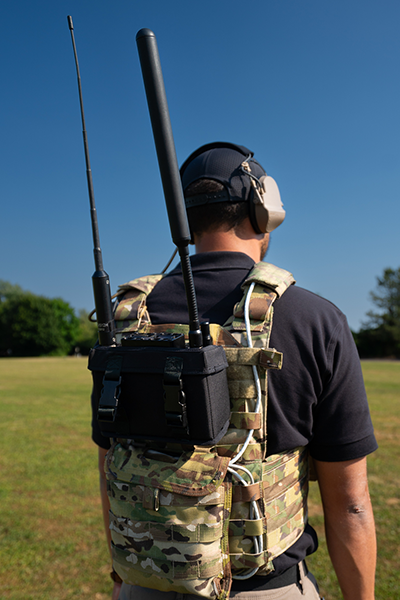 Why Multirole Eclipses the Current Model
At present, it is often the case that military personnel are either having to carry or transport several different EW systems at once to achieve all of the capabilities they need. One box for surveillance, one to counter improvised explosive devices (IEDs) and another to counter drones. All of this gear creates a considerable operational and physical burden, not to mention the significant capital expenditure poured into procuring and supporting these systems as well as replacing them when they reach end of life. Even when deployed operationally, this reliance on multiple systems to achieve different outcomes can result in a substantial physical footprint, increasing the need for storage and cooling. 
This model is not a sustainable one long-term, mainly because the costs associated with maintaining it can be astronomical. Moreover, adversaries are increasingly replacing their offensive technologies with repurposed, available commercial-off-the-shelf (COTS) devices that grant them fast access to evolving capabilities. To stay ahead of this shifting threat landscape, it's vitally important for troops to be able to respond and adapt to change as rapidly as possible. This is difficult when new systems are complex, expensive and time-consuming to develop, which is not ideal for responding to threats quickly. 
Multirole technology takes a different approach. Following an operational expenditure model rather than a capital one, it replaces the need for lengthy hardware procurements with timely software upgrades that can be done in days and weeks instead of years. Because multirole EW systems can be software-defined, the hardware stays the same while software applications are loaded at will to achieve different capabilities. This allows for exceedingly agile, rapid reconfiguration in the field, giving commanders the ultimate advantage. Taking a multirole approach to EW also vastly reduces the physical and operational burden; by making all of the required capabilities available from a single system, there's no need to carry multiple pieces of equipment anymore. 
L3Harris is Pioneering Multirole EW Capability
L3Harris Technologies' Individual CORVUS Node (ICN), Portable CORVUS Node (PCN) and Configurable CORVUS System (CCS) were designed with multirole in mind. The many capabilities offered by these EW systems include multiple mission roles such as electronic surveillance, electronic attack, counter-improvised explosive device (C-IED) force protection, offensive cyber, counter-small unmanned aircraft system (C-sUAS) and more. This means troops can stay protected from land-based threats by harnessing C-IED capability while also maintaining the ability to detect, track and identify aerial threats such as drones, all while conducting an ISTAR mission. 
Under 2 kg, ICN can be fixed at a base, vehicle-mounted or carried. It enables users to achieve multirole, multifunction and multidomain EW capability in a small form factor, delivering optimal performance without compromising freedom of manoeuvrability. Fixed, vehicle- or semi-mounted, CCS rapidly roles and re-roles applications to suit evolving mission needs while the PCN is designed to be carried, transported on a vehicle or dismounted. 
With effects delivered by applications through a common user interface on different sized software-defined radios, physical components can be easily replaced in units as technology develops.
The Many Advantages of Multirole EW
This leading-edge, disruptive multirole approach to EW leads to increased mission agility, impressive lifecycle savings, tactical and strategic interoperability and no vendor lock-in, among many other advantages. The modest size of L3Harris' ICN, PCN and CCS systems is also a considerable step forward in alleviating size, weight and power (SWaP) challenges by introducing a vastly improved SWaP profile, reducing the operational and physical burden. 
Once procured and deployed, ICN, PCN and CCS pave the way for the future by enabling users to role and re-role multiple software-based apps as needed. This means no more big capital expenditure investments because the hardware doesn't reach end of life. Built on an open standards-based architecture, the L3Harris systems deliver apps developed in-house by customers, by partners or by trusted developers, revolutionising how mission-critical EW capability is harnessed across the battlespace. 
Find out more about how L3Harris' next-generation, multirole EW systems enable superior mission agility here or visit Stand H5-310 at DSEI 2023 from 12 – 15 September in London.