ENHANCED LEARNING FOR BETTER SYSTEMS COMPREHENSION
The objectives of a nuclear training program are well documented and the methods to accomplish the learning objectives are clearly identified. With our contemporary learning technologies, the use of visualization is designed to further those objectives by adding another tool in the arsenal to improve or augment the learning experience with a higher degree of efficiency, retention and accessibility. Visualization components can be used in standalone training media or can easily be integrated with the existing full scope simulator and/or existing courseware.
Studies have shown that learning efficiency and retention are augmented by using a visually rich, interactive and immersive teaching environment, which can be summarized by these two principles:
Seeing is understanding
Interacting helps remember
Training Modules
To enhance existing training programs or to support the establishment of newcomer training programs, L3Harris has devised learning technologies based on these principles. We have coupled computer visualizations with high-fidelity simulation to bring real-time, simulation-driven animated components and systems allowing immersive and participatory, individual or classroom learning.
Getting the Fundamentals Right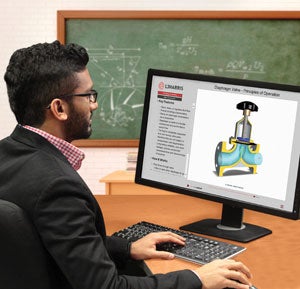 Experiential learning yields the highest student retention rates. However, a typical training program must have a certain structure, flow and content to ensure all objectives are satisfied. L3Harris' Learning Modules focus on the generic fundamentals training content by embedding 3D animation to augment or even replace the 2D static figures used in today's curriculums. With Learning Modules, colleges and operators can empower students to gain maximum learning value with hands-on experience. Learning Modules help students visualize various equipment such as valves, pumps and heat exchangers, etc. Remove the uncertainty of mentally picturing equipment construction and operation—touch it, assemble it, take it apart, watch it work—in the classroom and on portable student tablets.
Making Plant Drawings Come Alive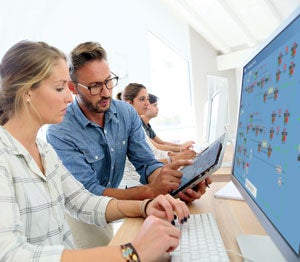 In a traditional systems training course, a system flow path drawing is presented and the instructor sequentially walks down the components and the flow paths in each system, with many slides. He/she verbally describes every component's purpose and function, and their effect on the flow paths being considered. The student has little concept how all of the components function together to control the process. Normal operating process values are not displayed, or interactively controlled and rates of change not easy to understand. The state of equipment interlocks and logic and control are all uncoupled and static. It is very difficult for the student to gain a thorough understanding of the working system. With System Knowledge Modules all of these limitations are removed and the student can see how the system works very effectively without assembling an awkward and possibly incorrect working picture in his mind. This approach results in extremely high student retention rates through experiential learning.
Enhancing Plant Learning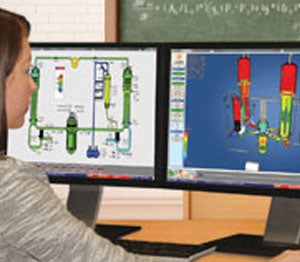 The most important aspects of learning in a nuclear plant are all the interactions of reactivity coefficients, heat transfer mechanisms, relative internal pressures, water levels, void formations and temperatures of fluids and materials of the reactor plant systems. All of these properties are tightly coupled and the change of one parameter typically affects all others in a dynamic fashion. L3Harris' simulation models calculate with great precision and detail the nodal properties throughout reactor plant systems. These dynamic calculations are used to drive 3D and 2D animated reactor plant systems in our Learning Simulators.
The student is provided an interactive cutaway view of the inner workings of these most important integrated systems, where the student can see all of the important properties in different regions of the reactor vessel, reactor core and steam generators, etc., even those regions that are not typically instrumented in actual plants. Normal, abnormal and accident response can be viewed in great detail. Learning Simulators can be delivered with pre-recorded scenarios or can even be connected to your operator training simulator for real-time feedback. Learning Simulators are available for different power plant types.
Flexible Learning Technologies for Flexible Training Delivery
Our learning technologies are designed to provide you with maximum learning potential in a host of training environments. Learning Modules, System Knowledge Modules and Learning Simulators are well suited for classroom training, individual learning and/or team building using desktop or tablet PCs with or without touch technology.
Featured News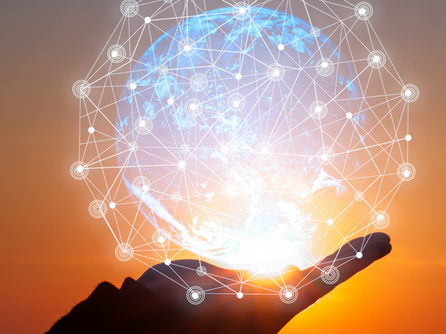 Trade Release | 11. 30. 2021
L3Harris Recognized for Innovative Molten Salt Reactor Simulator
L3Harris Technologies has been awarded the 2021 Innovation Award for a first-of-a-kind simulator by the Organization of Canadian Nuclear Industries (OCNI), the country's leading nuclear supply chain trade association.










Related Domains & Industries
Solutions that solve our customers' toughest challenges.
view all capabilities