After two decades of extensive engagement in counter-insurgency campaigns in Iraq and Afghanistan, the Australian Defence Force (ADF) is repivoting its strategic interests back to the Asian-Pacific region.
As part of a wider effort across the region to ensure security and stability, the Australian Army is upgrading its ability to conduct expeditionary operations against peer and high-capability adversaries. Critical to this endeavor is the "Accelerated Warfare" concept, which will enable the force to quickly adapt to emerging threats across contemporary and future operating environments, according to Chief of the Australian Army Lt. Gen. Rick Burr.
The Australian Army is open to adopting new capabilities and concepts across a variety of areas, including "human performance; information advantage; cyber; data; smarter and smaller distributed systems; [and] robotic and autonomous systems," Burr wrote in 2020. "Together, these actions will enable [the] Army to prepare more teams, for more tasks, more often, to meet the demands of Defence Strategy."
NEW CAPABILITIES FOR THE ADF
L3Harris Technologies is already playing a critical role in supporting the Australian Army, as it recently concluded the five-year Land 53 Tranche 1 contract to deliver innovative targeting and detection capabilities designed to perform at night and in all weather conditions against peer adversaries. L3Harris Technologies' Integrated Vision Solutions (IVS) sector is a subcontractor to the program, led by L3 Mission Systems Australia.
Land 53's Tranche 1 capabilities are already fielded and have been "well received" by the customer, providing a "significant step change in capability for the land forces," according to Lynn Bollengier, president of L3Harris' IVS business.
"In terms of army modernization of the soldier as a platform, Tranche 1 is the first real step in giving them the ability to fight in all conditions," Bollengier said, noting upgrades can be used with the Army's EF88 assault rifle.
ALL-WEATHER SOLUTIONS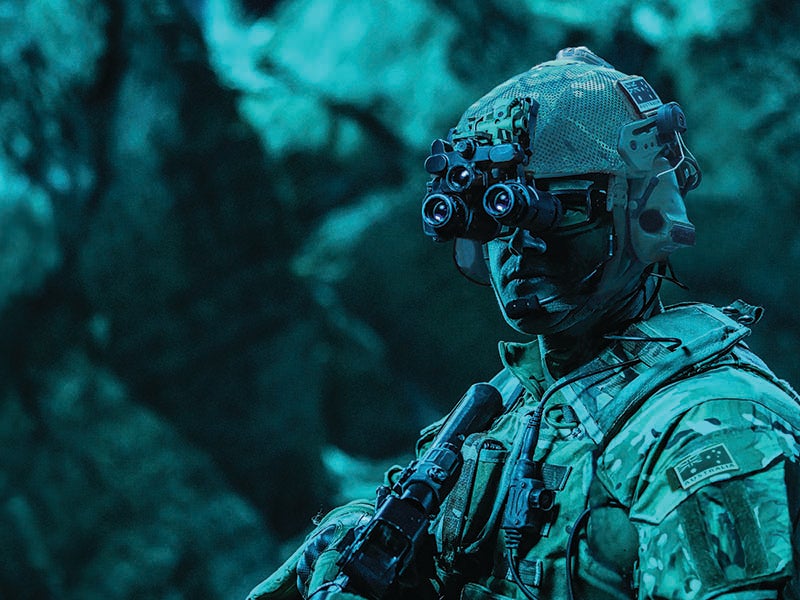 "With this added capability, soldiers will know where they are and where they are heading using an individual heads-up display illustrating direction and location information."
Lynn Bollengier - President, L3Harris Technologies IVS sector
L3 Technologies' merger with Harris Corporation in July 2019 has opened a magnitude of next-generation capabilities to the Australian Army and the wider Australian defence community.
The company was recently awarded Tranche 2 of the Land 53 program. The program aims to provide the army with "augmented, supplemented and/or enhanced" night-fighting capability. Under the contract, L3Harris will deliver its Fused Night Vision System (FNVS), which fuses image intensification technology with thermal imagery to provide soldiers with enhanced Situational Awareness, targeting and identification capability in all battlefield conditions and light levels. Combined with the L3Harris smart battery pack, the FNVS delivers critical battlefield information directly to the soldier's eye.
The program's Final Operational Capability is expected to be declared in September 2023.
"With this added capability, soldiers will know where they are and where they are heading using an individual heads-up display illustrating direction and location information," Bollengier said, noting the Australian Army continues to closely monitor another program contracted to L3Harris, the U.S. Army's Enhanced Night Vision Goggle—Binocular (ENVG-B). "A thermal imaging overlay will also allow soldiers to identify targets and teammates through obscurants."
L3Harris is also primed to support Phase 2 of Land 53, which will be focused on the sharing of Situational Awareness data at the tactical edge. Due to begin in the 2024-2025 timeframe, Phase 2 will support the sharing of data across the battlefield, enabled by the Army's Land 200 tactical network program.
"L3Harris is positioned to enable this capability ahead of schedule simply due to the leading-edge capabilities we are already providing to the Australian Army," Bollengier said. "As you look across the entire breadth of the company, L3Harris Technologies has a lot of complimentary business in Australia. As a result, the Army has tracked key developments and engaged with us regularly, meaning we are able to share with them our roadmap of ideas of interest to the Commonwealth of Australia. This yields good cooperation to engage in the 'art of the possible' discussions."
Under Phase 2 of Land 200, the company is delivering AN/PRC-158 multiband and AN/PRC-160 wideband High Frequency Software Defined Radios to supplement in-service AN/PRC-152, AN/PRC-152A, EPLARS and AN/PRC-117 tactical radios.
ENHANCED SATCOM SUPPORT
Satellite Communications (SATCOM) capabilities are also critical to supporting emerging expeditionary warfare requirements of the Australian Army.
The company continues to support the Joint Project 2008 (MILSATCOM) program, work which includes providing and sustaining several hundred Hawkeye™ III Lite 1.2 m Triband Very Small Aperture Terminals (VSATs).
"L3Harris provides and sustains a number of SATCOM products, including land transportable SATCOM terminals," an Australian Department of Defence spokesperson said. "The technical competence of Australian industry to support these systems and maintain responsiveness and agility will be critical to meeting ADF needs. In-country training and deeper-level maintenance will be major contributors to the delivery of SATCOM capability."
Meanwhile, the ADF is considering further enhancements to its SATCOM capability over the course of 2021 and 2022. Australian Special Operations Command (SOCOMD) procuring VSAT technology could provide an ideal solution for the future requirements of the Army, according to Jerry Adams, general manager of L3Harris' SATCOM product division.
"Greyfin positions itself perfectly as a natural connection for the Australian Defence Force, with VSATs providing backhaul for ground radios, which fits together with legacy handheld and manpack radios," Adams said.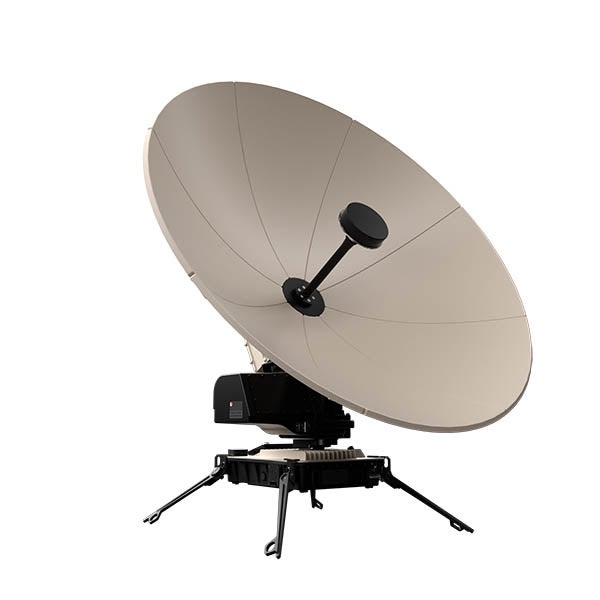 L3Harris Panther II VSAT
L3Harris' smallest VSAT, Panther II, provides 4-6 MB throughput across X, Ku and Ka frequency bands. Featuring optional one-touch auto-acquire capabilities, Panther II VSATs are available in 60-cm and 96-cm aperture sizes, both featuring enhanced stability through a low center-of-gravity design. L3Harris' Hawkeye 4, which has already been selected by the U.S. Army, is a lighter-weight variant of the Hawkeye III terminal. Capable of being carried in a pair of 35-kilogram cases, the upgraded Hawkeye provides the same levels in capability and data throughput in addition to enhanced network resiliency to support emerging requirements across the contemporary operating environment.
Additionally, the company is exploring how Low Earth Orbit (LEO) satellite constellations might also support the future ADF SATCOM requirements. Ongoing work includes the development of LEO upgrade packages for VSATs and developments in Active Electronically Scanned Array (AESA) flat-panel designs.
Examples include L3Harris' "Darkwing" flat panel Ka-band transceiver, already selected by U.S. Special Operations Command. This nine-kilogram solution provides Special Operations Forces with a "tremendous data capability, which is particularly applicable to the Australian market," according to Adams.
The company remains engaged with original equipment manufacturers regarding the ADF's next-generation JP9102 SATCOM program, which will replace JP2008.
JP9102 will provide a sovereign and game-changing SATCOM solution with enhanced efficiency and operating capability, including greater levels in assurance and more-rapid dissemination of data.
An enhanced SATCOM capability also presents exciting potential for Australian Army units operating at the tactical edge.
"There is real requirement to provide a flexible and adaptable SATCOM solution to enable persistent data from the edge to the tactical operations center," Alan Callaghan, president and managing director of L3Harris Communications Australia, said. "We have recognized that requirement, from the U.S. Defense Department and within Special Operations Command, to take ISR videos from multiple Line-Of-Sight and Beyond-Line-Of-Sight sources and integrate them to end-user devices via Software Defined Radios."
IN-COUNTRY SUSTAINMENT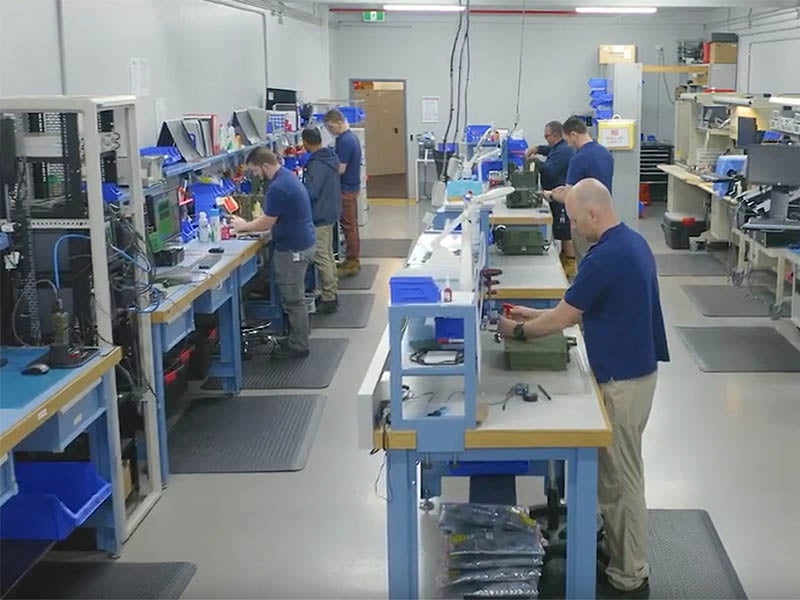 The L3Harris Communications Logistics Centre provides the Australian Army with in-country customer support, thereby significantly reducing lead-in times for maintenance, repair and overhaul of equipment. The 9,300-square-metre facility in Brisbane is equipped to support classified work; ongoing work includes sustainment of the Army's inventory of legacy tactical radios and VSAT terminals.
This means radios and other equipment do not need to be repatriated to the United States for repair, providing a more-responsive capability to support any urgent operating requirements of the Australian Army.
"The provision of availability-based contracts allows more certainty to support an Australian sovereign capability and enhance their tactical communications operational readiness," Callaghan said.
LOOKING FORWARD
ADF's selection of L3Harris will significantly reduce risk and exposure while also ensuring unseen levels of interoperability with partner forces across the Indo-Pacific area of responsibility.
The company's experience in night vision, tactical connectivity and SATCOM—in addition to the establishment of the Logistics Centre—presents an attractive and achievable one-stop solution for the Australian Army and wider ADF as they strive to secure the Asia-Pacific.