In 2021, just weeks before Christmas, the U.S. experienced the deadliest tornado outbreak of the past decade. Over 40 reported tornadoes swirled with deadly force across nine states.
Kentucky was hit the hardest. A behemoth EF-4 tornado, with 190-mph winds, tore through 163.5 miles of property – killing 78 people. It was the longest continuous tornado track in Kentucky's history.
According to the National Weather Service, the average lead time for a tornado warning is nine minutes. Sadly, nine minutes was not enough time for those who found themselves in the deadly tornado's path.
There is a significant difference between thinking a tornado might hit your county in the late afternoon and knowing with confidence a tornado will touchdown in your neighborhood at a specific hour. The latter scenario triggers a much higher preparedness level than the first.
As forecasting models become more accurate, so will our ability to better prepare for not only tornadoes, but fires, hurricanes, floods and wildfires.
| | |
| --- | --- |
| L3Harris' Advanced Baseline Imager on GOES-16 captured tornadic activity over parts of Louisiana.  | The resulting aftermath of a tornado that decimated parts of Arabi, LA | Photo Credit: AP News |
Dynamic data enhances forecast modeling
Although we cannot change the weather, we can certainly better understand its underlying conditions using satellite weather sensors. Data from these space-based assets is the key to improving forecasters' ability to provide trusted and precise severe weather predictions.
In fact, scientists rely on satellite data to measure everything from the moisture content of clouds, ground and ocean temperatures, the temperature and wind speed direction at every layer of the atmosphere, and radiation from the sun. These are just a few of the many variables that they use in their forecasting models to provide us with the weather outlook we all depend on.
To collect such a myriad of data quickly and accurately requires weather observation instruments in both low Earth orbit (LEO) and geosynchronous orbit (GEO). Each orbit provides a unique vantage point and value to severe weather forecasting. Working together, constellations of weather satellites in both orbits can provide real-time global coverage of evolving weather as it is happening.
In LEO, forecasters rely on hyperspectral sounding instruments - like L3Harris' Cross-Track Infrared Sounder (CrIS) – to identify the early warning signs of inclement weather. These instruments measure moisture and temperature profiles at every level of the atmosphere to help forecasters spot weather patterns like wind convection, water pooling and rapid temperature changes.
Although the data these hyperspectral sounders provide is critical to severe weather predictions, there's a notable gap – one that forecasters can't afford to have as severe weather becomes more unpredictable. Hyperspectral sounding instruments in LEO can only measure key indicators of severe weather formation every 12 hours.
From a GEO vantage point, however, a sounding instrument can capture this critical data every 30 minutes.
Deploying a hyperspectral sounder, like CrIS, in GEO is the next logical breakthrough in weather observation. By closing the data gap, forecasters will have the information they need to increase severe warning lead times and provide more precise path predictions and timelines.
"All meteorological geostationary satellites should be equipped with hyperspectral infrared sensors for frequent temperature/humidity sounding as well as tracer wind profiling with adequately high resolution (horizontal, vertical and time)." – World Meteorological Organization (WMO, Vision for the WMO Integrated Global Observing System in 2040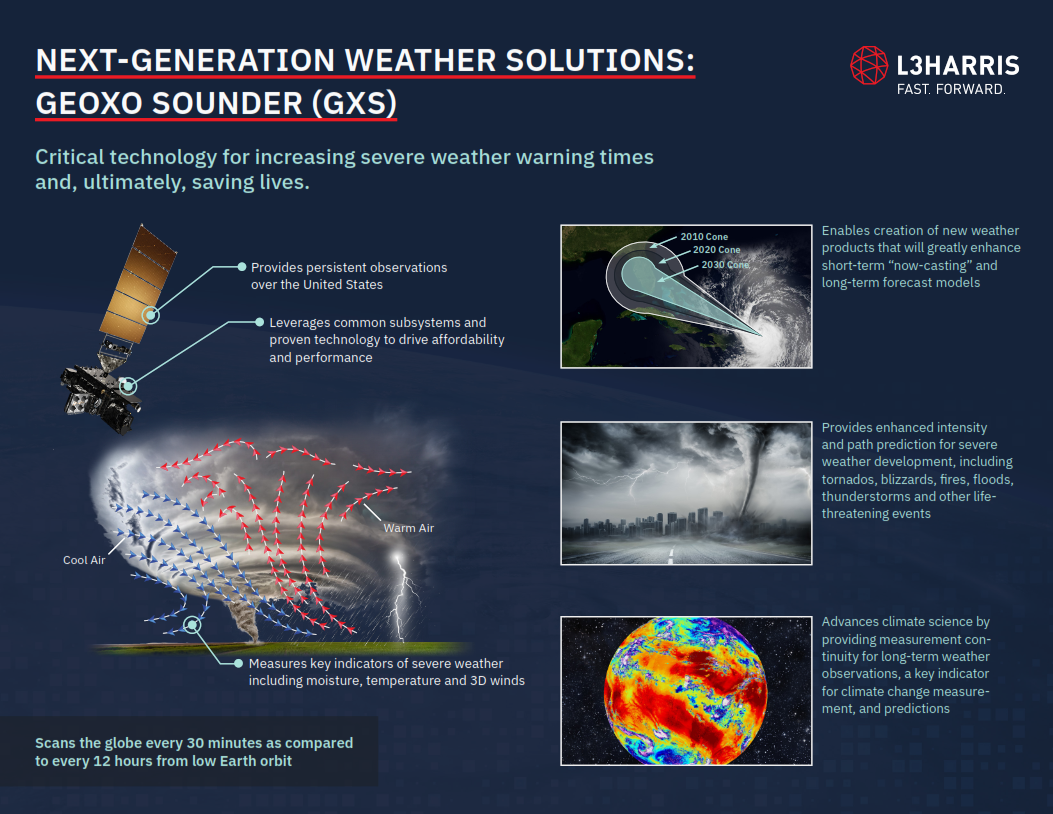 With an operational hyperspectral sounder in GEO, the fatality report from Kentucky's 2021 tornado outbreak could have looked much different. The vantage point from GEO would have given forecasters access to more timely and persistent coverage of potential tornadic activity. As a result, residents would have had highly localized early warning of the imminent tornados – potentially up to six hours before touchdown.
With this additional lead time, the workers who lost their lives at the local Amazon distribution center or candle factory would have been able to evacuate. Residents could have sought shelter far away from the projected path.
At L3Harris, we are relentless in our pursuit to build a more weather-ready nation.
For over 50 years, we have been at the forefront of advancing weather satellite observation capabilities – working in partnership with organizations like NOAA, Japanese Meteorological Agency (JMA) and Korea Meteorological Administration (KMA). Our breakthrough technology, including the Advanced Baseline Imager (ABI) on NOAA's Geostationary Operational Environmental Satellites (GOES) and CrIS on JPSS, represents a giant leap forward in forecasting capabilities.
L3Harris' next-generation weather satellite solutions will ensure our mission partners are armed with the most accurate and timely data required to provide trusted and life-saving severe weather predictions and warnings.