The ongoing war in Ukraine continues to expand the list of lessons learned for the U.S. Department of Defense and its international partners, particularly across the NATO alliance.
One of the most significant lessons has been the need to deploy and maintain secure and resilient lines of communications, especially when operating in complex operating environments against highly capable peer adversaries.
Across the globe, satellite providers are promising mature connectivity solutions, but, as the war has illustrated, assuring space-based communications in a contested battle space is easier said than done.
"Early in the conflict, commercial low-Earth orbit constellation terminals were deployed to Ukraine; there was good and bad that came out of that," Jake Williams, L3Harris Technologies director of business development, said. "It was very clear that there was a place and use for them, but it quickly became apparent they didn't offer the levels in resiliency required by the Ukrainian Armed Forces, so concepts of operation were changed."
These commercial solutions could not be used in every scenario because their signatures could be identified and triangulated, according to Williams. While these terminals provided rapid Satellite Communications (SATCOM) deployability, they did not provide the resiliency required for armed forces in the 21st century.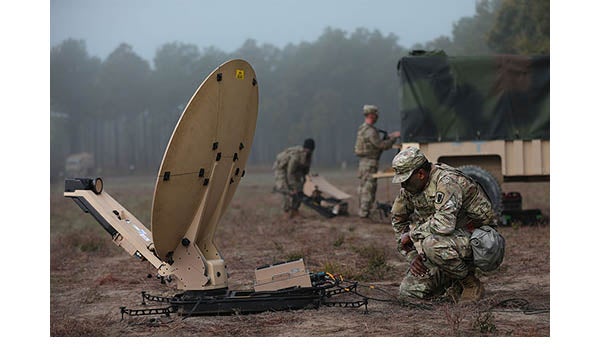 "In order to get to a data-centric world that we're trying to move to, we're going to have to have a resilient environment, and that's going to be key," Maj. Gen. Jeth Rey, director of the U.S. Army Network Cross Functional Team, said during an AUSA Global Force presentation in March.
Resilient transport – leveraging all available spectrums, from 5G to low-, medium- and geosynchronous Earth orbit – will be critical to meeting this need, Rey added, as will auto-PACE capabilities, convergence of commercial and military satellite communications, new waveforms, open-system architectures and enhanced encryption.