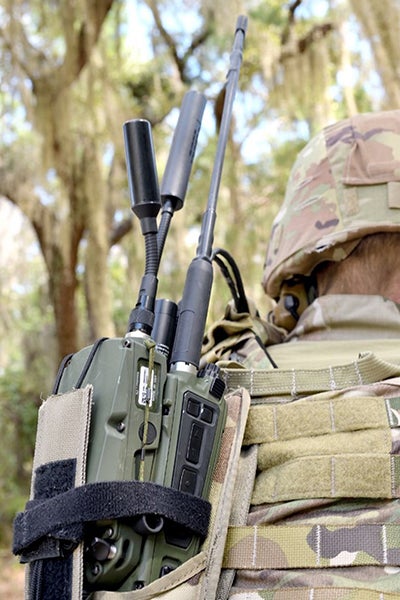 WASHINGTON, DC — L3Harris Technologies (NYSE:LHX) today announced the unveiling of its Iridium Distributed Tactical Communications Systems (DTCS) mission module at AUSA's Annual Meeting and Exposition, enabling push-to-talk voice and data for warfighters worldwide.
The mission module connects the L3Harris AN/PRC-163 multi-channel handheld tactical radio to the U.S. Space Force's DTCS network, providing warfighters in the field secure voice and data communication without having to carry a separate Iridium satellite radio. 
"This new capability enables warfighters to stay connected anywhere on the battlefield and provides commanders extraordinary versatility exercising command and control," said Ed Zoiss, President, Space and Airborne Systems, L3Harris. "The ability to stay connected in virtually any situation allows for better planning and responsive execution of missions."
Warfighters armed with the AN/PRC-163 and DTCS mission module can now communicate using any combination of satellite communications, mobile ad-hoc network, or line-of-sight modes even in situations when one or more connection methods are not available. Small, power efficient and easy to use, the mission module attaches directly to the AN/PRC-163, or through a tethered cable, and controlled from the radio's existing control panel.
The mission module, a part of the Assured Reach family of communications technologies, complements L3Harris' Falcon® radio product line, delivering networked communications to more than 700,000 U.S. and allied users around the world. With more than six decades of tactical expertise and one million radios deployed, L3Harris connects ground, sea, air and space with reliable, secure mission-critical tactical communications.
L3Harris Technologies, an agile global aerospace and defense technology innovator, delivers end-to-end solutions meeting our customers' mission-critical needs. The company provides advanced defense and commercial technologies across space, air, land, sea and cyber domains. L3Harris has more than $17 billion in annual revenue and 47,000 employees, with customers in more than 100 countries.
Forward-Looking Statements
This press release contains forward-looking statements that reflect management's current expectations, assumptions and estimates of future performance and economic conditions. Such statements are made in reliance upon the safe harbor provisions of Section 27A of the Securities Act of 1933 and Section 21E of the Securities Exchange Act of 1934. The company cautions investors that any forward-looking statements are subject to risks and uncertainties that may cause actual results and future trends to differ materially from those matters expressed in or implied by such forward-looking statements. Statements about the value or expected value of orders, contracts or programs or about system or technology capabilities or priorities are forward-looking and involve risks and uncertainties. L3Harris disclaims any intention or obligation to update or revise any forward-looking statements, whether as a result of new information, future events, or otherwise.
# # #