AO-1010 Diode-Pumped Eye-Safe Laser
Diode-Pumped, Solid-State (DPSS) High-Efficiency Sid-Pumped (HESP) Laser.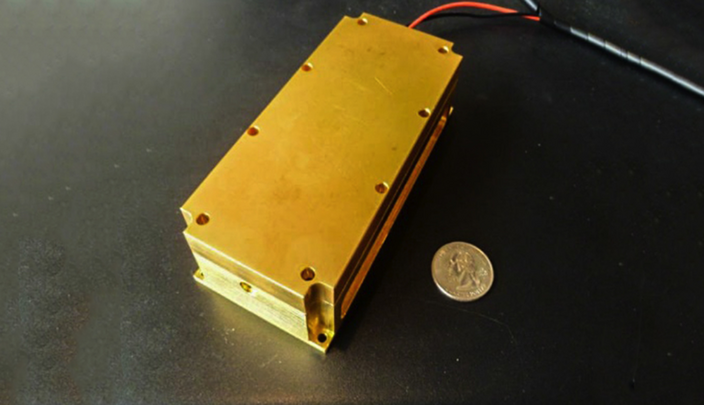 AO-1010
The AO-1010 is an "Eye-safe" 1.54 μm diode-pumped, actively q-switched Erbium glass laser transmitter.
Diode-Pumped Eye-Safe Laser
Specifications
Wavelength
1535 nm
Laser Energy & Pulse Repetition Rate
10 Hz @ 10+ mJ
20 Hz @ 9+ mJ*
30 Hz @ 7+ mJ*
Laser Pulse Width
≈ 6 ns
Raw Beam Diameter
0.8 mm
Beam Divergence
≈ 4.2 mrad
M2
≈ 1.7
Beam Wander
< 0.5 mrad
Laser Head Size (in inches)
1.4 x 2.2 x 5.0
Laser Head Size (in cm)
3.56 x 5.59 x 12.70
Laser Head Weight
≈ 565 g
Laser Operating Temperature
-30 to +50 °C
Laser Storage Temperature
-55 to +90 °C
Electrical Requirements
12 V, 85 A, 1.8 ms
Conductive Cooling Requirements
< 110 W
* Laser needs to be kept at +22 °C
 
HESP LASER DRIVER SUPPORT
When you purchase an L3Harris DPSS laser, we include complimentary technical support for all of your laser driver needs. Our engineers have extensive experience helping customers get their project up and running quickly and reliably.
Whether you need miniaturization, high efficiency, wide temperature range, Bluetooth® wireless communication or all of the above, our engineering staff is available to support your project's design and integration requirements.
Previous work includes a 20 g, 47 mm x 33 mm x 15 mm high performance driver with -45 ° to +85 °C operating temperature range, advanced I/O and laser protection. This driver provides precise 100 A square pulses of current with typical I/O efficiency of 95 percent and a wide 4.5 V to 38 Vdc input voltage range. Advanced input current limiting allows for reliable state-of-the-art battery applications.
Other projects include a Bluetooth®-compatible, miniature driver optimized for the entire family of L3Harris DPSS lasers. The driver provides 100 A current pulses with typical I/O efficiency of 92 percent and works with Android phones and tablets running version 2.0 (Éclair) or later. 
Related Domains & Industries
Solutions that solve our customers' toughest challenges.
view all capabilities