SUPERIOR TRAINING SYSTEMS FROM THE WORLD'S LEADING SIMULATION COMPANY
L3Harris simulators provide superior real world power plant training. We offer a variety of products and services including full scope power plant simulators, part-task trainers, simulator retrofits and upgrades. We provide conception to completion turnkey systems, specific components, and simulator design tools as required by the customer. With worldwide presence, a solid leadership position and the ability to provide any level of customer support, we ensures the success of your simulator projects. Our simulators offer the highest quality in simulation fidelity and training to provide trainees and instructors with user-friendly tools for learning, controlling and exploring complex power plant systems.
The superior training environments of our simulators provide clear advantages for operator licensing, optimizing plant operating procedures and reducing costs. Operators trained on our simulator environments gain the skills necessary to increase plant performance, minimize downtime, and provide confident emergency response. Simulator uses include interactive team training, severe incident management, plant design testing, and startup/shutdown optimization. L3Harris' replica-quality hardware controls and touch-screen virtual panels create realistic and credible control environments. Real-time response to operator actions and interactive instructor control ensure maximum training effectiveness and adaptability. Any scenario, no matter how complex or dangerous in a real plant, can be reproduced, monitored and varied in real-time, providing a valuable tool for training and plant engineering. Our commitment to customer support extends far beyond industry norms. Our unique knowledge transfer program allows customers to gain expertise and total confidence in the simulator. Users can directly implement simulator modifications to exactly reflect plant changes, evolve their training programs and expand simulator use into other areas.
COST EFFECTIVE TRAINING FOR:
Both experienced operators and new recruits
Overall plant and individual system operation and control
Team training to study interaction and improve performance
Emergency plan implementation and incident management
Command of malfunction and transient situations
I&C familiarization
Plant process computer training and testing
Classroom simulator trainings
Reduced unplanned outages
Improved plant safety
Easy to upgrade simulator and keep current with plant
Multiple configurations on one simulator
Analysis of plant response to equipment and/or instrument failure
Efficient plant design planning and upgrading
Upgrades and Updates: Extending the Life of Your Simulator
There are many power plant simulators worldwide developed by different companies. Rapid advances in computing technology now permit simulator owners to get maximum value from their simulators by implementing cost-effective updates. Evolving training needs, greater fidelity expectations, changing standards, plant modifications and plant life extensions fuel simulator updates.
Now, it's possible to evolve your simulator to the state-of-the-art in an economical manner.
The first phase of simulator updates usually involves updating the major simulator platforms including the simulation computer, the instructor station and/or the panel interface system. We respond to our customer update needs with a variety of solutions. Every customer has specific requirements – and our solution is customized to address those needs individually.
SIMULATION COMPUTER REPLACEMENTS
A large majority of simulators are equipped with dated computers running proprietary operating systems with limited computing resources and almost no scalability.
We re-platform simulation computers with open PC-based systems. A PC server or workstation acting as a simulation computer provides a low-cost, scalable and easy to maintain solution. But, there are other ways to achieve the results needed which consider our customers' corporate strategies, IT needs and available resources. We offer our simulation computer updates and associated simulator executive systems on a choice of operating systems – either on various Microsoft Windows operating systems or on the Linux operating system.
INSTRUCTOR STATION REPLACEMENTS
Accompanying simulation computer replacements, it is natural to expect more from the instructor station – the simulator's control center. We provide Orchid® Instructor Station, a powerful instructor station that truly puts the instructor in full command of simulator session management. Orchid® Instructor Station is provided on a PC with the Windows operating system. To enrich the instructor's experience and the total learning experience, our high-end graphics of plant controls (virtual panels) and active system schematics provide additional flexibility and ease-of-use. Instructors can also use the photo-realistic virtual panels and system schematics on the simulator to monitor control panel response and insert malfunctions and overrides.
The virtual panels and system schematics can also be manipulated by trainees to exercise simulated plant operations on the full-scale simulator. Unlocking even further value, the exact same graphics coupled with the simulation can be utilized on other stand-alone computers as Classroom Simulators.
PANEL INTERFACE SYSTEM
Simulators are equipped with various interface (I/O) systems, depending on who the original vendor was and which interface system technologies were available at the time the simulator was developed. The interface system is a crucial element in any full scope nuclear power plant simulator as it acts as the gateway between the simulation computer and the majority of the switches, indicators and annunciators on the simulator control room panels. Today, with the computing power and advanced software technologies that are available, there is no reason to settle for device response times short of real-time. We have a proven record of equipping simulators with reliable interface systems, with various third-party interface systems, depending on customer preference and economics.
The second stage of simulator updates typically involves exploiting some of the additional computing resources to improve modeling fidelity, once the simulation computer replacement has been validated. The first system models to be updated are the reactor core and nuclear steam supply systems as these updates yield maximum simulation fidelity improvements at a low cost. It is also common to include other model updates in the second stage if required, such as improving the containment and HVAC models.
REACTOR CORE MODEL REPLACEMENT
L3Harris' Comet™ and Comet Plus™ are advanced models for the simulation of reactor neutron kinetics based on a rigorous application of first principle physics and advanced numerical techniques. The models have been installed worldwide on numerous simulators currently certified for training.
Orchid® Core Builder is a dynamic utility for easy creation and validation of cycle-specific reactor data and allows users to monitor, in real-time, all the quantities of interest in the reactor core using two-dimensional and three-dimensional maps and plots.
ADVANCED NUCLEAR STEAM SUPPLY SYSTEM MODELS
L3Harris' advanced thermal-hydraulic model (ANTHEM™) is based on a rigorous application of the equations of mass, momentum, and energy conservation and implicit numerical techniques combined with the latest developments in computer technology. ANTHEM™ has been successfully installed and validated on numerous simulators and simulator upgrades currently certified for training.
The proven ANTHEM™ model is part of the Orchid® Modeling Environment graphical simulation environment, providing superior visibility and model maintenance facilities to the user.
Once the simulator's primary system models are of high fidelity, it's prudent to take advantage of other software technologies that will allow the simulator owner to have full access to the latest in technology and secure a reliable simulation future – across all simulated systems.
HIGH PERFORMANCE FROM ALL SIMULATION MODELS
Whether your electrical switchyard, feed water system or any model needs to be updated, the improvements can be made at the simulator owner's own pace. Furthermore, all models are developed entirely graphically using graphical symbols of your plant components from extensive component libraries built up by us for over 15 years. This model implementation method is made possible with our Orchid® Modeling Environment simulation environment and allows users to easily keep their models up-to-date with routine plant changes.
Orchid® Modeling Environment creates a realistic "working picture" of the entire plant, with every component interactively linked. Each component's variables (temperature, flow, pressure, etc.) are controlled, monitored and recorded in real-time.
Programming knowledge is not required. Simply place or move components around on the screen, and Orchid® Modeling Environment automatically generates the underlying simulation models. The Orchid® Modeling Environment models are dynamic, graphical representations of proposed plant designs or modifications complete with interactive controls.
System developers, operators and instructors are free to explore and test new configurations, operational procedures and "what-if" scenarios without any complex calculation or coding. Orchid® Modeling Environment is a powerful tool to improve plant efficiency without actually affecting the plant before the changes are tested and validated.
Advantages for training include true flexibility and total control of present and future training programs and objectives.
The fourth upgrade phase is to replace the simulator's information or control system. Whether an update is required to the original simulator plant process computer (PPC) or a new Digital/Distributed Control Solutions (DCS) is being implemented as a result of a plant modernization, there are multiple solutions that are possible on the simulator to ensure that the PPC or DCS appears and behaves exactly the same as at the plant, and responds to all simulator commands.
With simulation, we utilize our Orchid® Control System package. The foundation for Orchid® Control System is a real-time data acquisition and control system comprised of geographically distributed nodes used for the monitoring and automation of electrical substations, nuclear power plants, hydroelectric power plants, and fossil fuel power plants. Its well-integrated architecture provides a complete solution to customers, including I/O, redundancy, and operator user interfaces. Orchid® Control System is offered on Windows.
Our simulation solution relies on the control system functions of Orchid® Control System to provide the necessary functionality of the target PPC or DCS. The operator interface's look-and-feel is replicated and simulation commands (e.g. freeze, run, etc.) are already built into Orchid® Control System
Featured News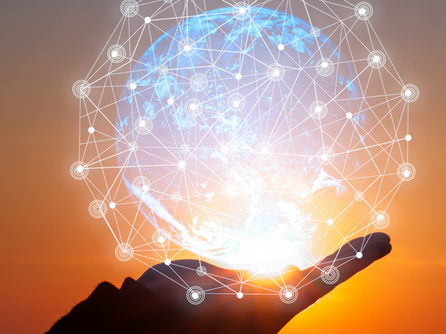 Trade Release | 11. 30. 2021
L3Harris Recognized for Innovative Molten Salt Reactor Simulator
L3Harris Technologies has been awarded the 2021 Innovation Award for a first-of-a-kind simulator by the Organization of Canadian Nuclear Industries (OCNI), the country's leading nuclear supply chain trade association.










Related Domains & Industries
Solutions that solve our customers' toughest challenges.
view all capabilities