Designed to provide full support to officers and decision-makers in carrying out their duties, our Battle Damage Control System (BDCS) helps the damage control team manage the full range of emergency situations from fire, flood and smoke to radiation and chemical hazard detection. Fully integrated within our Integrated Platform Management System (IPMS), BDCS information is distributed across all IPMS workstations on the network.
Incident management and plotting
2D or isometric representation of the ship's General Arrangement Plan (GAP) on which all plots are performed
Infinite numbers of layers to display ship systems information as overlay on the GAP
Works in unison with all damage-control-related Automatic Sequence Controllers (ASC) running in the IPMS to automate incident management tasks
Automated kill cards to provide support in managing incident or state transition
Embedded CCTV support to quickly see incidents or damage
Direct interaction with ship stability calculation and related advice
Radiation monitoring and logging
Management of personnel and material resources
Casualty management and prioritization
Logging and report generation for all damage control events
Integration with the our On Board Training System (OBTS) to provide the best training environment for students/instructors to learn, practice and validate damage control procedures and scenarios
Expandable to a full expert system by including the latest suite of L3Harris NBCD advisories
The CCTV support can be accessed directly from the GAP by selecting the compartment and then requesting the CCTV image in that compartment. BDCS can be configured to automatically pop up the CCTV image as soon as an active fire sensor is detected in a compartment equipped with CCTV.
Incident Management and Plotting
Incident management is the primary function of the BDCS and can be performed from the same display that is used to perform ship monitoring and control. As a result, switching between machinery control and damage control is transparent to the operator. Incidents and resource deployment are plotted directly on the GAP and are automatically redistributed to all IPMS workstations for fast and accurate update of the situation. This ensures that all parties are making decisions based on the same information. Active sensors and incident progression are easily identified with standard symbols displayed on the GAP. Operators can intuitively select these graphics to get more information or to amend a specific situation.
Close Cooperation with ASC
The BDCS interacts directly with some ASC that reside in the control system nodes. Plotting an incident or marking the progression of an incident can stop the ventilation, perform electrical/mechanical isolation of the compartment, start smoke removal, etc.
Automated kill cards help the operator to manage a particular incident or to achieve a particular state of ship readiness. Kill cards are dynamic and interactive checklists that provide full management of an incident by requesting action to be taken at a remote site and also by monitoring the status of various sensors and devices. Request for action, timeout on actions that are not performed, and automatic link to mimic pages where action can be performed and link to on-line help are just some of the features supported by our BDCS kill card function.
Ship Stability Calculation
Built within the BDCS is a full stability package that allows the operator to see the impact of damage and ship condition on the stability of the vessel. The stability package will calculate weight and momentum, lifting arms, hydrostatic values, vessel motion during swells and waves, safe sailing determination and advice. The stability operator can also enter a "simulation" mode (i.e., a what-if scenario) in which simulated data can be input to the system so that the effects of these countermeasures can be analyzed prior to performing them on the actual ship.
Damage Control Calculation
The BDCS can be even more comprehensive when used in association with the latest suite of damage control advisories. It will use rule-based algorithms to determine the optimal sets of cooling and smoke boundaries, provide smoke removal path and automated smoke removal operation, combustible hazard relocation, optimal escape and attack routes based on current ship closure state. It can minimize damage by predicting the blast route of unexploded ordnance and can be tailored to the customer's specific needs.
Featured News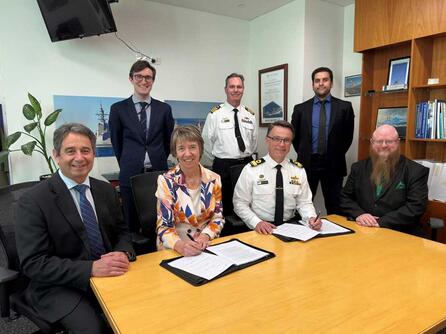 Trade Release | 09. 20. 2023
Australia Awards L3Harris AUD$328 Million Maritime Underwater Tracking Range Contract
The Australian Department of Defence awarded L3Harris Technologies a contract, valued at up to AUD$328 million, to deliver new Maritime Underwater Tracking Ranges (MUTR) for the Royal Australian Navy (RAN).











Related Domains & Industries
Solutions that solve our customers' toughest challenges.
view all capabilities