Our approach to navigation and integrated bridges is different from all others, and is based on a solid background of system integration expertise, sea-going experience and innovative engineering. While most suppliers' bridge integration philosophy consists of physically integrating numerous different hardware and software systems into one console, the L3Harris IBS takes a completely different approach, focusing on functional integration. Our approach allows any navigation function to be performed from any workstation. The networked approach that brings the functionality together also allows for easy integration with other ship systems. Our IBS is based on the belief that improved human-machine interaction results in increased safety. This is accomplished by:
Seamless integration of all navigation functions
Uniform presentation of information
Uniform principles of operation
User simplicity to avoid human errors
Multifunction workstations
Multiple layers of redundancy and graceful degradation
COTS hardware for ease of maintenance
Open system design (inter-system links to other systems)
All navigation sensors including radar are integrated into the navigation network, allowing operation, monitoring and alarm identification on any workstation. This facilitates distribution of navigation data and exchange of tactical information from a Combat Management System or the IPMS. Tactical information can be presented on any bridge workstation as overlay data on ARPA radar and ECDIS (Electronic Chart Display and Information System) or, if desired, displayed in a separate window on the workstation.
Uniform Presentation of Information
Human-Machine Interfaces for the various applications, such as ECDIS, ARPA radar and Conning Display, have similar design layouts for easy recognition and user-friendliness.
Uniform Principles of operation
The applications employ similar layout of the control areas with soft keys. The control keys are operated with a user-friendly control panel and roller-ball cursor control on the armrest of the navigator chairs. Some frequently used functions may be controlled by keys on the armrest panels that provide direct access to these functions.
Our IBS is designed to be intuitive in operation, and takes into account that most navigators today have good working knowledge of modern computer systems. Uniform presentation and operation contribute to safety because they help to reduce the risk of operator errors, especially in emergency situations.
Multi-Function Workstations
Our IBS is designed to be intuitive in operation, and takes into account that most navigators today have good working knowledge of modern computer systems. Uniform presentation and operation contribute to safety because they help to reduce the risk of operator errors, especially in emergency situations.
Multi-Level Redundant System
Navigation sensors are redundantly connected to the IBS for improved system survivability and graceful degradation
Provision of Uninterruptible Power Supplies (UPS) contributes to fail-safe operation.
We have many years of experience with advanced bridge layouts, and the latest innovations in user ergonomics are taken into account. Three-dimensional layout studies are offered to ensure the best possible working environment and compliance with IMO and class rules. Control of all main systems is readily available from the navigator chairs, including optional steering tillers. Visibility analysis ensures minimal interference of blind angles and optimal visual capability.
Navigation radars are operated and controlled from the navigator's chairs and radar video is displayed as one of the applications on the multifunction workstations. This integration makes ordinary dedicated radar displays obsolete. Radar information is also presented as overlay on the ECDIS. The IBS can be extended to accommodate up to four navigation radars with full ARPA performance. Presentation of surveillance radar video on workstations can also be included.
Naval Navigation Functions
Our IBS includes special naval navigation functionalities such as:
WECDIS (Warship ECDIS)
Semi-automatic positioning with input from the ship's optical bearing device and laser range and bearing binoculars
Electro-optical multi-sensor operation/presentation
Tactical information: tactical routes, tactical areas, tactical target transfer/correlation, mine/torpedo warnings, etc.
Intercept point calculation and presentation
Available as an option is a vessel support system that enables software diagnostics and other support services via Inmarsat HSD satellite communication.
''Remote diagnostics and troubleshooting via satellite means that problems can be solved much faster than before."
Our IBS is very flexible concerning the interfacing of navigation sensors, combat management systems, IPMS and communication systems. Because of our system integration expertise and open system approach, our IBS can accept sensor inputs from a wide variety of suppliers supporting most common signal transmission methods and protocols, while being able to adapt to special needs.
Closed Circuit Television (CCTV) operation and presentation, Advance Position Prediction and Voyage Data Recorder (VDR) are available for integration with the L3Harris IBS. Integration of Automatic Identification Systems (AIS) with ECDIS/ARPA is also offered as required by IMO regulations.
One of the world's largest operators of high-speed container ships expresses:
The L3Harris IBS lets the crew focus on the task at hand. They get exactly the information they need in a clear, uncluttered format – reducing the risk of accidents. It is easy to learn because of its intuitive, uniform design.
The L3Harris IBS meets our operational requirements. Higher productivity makes it possible to use smaller crews. The easy-to-use system streamlines maintenance and reduces cost.
Featured News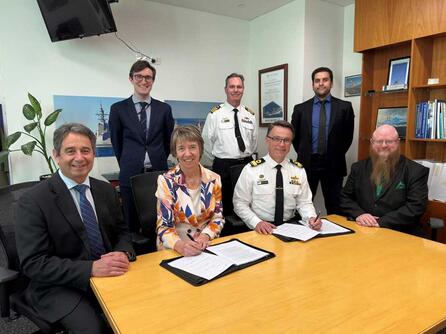 Trade Release | 09. 20. 2023
Australia Awards L3Harris AUD$328 Million Maritime Underwater Tracking Range Contract
The Australian Department of Defence awarded L3Harris Technologies a contract, valued at up to AUD$328 million, to deliver new Maritime Underwater Tracking Ranges (MUTR) for the Royal Australian Navy (RAN).











Related Domains & Industries
Solutions that solve our customers' toughest challenges.
view all capabilities