L3Harris, in partnership with the National Oceanic and Atmospheric Administration (NOAA), has developed innovative weather sensor technology that is at the forefront of the GeoXO mission. This technology provides highly detailed, real-time information on weather patterns, including high-resolution imagery, temperature and moisture data. 
Predicting environmental disasters begins in space
The GOES-R series of satellites is equipped with L3Harris' Advanced Baseline Imager (ABI), which provides more accurate and detailed severe-weather observations by capturing images of Earth at 16 different wavelength bands. Our Cross-track Infrared Sounder (CrIS), onboard the same satellites, is also used to improve the nation's weather forecasting capabilities. It does this by providing detailed atmospheric temperature and moisture measurements that inform short- and long-term weather forecasts. 
The integration of L3Harris' next generation GeoXO technology into NOAA's weather forecasting efforts is the next logical breakthrough in weather observation. It will help protect individuals, communities and property in the face of severe weather events, like hurricanes, tornadoes, wildfires and flooding, by providing the information required for more accurate, timely and detailed forecasts. The improved forecasts enabled by GeoXO will even help businesses and industries mitigate the effects of severe weather on their operations, leading to less disruption and fewer financial losses. 
Building a more weather-ready nation
L3Harris' GeoXO solutions build on the advanced technology contained in our GOES-R, CrIS and ABI sensors, which currently provide the operational data required to make accurate and timely predictions of severe weather events. GeoXO will further enhance our nation's forecasting capabilities which are critical to protecting individuals, communities and industries from the impacts of severe. 
Weather Editorials/Press Releases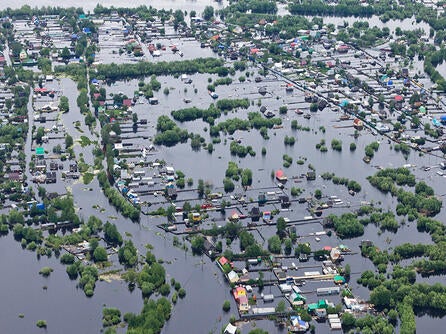 Editorial | 12. 21. 2022
Predicting Environmental Disasters Begins in Space
Severe and complex weather events, like Hurricane Ian, are become deadlier and costlier each year. But we're turning to space to help create a safer, more weather-ready nation.
Related Domains & Industries
Solutions that solve our customers' toughest challenges.
view all capabilities