Iver4 580 UUV
Built with Iver4 next-generation technology, the Iver4 580 features a full suite of sensors in a portable size (5.8" diameter and 82" length) and small mission footprint for rapid deployment. The combination of transportability and in-water efficiency makes the Iver4 580 the ideal vehicle for commercial and defense survey missions.
Designed to minimize off-mission time
Its sealed battery section can be swapped in the field and easily reassembled without the need for vacuum pump or INS-realignment. Data recorded from the on-board sensor suite can be downloaded from the Iver4 580 at GigE speed allowing the vehicle to get back on mission in minutes.
Featured News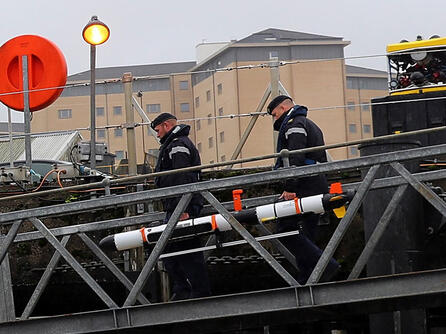 Trade Release | 06. 12. 2020
L3Harris Technologies to Upgrade Iver3 Vehicles in support of the Royal Navy's Project Wilton
L3Harris has received an order to upgrade three Iver3 Autonomous Underwater Vehicles (AUV) to be used in support of the Royal Navy's Project Wilton.
Product Specifications
Portability: Iver4 580 is less than 100 pounds and is only 82 inches long. Our design team balanced the size of this vehicle design to fit a full suite of sensors while maintaining a small mission footprint.
Simplified Logistics: Iver4 580 features sealed, field-swappable battery sections. These sections are paired at a wet-break point with no special tools, heading realignment or vacuum pump required. 
Minimum Mission Downtime: With true hot-swappable battery sections and GigE download speeds, the Iver4 580 can be back on mission within minutes. This further optimizes the time to get better mission results.
Purpose Built Vehicle with Full Sensor Suite: Standard vehicle configuration includes side scan sonar, swath bathymetry, inertial navigation system, sound velocity probe and doppler velocity probe. This full sensor suite delivers the highest quality mission data for every mission.
| | |
| --- | --- |
| Depth | 200m/300m Rated Durable Titanium Center Section Configurations |
|   | Depth Sensor |
| Length | 2 m (82 in) |
| O.D. | .15 m (5.8 in) Carbon Fiber Tubes |
| Endurance | 6/12/18/36 Hour Configurations |
| Speed | >4 knots transit |
|   | >5 knots sprint |
| Power | Swappable Battery Sections |
| Inertial Navigation System | INS based on iXBlue PHINS Compact C3 fiber-optic gyroscope |
| Side Scan Sonar | Dual Frequency 1600/600 kHz or 900/600 kHz configurations |
| Swath Bathymetry | 600 kHz Interferometric co-registered sonar |
| Field Rugged Operator Console | Getac for mission planning, operating and data viewing. Includes VectorMap Mission Planning Software and VectorMap surface radio. |
| Topside Deck Box | Surface equipment for subsurface comms with Benthos Acoustic Modem |
| Handheld Remote Controller | Rugged water resistant remote with joystick for surface control (300+ m range) |
| Acoustic Pinger | Underwater locator beacon |
| SVP Sensor | Sound velocity probe (AML) |
| Doppler Velocity Log | 80m/140m bottom lock configurations |
| Rugged Transit Case | Shock absorbent mounting |
| Safety Systems | Watchdog Iridium safety systems |
| Support | Iver API Documentation Support |
|   | Forward Payload Integration including RemoteHelm Tester Software |
|   | 12 Month Warranty |
Training at L3Harris in San Diego, California
Towed Marine Magnetics Magnetometer
Iver4 Spares Kit
Related Domains & Industries
Solutions that solve our customers' toughest challenges.
view all capabilities
Iver Training Registration