Laser Glass
L3Harris laser components and subsystems are used in a wide variety of military, medical, scientific, fiber-optic communication and industrial applications. L3Harris has built its business on excellence and scientific innovation, with the goal to provide unequaled solid-state laser expertise.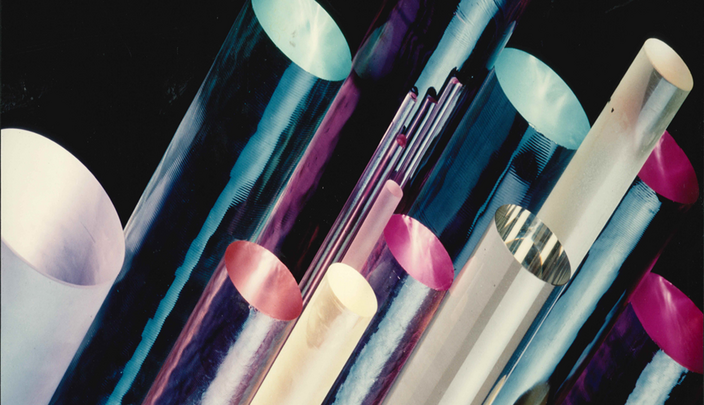 Materials
L3Harris standard and special laser glass materials may be doped with rare-earth elements such as erbium, ytterbium, samarium, neodymium, holmium, thulium, dysprosium, europium and praseodymium.
Specialty Glass Products Available
Q-98
A neodymium-doped athermal phosphate laser glass of exceptional optical quality offering high gain and athermal behavior. The result is a higher repetition rate with minimum beam divergence.
Q-100
Patented use in applications where the highest possible gain is desired. The superior performance of this neodymium-doped athermal phosphate glass results from its uniquely high neodymium concentration.
Q-246
A neodymium-doped silicate laser glass known for its strength and durability. It is the laser glass of choice for a wide range of applications from range finding to materials processing.
QE-7 & QE-7s
Erbium-doped phosphate laser glass that is four times more efficient than the erbium-doped silicate laser glass developed in the 1960s. Its unique "eye-safe" operating wavelength of 1.535 microns makes it ideal for specialized medical apparatus as well as field-safe range finding.
QX/Nd, QX/Er and QX/Yb
QX phosphate glass laser materials exhibit a chemical durability that is comparable to silicate glasses. These high-performance laser glasses are designed to withstand high thermal loading and thermal shock conditions in both strengthened and unstrengthened configurations.
IR Glass
Germanate IR transmitting glass window/laser material, L3Harris BGA and NRL BGG glass materials exhibit high optical transmission in a wide window region from the visible (~ 450nm) through the infrared to ~ 5μm. L3Harris has demonstrated a tunable 2.09 micron BGA glass laser doped with holmium and other rare-earth sensitizers.
Special Melting Facility
L3Harris' "Special Melts" are manufactured to customer-specified dopant concentrations. Various base materials for your "Special Melt" host glass are available from an extensive menu. Let our technical people help you select a glass laser material specifically designed for your application.
Related Domains & Industries
Solutions that solve our customers' toughest challenges.
view all capabilities