Drones or UAS threats are becoming increasingly difficult to identify, manage and regulate. As these threats proliferate, they are more often being used as threat vehicles by bad actors, placing greater emphasis on the need to accurately detect, track and identify these systems. Underpinned by proven command and control (C2) software and electronic countermeasures (ECM) developed over many years by L3Harris, Drone Guardian is ready to adapt at pace with the environment.
A SENSOR AND EFFECTOR AGNOSTIC APPROACH
Designed for strategic fixed site protection against sUAS threats, Drone Guardian easily facilitates the integration of best-in-breed sensors and effectors from multiple vendors, offering mission-critical extensibility that enables the solution to adapt as threats evolve.
Among many others made possible by its open architecture, Drone Guardian's sensors and effectors consist of:
How can Drone Guardian help you?
Drone Guardian's baseline capability of radar, RF and EO sensors provides a robust defence against the drone threat, helping to generate timely alerts and inform decision-making for military, law enforcement and security personnel.
The Drone Guardian system offers considerable benefits that include:
articles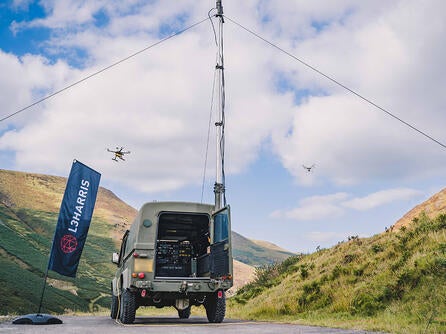 Editorial | 06. 25. 2020
L3Harris' Counter Drone System to Protect Critical National Infrastructure in the UK
Detecting, tracking and defeating drone threats is a complex problem for which no single sensor or defeat solution has been shown to provide reliable performance across the full range of required operational environments.