The latest offering in the L3Harris Technologies portfolio of integrated tactical communications systems, the RF-9820S, provides military ground personnel added flexibility and reliable communications options — from legacy Line-Of-Sight to next-generation Mobile Ad Hoc Network (MANET) — in contested and congested environments.
The radio was designed in close collaboration with the U.S. Army, who refer to it as the AN/PRC-171. The versatile radio provides soldiers an easy-to-use, compact communications solution. The single-channel AN/PRC-171 has been specifically designed to support dismounted end users conducting the full spectrum of mission sets at the tactical edge.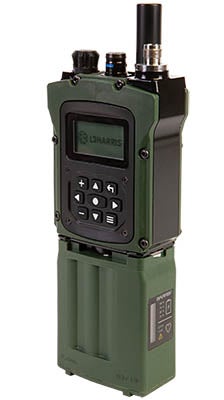 The RF-9820S provides forward-deployed units with multi-domain, on-the-move and robust voice and data capabilities and can also be operated in contested environments where highly capable peer and non-peer adversaries threaten to disrupt communications.
The RF-9820S is interoperable with the L3Harris Falcon® family of radios, including the AN/PRC-158, AN/PRC-163 and AN/PRC-167. The company has also networked the new radio to its own Enhanced Night Vision Goggle-Binocular (ENVG-B) solution, which is currently in U.S. Army operation under a Directed Requirements program.
The new addition to L3Harris' Falcon family of radios entered low-rate initial production in July 2021 and provides greater flexibility and deployment agility for maneuver brigades as it is rolled out across four Infantry Brigade Combat Teams over the next year, with the aim of "improving expeditionary capability and making the network simple and more intuitive," according to the U.S. Army's Program Executive Office for Command, Control, Communications-Tactical.
"Ease of use is a strong requirement for the end users who use these radios, particularly when they are conducting complex mission types and have more than enough to worry about without concerning themselves with changing radio settings or programming the radio," Bryant Henson, president of the L3Harris Tactical Communications business, said of the RF-9820S being the "core" of the Army's Integrated Tactical Network Capability Set 2021.
The company also benefited from lessons learned from other products, including the RF-7800S Secure Personal Radio and RF-7850S Advanced Wideband Secure Radio. These insights created minimal training requirements and reduced logistics for the radio.
KEY BENEFITS
Designed to optimize the connectivity of ground-based tactical teams, the RF-9820S provides end users with multiple modes of operation, including wideband MANET and narrowband voice and Position Location Information (PLI). Compact, light and operating at a power output of 3.2 watts, the radio relies upon a rechargeable Lithium-Ion battery providing an extended battery life of more than 20 hours.
Additional upgrades over RF-7800S/7850S radios include the introduction of a multifunctional end-user display and keypad.
An operator can also use the same accessories for the RF-9820S as any of the L3Harris family of Falcon IV tactical radios. This includes antenna systems, connectors, headsets and batteries, all of which contribute to a reduced logistics footprint.
The radio's talk group selector switch remains at the top of the radio, similar to other Falcon radios, allowing operators to change talk groups with a simple turn of a knob.
CONNECTING THE ECHELONS
The L3Harris suite of Falcon radios and broad-ranging portfolio of resilient waveforms provide the secure communications necessary to enable the U.S. military and allies' vision of Joint All-Domain Command and Control (JADC2).
The latest addition to the Falcon family helps speed the establishment of JADC2, as it is already configured for applicable networks. The U.S. and Canadian armies separately awarded L3Harris production orders for the radio, as the AN/PRC-171 and RF-9820S, respectively, in 2021.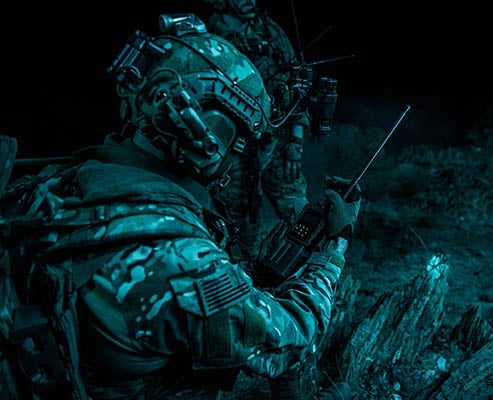 The radio has already successfully completed a series of field tests with the U.S. Army to create a variety of operational concepts as part of the Integrated Tactical Network.
"Brigade Combat Teams deploy for a number of different operations," Melissa Daminski, L3Harris senior director of Product Management, said. "Platoons and squads will go out on missions and will want to outfit every single team leader and potentially every squad member with a radio—and that's where the RF-9820S plays very nicely."
The solution provides reliable voice as well as PLI for every user operating within those different squads and infantry fighting platoons. The radio can be easily configured to meet the requirements of a variety of different mission sets and scenarios, from reporting to command and calling in fire support to reaching out directly to a battalion commander, amongst others.
"The ability to tie the RF-9820S into the same networks as AN/PRC-158s, -163s and -167s is a force multiplier for maneuver and combat commanders, because it enables communications from the brigade level all the way down to an individual company squad on a single tactical network," Henson said.
FUTURE UPGRADES
As nations prepare for emerging threats and modernize their networks, militaries for the short-term are striking a balance between optimizing their current assets and procuring next-generation solutions that can evolve with new challenges.
Network modernization "is going to be a continuous journey because the explosion of information technologies is only accelerating on us," Lt. Gen. John Morrison, the deputy chief of staff for the G-6, said on a September 2021 webinar hosted by GovExec. "And we need to be adaptive and set a foundation that allows us to continuously innovate over time so that we can bring in new capabilities as they emerge in a relatively seamless fashion."
L3Harris has identified a series of near-term upgrades that can further improve the RF-9820S with added capability as operational requirements continue to evolve.
Technology areas of interest include the addition of Wi-Fi and Bluetooth® connectivity, which would reduce the amount of cables carried by an end user and enable easier integration of accessories with the radio. Additionally, L3Harris is working on an embeddable variant of the radio that would allow it to be carried by small unmanned aerial vehicles.
"There's a ton of untapped potential still within the RF-9820S, like the hardware capability set," Daminski said. "What we're releasing this year meets the operational requirements of what we're seeing today. End users can pick it up, turn it on and they're ready to go."