That maxim is especially true when considering elevation data, which forms the foundation of various applications in the geospatial mapping industry. The strength of that foundation depends on the data's accuracy. Whether creating Earth elevation models or building 3D simulations, all the details matter. Failing to prioritize accuracy can lead to uncertain decisions and inconsistent results. It can also make the difference between a project's success and failure. 
The Big Picture
Earth elevation models have improved dramatically in recent decades. By applying new technologies and algorithms to satellite and airborne platform sensors, users have increased the resolution limits of elevation models by orders of magnitude over previous options. In this new era, the challenge is processing and managing millions of elevation values efficiently and accurately before integrating them into sophisticated, widely used applications.
Elevation data is an important component of Remote Sensing and Geographic Information Systems (GIS) and influences a variety of operations, including:
Orthorectifying and Georeferencing Aerial and Satellite Imagery
Analyzing Terrain
Measuring Distances
Rendering 3D Visualizations
Creating Flood and Drainage Models
Designing Communication Networks
Driving Precision Agriculture
Responding to One-Time Emergencies
Mitigating Disasters
Assessing Infrastructure Damage
Managing and Protecting Natural Resources
The accuracy of elevation data is critical because it affects the accuracy of results. Positional errors, terrain distortions, incorrect flood plain delineations, inadequate construction designs, and increased costs are some of the byproducts of inaccurate elevation data.
L3Harris provides comprehensive elevation data for local and worldwide coverage and creates customized models that help users predict, anticipate, prepare for, identify, and address any challenges they might face. So, how do our experts quickly transform raw satellite data into accurate, precise elevation data users can trust?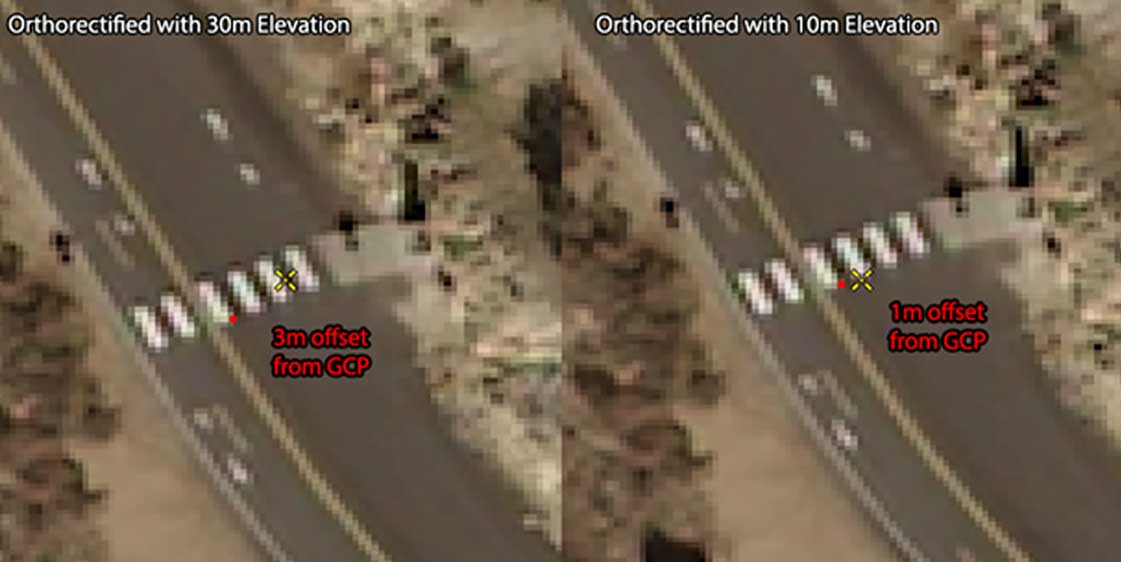 Orthorectification: Correcting Raw Imagery
Raw satellite imagery is just that — raw. It contains the output from the sensor with distortions and other inaccuracies caused by the sensor's orientation, the Earth's curvature, topographic relief, and other factors. These are normal; addressing them is required to produce accurate elevation data that will help solve critical issues. 
Orthorectification removes distortions and aligns aerial and satellite images, producing imagery that is georeferenced and geometrically accurate. Elevation data such as digital elevation models (DEMs) and digital terrain models (DTMs) play an essential role in orthorectification. During the orthorectification process, we use height values within the elevation data to remove perspective distortion from images. This results in more precise ground positions of each pixel in orthorectified images.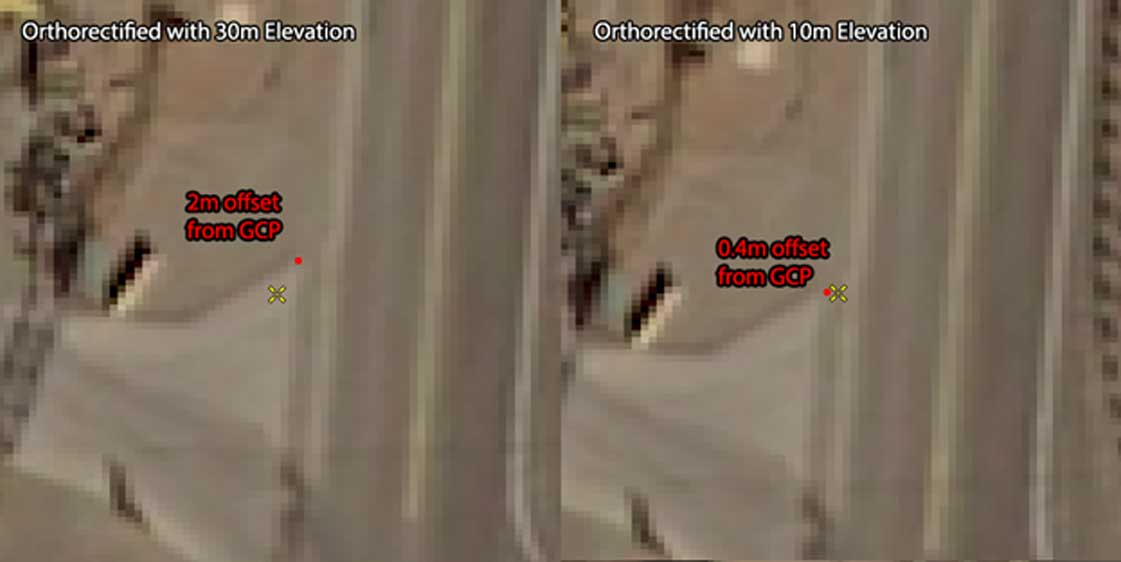 The Right Data, The Right Results
The level of accuracy of elevation data significantly impacts the results of orthorectification. 
When elevation data more accurately represents the Earth's terrain, it reduces the potential errors associated with the position of objects and features in the image. Elevation data can also introduce distortions when the elevation is less accurate, particularly in areas of significant relief. By using precise elevation information, the orthorectified image aligns better with ground truth and real-world placement, reducing positional errors and improving overall accuracy. 
The enhanced geometric accuracy of the resulting orthorectification is essential for image analysis and measurement, resulting in more reliable results for distance, area, and volume calculations. Additional imagery-derived data, such as material classification and feature extraction, also benefit from improved positional accuracy. 
New Heights
Now you have a brief overview of why accurate elevation data is essential and how prioritizing it is the first step in taking your project to new heights. 
Remove the guesswork and invest in your most valuable resource with the best elevation data for your project — delivered and processed by experts. We offer an extensive selection of elevation data sets in various resolutions, which we can deliver individually or bundle with other layers to create visual simulations. 
Talk with our team today about how we can ensure the accuracy of your elevation data and request your free quote. Please don't hesitate to contact us at geospatialdata@l3harris.com.