Features
Approach alignment indication
3D helicopter positioning:

Position on deck
Altitude over deck
Horizon reference, integrated in the altitude indication

Scenario data:

Environment (wind speed and direction)
Navigation (course, speed and attitude)

Maneuver data recording
Safe landing in low-light conditions due to improved perception
Reduced workload for pilots
Eliminates or supplements landing signal officer (LSO) on deck
Substitutes radio data communication
Landing data available for analysis and training
Display for deck crew communications
Low-impact installation
Helicopter position:

Range: 100m
Accuracy: 0.1-to-0.6m (depending on the range)

Display:

Size: 3m x 1.8m (length x height)
Resolution: Standard HD 720p

Projector dimensions:
Featured News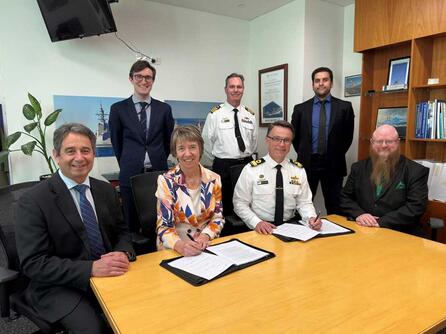 Trade Release | 09. 20. 2023
Australia Awards L3Harris AUD$328 Million Maritime Underwater Tracking Range Contract
The Australian Department of Defence awarded L3Harris Technologies a contract, valued at up to AUD$328 million, to deliver new Maritime Underwater Tracking Ranges (MUTR) for the Royal Australian Navy (RAN).
Related Domains & Industries
Solutions that solve our customers' toughest challenges.
view all capabilities