MISSION & PLATFORMS
An Ideal Targeting Solution for: ISR – High-altitude; Covert Intelligence, Surveillance & Reconnaissance, Armed Reconnaissance, CSAR, Target Acquisition and Designation missions
Airborne Installations: Fixed-wing, Rotary-wing, UAV, Aerostat
Multi-Sensor Imaging/Lasing Payload Options
Currently supports up to six sensors simultaneously
Superior HD imaging resolution from Electro-Optical (EO) and Infrared (IR) cameras
Laser rangefinder/designator
Three laser illuminator divergence options
High Sensitivity Color Camera
High-Definition (HD) IR
Pseudo-Colour IR
Advanced Video Tracker (AVT)
Embedded MTI
Latest Enhancements – See video of technology enhancements
Laser Spot Tracker (LST)
Compatible with standard U.S. and NATO designator codes
Automatically detects a designator spot of a given code in its field-of-view

Slews the system's line-of-sight to the laser energy
Dual-channel daylight and EMCCD low-light EO wide-angle zoom
EMCCD low-light imaging capability – wide-angle zoom sensor

Enhances situational awareness under a wide range of illumination conditions
Enhanced Local Area Processing (ELAP)
Real-time image enhancement for EO day, EO night & IR
Outstanding Targeting Performance
IMU inside technology & exceptional EO/IR sensor range achieves unparalleled designation ranges
Navigation grade IMU enhances target location accuracy
Designator electronics package incorporated into the turret payload
Uncompromised Stabilization
Five-axis gimbal with internal IMU
All payloads are fully stabilized
WESCAM MX-Series Commonality
Common operator interfaces and Line Replaceable Units (LRUs)
Simplified interchangeability
Efficiencies in support and technology enhancements
Ease and familiarity of use
About WESCAM MX™-Series Airborne Targeting Solutions
L3Harris' designating systems enables teams to dominate the battlefield 24/7, with greater precision than ever before. Field proven, with extensive deployment, their WESCAM MX-Series designating systems offer "plug-and-play" installation, and high-sensitivity multi-spectral sensors for day, low-light and night-time missions. High mean-time-between-failures are achieved through a diode-pumped laser target designator, and systems offer precise geo-pointing technologies for hands-free simplicity regardless of aircraft movement or obstructions. The capability is here. Now is the time to invest in visual technologies that dominate enemy operations.
Mission Systems
Providing a broad range of multi-domain intelligence, surveillance and reconnaissance mission solutions in support of key decision makers across air, land and maritime domains.
Related News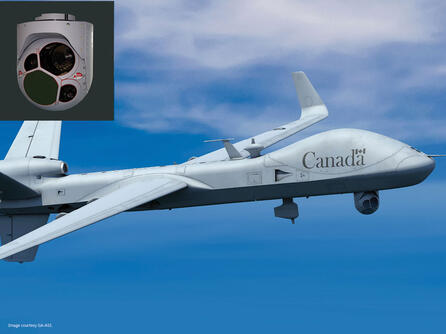 Editorial | 07. 26. 2022
L3Harris joins the best of Canadian Industry to discuss Team SkyGuardian®
L3Harris in Hamilton Ontario, recently joined their teammates GA-ASI, MDA and CAE Canada in a conversation with Vanguard Magazine Canada to discuss Team SkyGuardian – the RPAS (Remotely Piloted Aircraft Systems) solution for Canada.
Related Domains & Industries
Solutions that solve our customers' toughest challenges.
view all capabilities