Features and Benefits
The WESCAM MX-8D is ideal for low-altitude, tactical surveillance and target designation missions requiring low-weight and installation flexibility on manned or unmanned aircraft.
Complete ISR and targeting capability
Superior range performance
STANAG-compliant laser designator
WESCAM MX-Series advanced image processing and steering functions
Fully ruggedized with internal vibration isolation for enhanced reliability
Size, weight and power compatible with small tactical UAS
MULTI-SENSOR IMAGING/LASING PAYLOAD OPTIONS
Supports up to six sensors simultaneously
Thermal, HD color and low-light imaging
Continuous zoom electro-optical
Continuous zoom infrared
Laser illuminator1
Laser target designator2
Eye-safe laser rangefinder
WEIGHT-OPTIMIZED SYSTEM
17.9 lb / 8.11 kg
Internal electronics unit
Built-in vibration isolation
Built-in GPS receiver
HIGH-PERFORMANCE GIMBAL
4-axis stabilized turret with internal passive isolator for excellent stabilization performance
Sharp optics and superior stabilization performance results in industry leading target detection, recognition and identification range performance in the 8" class
Inertial Measurement Unit standard
DIGITAL SENSORS/ADVANCED IMAGE PROCESSING
Real-time image enhancement on all sensors simultaneously

High-performance haze penetration
Improved feature recognition and ID
Automatic video tracker
2x, 4x Ezoom
An ideal targeting solution for: low-altitude, tactical surveillance and target designation missions requiring low-weight and installation flexibility
Airborne installations: manned or unmanned aircraft.
Compact Solution
17.9 lb/8.11 kg turret
10.9 in turret height for better ground clearance
Multi-Sensor Imaging/Lasing Payload Options
Currently supports up to six sensors simultaneously  
Superior HD imaging resolution from Electro-Optical (EO) camera
Laser rangefinder, illuminator, designator
High Sensitivity Color Camera
Enhanced Local Area Processing (ELAP)
Real-time image enhancement for EO day, EO night & Infrared
High-Performance IMU & WESCAM MX-GEO Software Suite
IMU & WESCAM MX-GEO work to create accurate target location
WESCAM MX-GEO automatically aligns to the aircraft
Robust automatic image focus
Uncompromised Stabilization
Four-axis gimbal with internal IMU
All payloads are fully stabilized
WESCAM MX-Series Commonality
Common operator interfaces and Hand Controller Units (HCUs)
Simplified interchangeability
Efficiencies in product support and technology enhancements
Ease of familiarity and use
About WESCAM MX™-Series Airborne Targeting Solutions
L3Harris' designating systems enable teams to dominate the battlefield 24/7, with greater precision than ever before. Field proven, with extensive deployment, WESCAM MX-Series designating systems offer "plug-and-play" installation, and high-sensitivity multi-spectral sensors for day, low-light and night-time missions. High mean-time-between-failures are achieved through a diode-pumped laser target designator, and systems offer precise geo-pointing technologies for hands-free simplicity regardless of aircraft movement or obstructions. The capability is here. Now is the time to invest in visual technologies that dominate enemy operations.
Mission Systems
Providing a broad range of multi-domain intelligence, surveillance and reconnaissance mission solutions in support of key decision makers across air, land and maritime domains.
Related News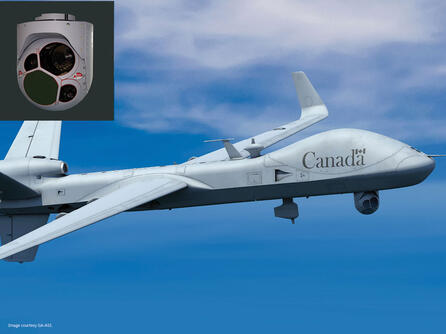 Editorial | 07. 26. 2022
L3Harris joins the best of Canadian Industry to discuss Team SkyGuardian®
L3Harris in Hamilton Ontario, recently joined their teammates GA-ASI, MDA and CAE Canada in a conversation with Vanguard Magazine Canada to discuss Team SkyGuardian – the RPAS (Remotely Piloted Aircraft Systems) solution for Canada.
Related Domains & Industries
Solutions that solve our customers' toughest challenges.
view all capabilities