Advanced Mobility Goggles
L3Harris' advanced mobility goggles connect the operator to the network, enabling enhanced mobility, lethality and situational awareness on the battlefield.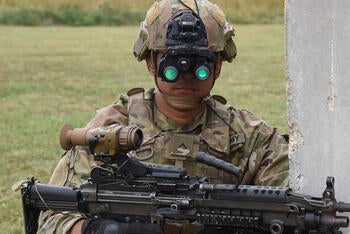 ENVG-B Fort Riley Video
L3Harris has delivered more than 6,000 Enhanced Night Vision Goggle – Binocular (ENVG-B) systems, providing U.S. Army soldiers with improved Situational Awareness, mobility and protection
Traditional Night Vision Goggles
From monocular to panoramic goggles delivering a 97° field of view, L3Harris' traditional night vision solutions are designed to meet the unique needs of customers. These systems are further enhanced by industry-leading white phosphor technology.
Aiming, Illumination and Rangefinders
L3Harris solutions improve situational awareness in extreme darkness, allowing forces to signal their location and mark targets with beams of light only visible in the night vision goggle — giving operators critical advantages.
WEAPON SIGHTS
L3Harris' weapon-mounted sights deliver next-generation technology that increases the effectiveness of the operator during both day and night time conditions.
Most-Popular Integrated Vision Solutions Capabilities
All Integrated Vision Solutions Capabilities