MISSION & PLATFORMS
An Ideal Surveillance Solution for: Low-altitude Tactical Surveillance & SAR missions requiring low-weight installation flexibility
Airborne Installations: Fixed-wing, Rotary-wing, UAV, Aerostat
Compact Solution
38 lb. turret
< 14 in. turret height for better ground clearance / passive isolator built-in
Multi Sensor Imaging/Lasing Payload Options
Currently supports up to 6 sensors simultaneously
Superior HD imaging resolution from Electro-Optical (EO) camera
High Sensitivity Color Camera
High-Definition (HD) IR
Pseudo-Colour IR
Advanced Video Tracker (AVT)
Embedded MTI
Enhanced Local Area Processing (ELAP)
Real-time image enhancement for EO day, EO night & Infrared
High Performance IMU & MX-GEO Software Suite
IMU & MX-GEO work to create accurate target location
MX-GEO automatically aligns to the aircraft
Robust automatic image focus
Uncompromised Stabilization
4-axis gimbal with internal IMU
All payloads are fully stabilized
WESCAM MX-Series Commonality
Common operator interfaces and Hand Controller Units (HCUs)
Simplified interchangeability
Efficiencies in support and technology enhancements
About WESCAM MX-Series Airborne Surveillance and Reconnaissance Solutions
L3Harris has an airborne portfolio of multi-sensor, multi-spectral systems that are deployed worldwide, at varying ranges, and with overlapping fields-of-view, creating the opportunity for uninterrupted surveillance of borders, forward operating bases, airfields and other vital assets. These imaging and targeting systems can be found on over 230 different types of platforms, including fixed-wing, rotor-wing, UAV and aerostat platforms.
Within our product portfolio is a series of systems that encourage ease and familiarity of use, simplified turret interchangeability within fleets, efficiencies in technology enhancements and overall system support. Featuring common electronics and cabling, common user interfaces and video overlays, and common software and internal components, this family is known as the WESCAM MX-Series.
Because today's mission requirements demand identification and designation from longer standoff ranges, WESCAM MX-Series products have been engineered to focus on the three factors that drive Maximum Range: resolution, magnification and stabilization. As a result, each WESCAM MX-Series turret has outperformed its major competitor in every performance area, giving the Series the longest EO/IR target identification and designating ranges in the industry (in each class size).
Related News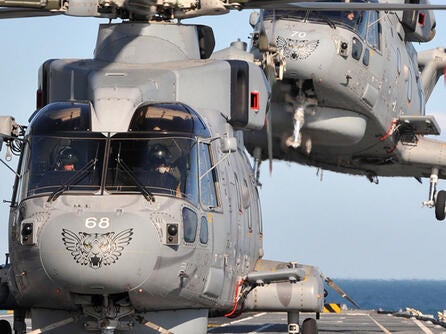 Press release | 11. 05. 2019
UK Ministry of Defence Selects L3Harris Technologies to Provide WESCAM EO/IR Sensors for Upgrade Program
Highlights:
Provides UK MoD with world-class sensors operating with unmatched EO/IR visual capability
Ensures regional rapid-response and support capability
Strengthens commitment and partnership across the UK MoD
L3Harris Technologies (NYSE:LHX)
Related Domains & Industries
Solutions that solve our customers' toughest challenges.
view all capabilities