LEADING PROVIDER OF INTEGRATED ELECTRONIC PUBLICATIONS FOR AEROSPACE AND DEFENCE
L3Harris electronic publications services and interactive software solutions provide an innovative and cost effective way to develop, maintain and distribute Interactive Electronic Technical Publications (IETPs).
MORE THAN 40 YEARS OF EXPERIENCE AND DEVELOPMENT 
Our Canadian electronic publications team located in Mirabel, Quebec uses the latest tools and technologies to create quality publications on time and on budget. We do it all, from complex publications management to legacy data conversion into Standard Generalized Mark-up Language (SGML) or Extensible Mark-up Language (XML). We offer standard publication production services such as technical writing, illustrating and editing, as well as translation and Technical Accuracy Check (TAC) services. We are at the forefront in electronic publishing, web design, graphic design and technical 3-D animation. In addition, our comprehensive internal R&D group ensures that we remain at the forefront of new technologies.
L3Harris stands out for its innovative products. Take a look at our suite, you will certainly find something of interest.
MAS VIEWER SUITE
The MAS Viewer is an Interactive Electronic Technical Publication (IETP) viewer developed entirely by us. It comprised 4 modules (MAS View (display technical data), Find (search engine), Graph (graphics viewer) and Intel (wiring diagram). 
INTERACTIVE DOCUMENT LIBRARY SYSTEM (IDLS)
The Interactive Document Library System (IDLS) is our widely-implemented, Windows-based IETP and IETM browser. Since its inception, the IDLS has become the de facto IETP/IETM browser for five RCAF fleets. The IDLS supports multiple specifications. CALS, ATA and S1000D can also be rendered simultaneously. This allows customers to continue to support older publications or to convert their publications at the speed they choose.
MAS srv
This is the perfect S1000D authoring and validation tool, developed by L3Harris.
Up-coming innovative products
The Research and Development (R&D) team is always exploring and developing new technologies to support your technical publication needs, including finding innovative solutions for your business challenges. Their vision and hard work have resulted in many state-of-the art products. 
We have the proven expertise to provide its customers with a wide range of technical publication solutions. We have all the specialties under one roof to offer turnkey solutions based on the latest standards. 
Authoring 
We offer a team of experienced technical writers with a deep understanding of standards and specifications combined with talented technical translators using extensive terminology databases, translation memories and glossaries. 
Graphics and Multimedia
Technical illustrations have always been an integral part of electronic publications. They are now computer-generated using programs like AutoCAD, CorelDRAW and IsoDraw. The end product is integrated into the electronic publications and is enriched with "hotspots" that link to parts lists, detail views, texts and other illustrations. Our technical illustrators are skilled in creating and manipulating 3-D models to produce traditional 2-D illustrations, or 3-D animations to be embedded in videos or to be displayed and manipulated in augmented reality applications.
Data Conversion
Our Electronic Publications group pioneered the introduction of the S1000D specification to Canada's Department of National Defence (DND). Our Integrated Electronic Technical Manual (IETM) solution is now the de facto standard across the Royal Canadian Air Force (RCAF). 
ILS Integration
We have the proven, company-wide expertise to provide our customers with integrated solutions by ensuring collaboration between our Electronic Publications group and the other discipline leads, including engineering, supply chain, CM/DM, ILS and IT. 
S1000D Consulting Services
We have been invited on many occasions to local and international forums by government and industry to brief and demystify the S1000D specification and its core elements like data modules, business rules and CSDB. We also train partners, help customers implement the specification and provide S1000D consulting services. You need support? We have experts who can help you with your publication challenges. 
Featured News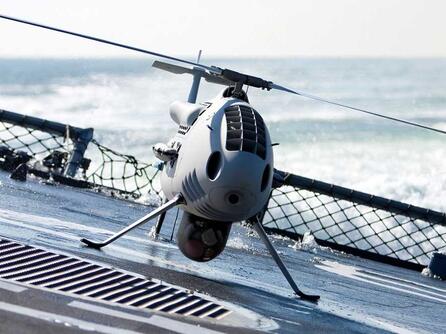 Editorial | 11. 13. 2023
Evolving Remote Pilot Imaging Capabilities
From Humble Beginnings To A Capable Future - At the end of his life in 1896, Alfred Nobel, engineer, inventor and benefactor of the Nobel Prize, had a compelling idea for "An Improved Mode of Obtaining Photographic Maps and Earth or Ground Measurements" using a photographic camera carried by a "…balloon, rocket or missile." Nobel unfortunately never lived to see a practical application of his idea, but his plans laid the groundwork on which other inventors made tremendous progress.
Related Domains & Industries
Solutions that solve our customers' toughest challenges.
view all capabilities