Product Specifications
L3Harris Canadian operations have an unmatched history of supporting aircraft operations at Royal Canadian Air Force bases and at deployed locations around the world. We also support our products serving other customers in Canada and abroad.
  
MIRABEL, QUEBEC
CF-18 Hornet, In-Service Support
CT-114 Tutor, Original Equipment Manufacturer Support
CC-150 Polaris, Engineering and Program Management
OTTAWA, ONTARIO - GATINEAU, QUEBEC 
CF-18 Hornet, Life Cycle Material Management
CH-148 Cyclone, Maritime Helicopter Program
Contract Management
CANADIAN FORCES BASE - BAGOTVILLE, QUEBEC 
CF-18 Hornet, Field Support - First- and Second-Line Maintenance
CANADIAN FORCES BASE - TRENTON, ONTARIO
CC-150 Polaris, Maintenance, Ground Support Equipment and Aircraft Maintenance Support Equipment
CANADIAN FORCES BASE - PETAWAWA, ONTARIO
CH-147F Chinook, Field Support and Ground Support Equipment ISS
CANADIAN FORCES BASE - COLD LAKE, ALBERTA
CF-18 Field Support, First- and Second-Line Maintenance
HALIFAX, NOVA SCOTIA
CP-140 Aurora, Optimized Weapon System Support - Avionics
CANADIAN FORCES BASE - SHEARWATER, NOVA SCOTIA 
CANADIAN FORCES BASE - MOOSE JAW, SASKATCHEWAN  
CT-114 Tutor, Field Support
CANADIAN FORCES BASE - PAT BAY, BRITISH COLUMBIA  
CH-148 Cyclone MHP, Support
L3Harris has over 200 employees working on different bases for Canada's Department of National Defence (DND) and at deployed operation sites, fulfilling key roles for various fleets: 
Aviation Systems Technicians (AVS) and Avionics Systems Technicians (AVN) – Field/Technical Service Representatives (FSR/TSR)
Structural engineering
First- and second-line maintenance
Modification support
On-site specialists (Second-level shops)
Technical training
A group of L3Harris personnel is also working in the National Defence Headquarters in Gatineau, Quebec as Life-Cycle Material Managers and technical support for various fleets.
Featured News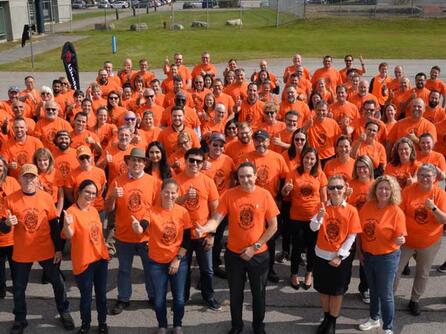 Editorial | 09. 28. 2023
L3Harris Honors Canada's National Day of Truth and Reconciliation
September 30 is the National Day of Truth and Reconciliation in Canada, a designated day of remembrance to honor victims and survivors of Canada's Indigenous residential school system. Originally known as Orange Shirt Day, September 30 is an opportunity for Canadians to reflect and learn about the rich and diverse cultures, voices, experiences and histories of First Nations, Inuit and Métis peoples.
Related Domains & Industries
Solutions that solve our customers' toughest challenges.
view all capabilities